董事會策略會議探討 網購挑戰
Board's Strategy Session
Discusses Challenges of E-tailing
網購及手機程式日益普及,正在改變零售業的競爭環境。領展董事會以「購物中心的未來」為主題於深圳舉行策略會議。董事會成員聯同來惠普、波士頓顧問公司、埃森哲顧問公司及順豐快遞等著名企業的嘉賓講者,就行業發展趨勢及網購帶來的挑戰作出高層次討論,為策略制定啟發新意念。
為令服務緊貼數碼新時代的市場需求,領展透過引入更多潮流品牌及餐飲商戶,並舉辦大型活動吸引人流,令旗下商場成為社區聚腳點。公司亦善用科技把握商機,推出「泊食易」手機程式,讓顧客到臨商場購物及用餐更加方便輕鬆,並提供支援網購取貨的電子智能儲物櫃以及免費高速Wi-Fi服務。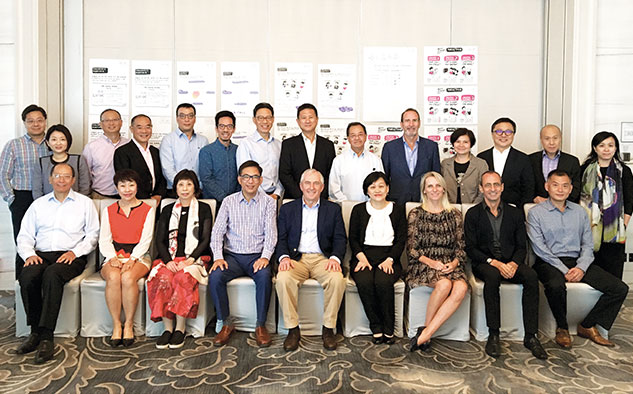 The growing popularity of online shopping and mobile apps is changing the competitive landscape of retailing. Link's board of directors recently held its off-site strategy meeting in Shenzhen on the topic of "Future of Shopping Centres". Board members were joined by guest speakers from prominent firms that include from Hewlett Packard, Boston Consulting Group, Accenture, SF Express for a high-level discussion on up-and-coming industry trends, and the challenges posed by e-tailing. The meeting has inspired new insights for strategy-setting.
To help enhance its market relevance in the digital age, Link is transforming its shopping centres into social hubs by introducing more trendy brands and F&B outlets and organising large-scale crowd-drawing events. Harnessing technologies to tap new opportunities, Link has launched the "Park & Dine" app to enable shoppers to visit, shop and dine at its centres with greater ease, in addition to providing electronic smart lockers that facilitate customers to pick up their online purchases, as well as free high-speed Wi-Fi coverage in its shopping malls.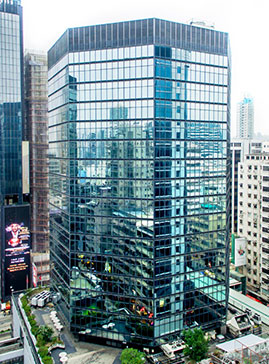 領展旺角彌敦道700號商業項目
Link's commercial complex at 700 Nathan Road, Mong Kok
全球股票分類標準
增設房地產股票類別
Real Estate Gets Its Own Sector in
Global Equity Classification System
全球行業分類標準("GICS")是股票分類的全球標準,由標普道瓊斯指數和MSCI制定,提供按企業行業的分類系統,以助金融界分析股票表現。標準於1999年成立,已有17年歷史,標準普爾和MSCI為原歸類金融的房地產股票,增設獨立類別。該新設房地產行業類別,已於2016年9月1日生效。
房地產乃由金融行業類別分拆出來,成為GICS首個新增類別,以及第11個行業類別。金融行業的權重將下降,幅度為房地產行業的權重。於日本以外的亞太地區,房地產行業的權重估計約為MSCI的7%。由於指數追蹤基金及房地產基金的普及,房地產獲設為新類別,將導引更多投資到房地產企業。
房地產成為獨立股票類別,彰顯該行業重要性與日俱增。作為以成為世界級房地產投資和管理機構為抱負的環球房託,領展歡迎有關轉變,有助提升房地產業地位,使其成為現代平衡投資組合的基本組成部分。
Global Industry Classification Standard ("GICS") is a global standard for listed equities that was formulated by S&P Dow Jones Indices and MSCI to facilitate the financial community to analyse stock performance by providing a system that categorise companies by industry. After 17 years since the GICS's inception in 1999, S&P and MSCI have added a new sector for Real Estate, which had previously been categorised under the Financial Sector. The new Real Estate Sector became effective 1 September 2016.
The Real Estate Sector was moved out from the Financial Sector to become the first new sector added to the framework and the 11th GICS sector overall upon implementation. Financial sector weight would fall by the amount of the Real Estate Sector weight. For Asia Pacific (ex-Japan), the weight of the Real Estate Sector was estimated to be approximately 7% in MSCI. Due to the popularity of index tracking funds and the proliferation of real estate-focused funds, the separation will result in additional investments into real estate companies.
The Real Estate Sector's elevated position as a standalone asset class reflects its growing importance. As a global REIT with a vision to be a world class real estate investor and manager, Link is delighted to see the change as the Real Estate sector gains its position to be a foundational building block of a modern balanced investment portfolio.
傑出建築師、領展非執行董事紀達夫(Keith Griffiths)為全球頂尖建築事務所Aedas的創始人及主席。Keith以其專業才能及無比的企業家精神,協助領展茁壯成長,不但於營運社區商場有出色表現,更積極優化業務策略,令資產組合更形多元化。
回想九年任期內的難忘時刻,Keith說:「領展雖為一間年輕企業,但在前任主席蘇兆明的領導下,取得豐碩成果。前任行政總裁羅爾仁引入先進資訊科技基建,以加強財務管理。王國龍接任行政總裁,成為公司發展的轉捩點,因為他對充滿活力的香港社會有透徹認識,並且能夠建立新團隊,拓展業務。」
領展業務近年連番取得突破,不單作出上市後首宗收購,更投資發展項目,並進軍內地市場,對此Keith深表讚賞,並強調必須放眼未來。「作為一家藍籌公司,我們要持續拓展業務。中國內地是未來廿年經濟增長所在,因此必須迅速及堅定擴展內地業務。」
Keith Keith加入領展董事會,是因為希望於建築設計的社區層面作出貢獻。擅於塑造宜居生活空間的他,以其專業才能協助領展多個資產提升項目成功推出。
「領展已完成的項目中,我最喜愛大元街市和黃大仙中心,前者為香港街市行業闖出新路,而後者融會中國內地與香港兩地文化。」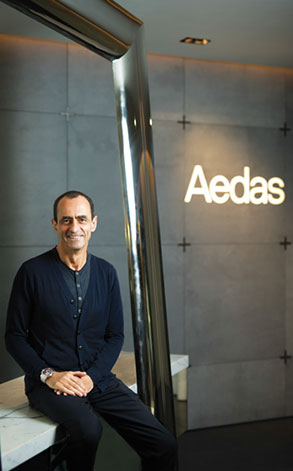 A highly accomplished architect, Link's Non-Executive Director Keith Griffiths is the founder and Chairman of Aedas, one of the world's leading architectural practices. Drawing on his professional expertise and boundless entrepreneurial spirit, Keith has helped turn Link into a company that has not only excelled in the core business of running community shopping malls, but has also enhanced its strategies to build a more robust and diversified asset portfolio.
Thinking back on the memorable times he has had at Link during his nine-year tenure, he said, "As a young company, we have achieved a lot under the leadership of former Chairman Nicholas Sallnow-Smith. Former CEO Ian Robins put in place an advanced IT infrastructure for financial management. His successor George [Hongchoy] marked an important turning point for Link, as he has a good understanding of the vigour of Hong Kong, and is able to build new teams to expand the business."
Commending Link's successive moves to expand beyond its legacy portfolio, including making its first post-IPO acquisition, undertaking development projects and venturing into the Mainland China market, Keith stressed the need to set our sights on the future. "As a blue-chip company, we must continuously expand our business. [Mainland] China is where the economic success story is in the next 20 years and we must quickly and determinedly expand our business in China."
It was out of the desire to get more involved in the community aspect of architectural design that Keith joined Link's Board of Directors. With his expertise in fashioning attractive, liveable spaces, he has contributed to the success of many of Link's asset enhancement projects.
"Among the completed asset enhancement projects, Tai Yuen Market and Temple Mall are my favourites. The former is a groundbreaking achievement for the fresh market industry, while the latter serves as meeting point between two cultures representing Mainland China and Hong Kong," he noted.
全球性卓越平台
A worldwide platform of excellence
Keith所領導的大型建築事務所,全球擁有12個辦事處、1,250名員工,他暢談全球性跨文化團隊的管理之道。
「我們擁有簡單的分佈式架構,讓建築師專注於設計,互相交流創意。全球各地辦事處由建築師團隊組成,由經驗豐富的建築師董事領導,並由連繫整個企業的資訊平台所支援。公司並無行政總裁等傳統管理職能, 而依靠由建築專才組成的董事會作出重要決策。」
「為推廣用人唯才的文化,鼓勵分享意念,我們會於網站展示我們最優秀的設計,並會舉辦設計工作坊,讓團隊比拼創意。」
As the leader of a major architectural firm with 12 offices and 1,250 staff internationally, Keith offers a primer on running a worldwide practice served by multicultural teams.
"We have a simple distributed structure that empowers our architects to focus on design, and communicate design ideas with each other. Our worldwide offices are staffed by teams of architects, each led by an experienced director-architect, and supported by a firm-wide IT platform. Instead of appointing conventional management roles like CEO, we rely on our professional architectural board to take key strategic decisions."
"To foster a meritocratic culture, and encourage sharing among our people, we promote our best projects through our website, and organise off-site design workshops where our teams compete to come up with a building design within a short time," he said.
成功是不斷前進
Success is about moving forward
對於啟發年輕人,他建議說:「年輕人是社會的未來,須悉心鼓勵和栽培,協助他們發掘自身長處,超越自我。只達到期望,並不夠好。」
立業建功四十載,Keith熱忱未減,並樂於分享其寶貴意見。「人生的意義在於建立高遠目標,並且隨著情況轉變而更新方向。三十年前,我決心建立獨特的國際設計企業,Aedas其後發展成為大型機構。終點在何處無關重要,無論你的理想是什麼,必須不斷前進、學習和體驗,不要回望或害怕失敗。這就是我對成功的看法。」
Offering his advice on mentoring young people, he said "Young people are our future. We need to encourage, train and bring them along as well as we can, and help them discover their strengths, and exceed their expectations. Meeting expectations is never good enough."
After building a career that has spanned 40 years and innumerable achievements, Keith is not content to slow down. In fact, he remains as impassioned as ever, and he offers the following invaluable advice.
"Life is about setting high goals which change as we adapt to the conditions we meet. Thirty years ago I set out to build a unique international design company. Along the way Aedas also became a very large company. Where you get to at the end is immaterial. Whatever your calling is, keep moving, learning and experiencing, and don't look back or be afraid of failing. That is my idea of success."
全球五百強企業落戶
上海企業天地
Home to Global 500 Firms
Corporate Avenue Boasts Diversified Tenant Base
領展旗下上海地標性商廈企業天地1號及2號,坐落淮海中路核心商區優越位置,交通便捷,加上頂尖功能及獨特art-deco建築風格,深受跨國及內地大型企業、專業和金融服務公司青睞。高度國際化、涵蓋廣泛行業的商戶組合,推進業務多元化,除了帶來穩定租金收入,亦提升其業務抗逆力。
國際大型會計師事務所普華永道,自2004年商廈落成以來即承租了整棟2號樓,面積達15,000平方米。此外,多家全球五百強企業,包括SONY、Walt Disney、BHP Billiton、Amway等,其中國地區總部亦落戶於此。隨著內資企業擴充業務,企業天地以其超甲級商廈地位,近年更吸引愈多著名內資企業進駐,以提升其企業知名度。
企業天地是國際馳名新天地發展項目一部分。鄰近地鐵站,毗連高端商店、知名餐飲及娛樂休憩設施,交通便捷,位置優越。截至今年6月底,辦公室租用率為98.2%。
With its strategic and convenient location in the Huaihai Road Central Business District, as well as its top-notch features and Art Deco design, Corporate Avenue 1 & 2, Link's commercial landmark in Shanghai, is a popular choice for multinational and large domestic companies, as well as professional and financial services firms. Its strong tenant mix, diverse both in terms of both geography and industry, has helped contribute to business resilience and stability in rental performance.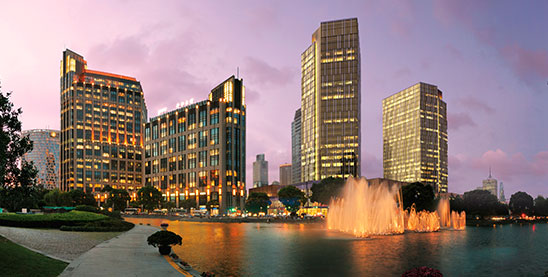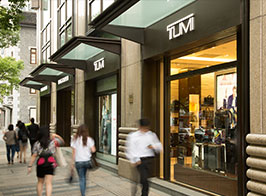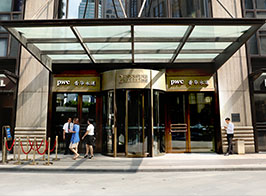 International accounting firm PricewaterhouseCoopers China has been an anchor tenant since 2004, leasing the entire Tower 2 with a total floor area of about 15,000 square metres. Other Global 500 corporations, including Sony, Walt Disney, BHP Billiton and Amway, have also chosen the property to house their China headquarters. Given the prestige and unique appeal of Corporate Avenue 1 & 2, more high-profile domestic companies are looking to set up offices there to cope with business expansion and bolster market standing.
Strategically located in the Xintiandi development, the property enjoys excellent accessibility to metro stations and proximity to some of Shanghai's top luxury shopping, up-market dining, entertainment, and leisure facilities. Office occupancy rate was 98.2% as at end of June 2016.
企業天地1號及2號商戶組合多元化
Diversified Tenant Mix of Corporate Avenue 1 & 2