由領匯管理有限公司主辦的「林寶堅尼香港 x 領匯 x 奔牛節@赤柱廣場」,在4月27日於領匯赤柱廣場隆重舉行。活動由林寶堅尼超級跑車車隊以及由大型彩繪牛組成的車隊,於港島區巡遊率先揭開序幕;車隊隨即駛往赤柱廣場參與開幕慶典,並由領匯行政總裁王國龍、林寶堅尼香港董事總經理黃錦培、演藝巨星郭富城及奔牛節環球品牌負責人Karine Bakker等為活動主持開幕儀式。同場舉行的「原型彩繪牛」慈善拍賣反應熱烈,競投氣氛高漲。此外,大會亦設有慈善拍照活動及珍藏彩繪牛網上公開慈善拍賣,吸引不少市民參加。這一國際矚目的盛事,除了成為全球超級跑車迷的焦點外,更讓本港以至海外遊客進一步認識香港十大旅遊景點之一的赤柱,同時亦成功吸引了中外遊客及全港市民的目光,進一步鞏固香港作為盛事之都的旅遊城市地位。
The 50th anniversary of the Italian super sports car giant Automobili Lamborghini brought about an unprecedented collaboration, bringing together The Link, Lamborghini Hong Kong and the international public art exhibit CowParade in the launch of a grand celebration in Stanley Plaza. Not only did this world-class event become the focal point of super sports cars lovers, but it also successfully captured the attention of tourists and local residents, further strengthening the image of Hong Kong as a world city.
億元車隊港島巡遊 全城聚焦
Multi-million-dollar Lamborghini Super Sports Cars Parade on Hong Kong Island
精彩活動由當日早上的跑車巡遊揭開序幕,超過30輛林寶堅尼超級跑車組成的億元車隊,連同彩繪牛於中環天星碼頭出發,途經香港金融區中環,列隊駛經港島多條主要街道及東區走廊,巡遊前往領匯赤柱廣場,是本港歷來最大型的林寶堅尼億元跑車巡遊。跑車巡遊歷時約一小時,車隊所經之處均吸引不少市民圍觀及爭相拍照留念,車隊隨後駛往領匯赤柱廣場參與盛大慶典。

The grand celebration was kicked off by the Super Sports Car Parade on 27 April. Starting from Central, the line-up of over 30 Lamborghinis together with a life-sized cow sculpture, paraded down major roads on Hong Kong Island and headed to Stanley Plaza. The parade attracted a large number of visitors and media, with visitors getting the chance to take a photo of them sitting in a Lamborghini super sports car by making a donation.
演藝巨星及頂尖藝術家設計彩繪牛 名人爭相競投
Celebrities and Artists Design for CowParade
是次世界矚目盛事,領匯將林寶堅尼香港與彩繪牛crossover,大會更分別邀得演藝巨星郭富城,聯同來自意大利的國際花卉藝術家 Emilio Robba 及紐約國際現代藝術家 Billy the Artist 等,以林寶堅尼的極致、純粹及永不妥協的品牌精神作主題,親自創作5隻「原型彩繪牛」。
秉承奔牛節的傳統,大會於開幕禮後隨即進行首度於香港舉行的「原型彩繪牛」慈善拍賣,於拍賣環節上,多位善長爭相出價競投該5隻「原型彩繪牛」,現場氣氛非常熱烈,並為大會籌得港幣82.1萬元的善款,當中郭富城的作品「Acted at Heart」更以高出底價9倍成交,晉身奔牛節自1999年以來最高拍賣成交價的原型牛作品第三位。成功競投者對是次競投均感滿意,並表示競投之作品,既可作藝術收藏,亦為一項善舉,一舉兩得。香港活動結束後,5隻原型彩繪牛會運往多個城市巡迴展出,作為2013年及2014年上海與台灣奔牛節的亮點。
而五部印有相同圖案之林寶堅尼超級跑車,更於開幕禮當天於赤柱廣場首度登場,並於五月中前的週末期間展出。

The campaign presented an unprecedented crossover between Lamborghini and CowParade. Using a design theme based on the brand value of Lamborghini – Extreme, Italian, Uncompromising – celebrities and artists, including Cantopop superstar Aaron Kwok, Italian floral artist Emilio Robba and Billy the Artist, a contemporary artist from New York, each painted a life-sized cow sculpture. Their creations were matched to Lamborghinis with the same design pattern.
To perpetuate the tradition of CowParade, the life-sized cow sculpture auction debuted in Hong Kong and was staged immediately after the Opening Ceremony. Thanks to the overwhelming response, the auction has brought a total of HK$821,000 for the campaign. Among the sculptures, "Acted at Heart", which was sold at 10 times of its reserve price, has become the third most expensive life-sized cow sculptures CowParade has ever sold since 1999. Winners of the auction are satisfied with the artistic value and the charity nature of their sculptures. After the celebration in Hong Kong, the 5 life-sized cow sculptures will be displayed in roving exhibitions around major cities in China as the highlight of CowParade Shanghai and Taiwan in 2013 and 2014 respectively.
The 5 painted Lamborghinis debuted on the Kick-off Ceremony on 27 April are displayed during weekends until mid May.
公開拍賣獨特設計「珍藏彩繪牛」
Online Charity Auction for Cow Collectibles

為推動藝術發展及社區慈善項目,大會邀請了50位香港本地知名及新晉設計師、時尚名人及設計系的學生,創作出50隻「6吋珍藏彩繪牛」,作品於展覽上同場展出。並連同100隻按照林寶堅尼精神,以林寶堅尼為主題的「原型彩繪牛」為藍本製作的「6吋林寶堅尼限量彩繪牛」,共150隻限量版「珍藏彩繪牛」於開幕禮翌日作網上慈善拍賣公開予公眾人士參與。
整個活動所籌得的善款,將不扣除成本全數撥捐予「國際小母牛香港分會」及「GivingLove」,幫助內地偏遠山區農民及本地有需要人士。

To promote local community charity projects and art development, 50 socialites, renowned local and emerging designers, fashion icons and design students from the local community were invited to design 6-inch cow figurines, which were also displayed in the "Lamborghini HK x The Link x CowParade at Stanley Plaza" exhibit. Together with 100 6-inch replicas of the life-sized cow sculptures designed by the Lamborghini HK team, a total of 150 limited edition cow figurines were put up on the event's official website for auction after the Kick-off Ceremony.
All the proceeds of the "Lamborghini HK x The Link x CowParade at Stanley Plaza 2013"campaign will be donated to "Heifer International Hong Kong" and "Giving Love" to help the impoverished farmers in rural areas of China and local people in needs.
彩繪牛慈善競投網上拍賣於5月19日截止,詳情請瀏覽赤柱廣場網址:www.stanleyplaza.com
Online Charity Auction for Cow Collectibles is scheduled to close on 19 May. For details, please visit Stanley Plaza website: www.stanleyplaza.com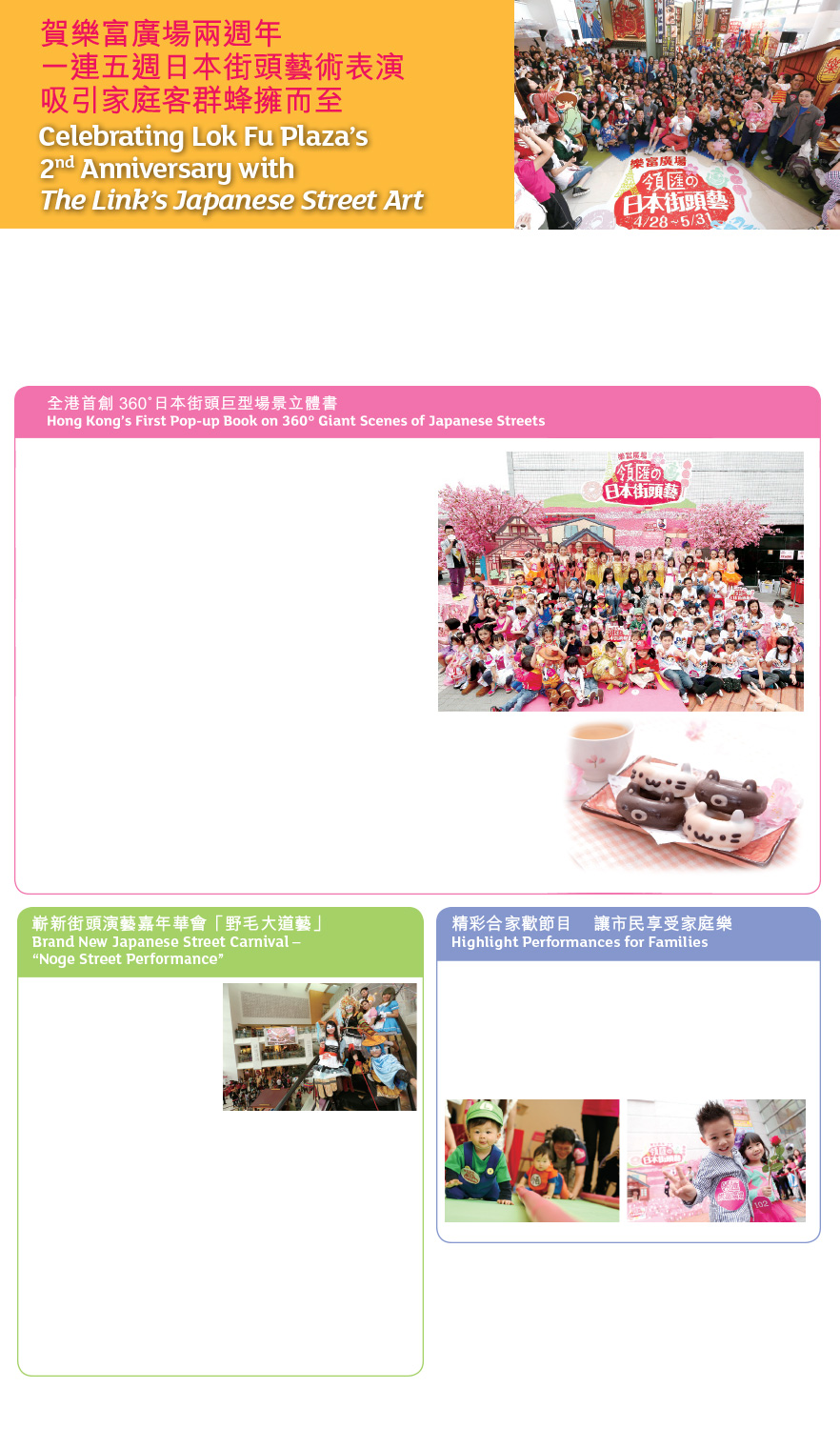 領匯承接去年「領匯の日本美食祭」的空前成功及慶祝樂富廣場2歲生日,一連五個星期推出「領匯の日本街頭藝」,一系列的慶祝活動將多個日本著名景點及街頭藝術表演帶到樂富廣場,讓市民感受全方位東瀛街頭藝術氛圍,享受耳目一新的購物樂趣,活動吸引近千家庭參與。
To celebrate the second birthday of Lok Fu Plaza, from 28 April to 31 May, The Link is hosting "The Link's Japanese Street Art", a five-week series of events and activities featuring scenes of Japanese Streets and Japan's top street culture which attracted nearly a thousand of families to participate.
領匯誠邀香港第一位全職Pop-up立體書創作人劉斯傑,以日本美食街及櫻花公園為主題,把東京的東京鐵塔、大阪的道頓堀及北海道的芝櫻公園地標街景以 3D Pop-Up 呈現眼前,透視日本美食風貌,讓你恍如置身日本街頭,吸引了大批市民到場拍攝,感受東瀛文化。此外,活動期間逢週末更設有3D Pop-up Store 售賣日本特色美食,讓市民大飽口福嚐盡和風。
The Link has invited Chris Lau, Hong Kong's first full-time pop-up book artist, to present "Hong Kong's First Pop-up Book on 360° Giant Scenes of Japanese Streets" at Lok Fu Plaza, featuring food streets and Sakura parks as 3D pop-up models. The accompanying Japanese cuisine has made customers feel as if they were on the streets of Japan. Japanese specialties are also available at 3D pop-up stores on Saturdays and Sundays throughout the anniversary celebration.
為了讓大家將優質美味體驗帶回家及協助商戶捕捉商機,顧客可憑消費換領全人手自家製的甜心冬甩,有特製小貓及熊仔造型,鬆軟無比,極受一家大細歡迎。
Shoppers who make eligible purchases are entitled to free sweetheart donuts at Lok Fu Plaza. The sweetheart donuts are soft homemade treats made to resemble different fun shapes, including kittens and bears.
領匯首次將全日本頂級的街頭演藝嘉年華會「野毛大道藝」帶到香港,其中包括日本組合頂尖表演「Gabez」的諧笑表演及「to R mansion」的魔藝表演。除日本的代表外,活動亦加入了本地街頭文化元素,邀請不同的本地青年團體如「無鼓用」及「全劇場」,將日本及本地文化藝術共冶一爐,令活動更多元化,把藝術融入社區。
Apart from the pop-up book, The Link has also invited various street performers to carry out a "Noge Street Performance" at Lok Fu Plaza. Additional performances included a comedy show by Japan's top group, "Gabez", a magic art show by "to R mansion" as well as performances by local musical act "No Drums Needed" and local theatre act "All Theatre Parade".
同場設有一系列的生日慶典活動如東瀛BB爬行大賽、小Kid模Fashion Show、天才表演及消費優惠等,成功吸引一家大小到樂富廣場一邊購物一邊玩樂,場面熱鬧。
An array of other celebratory activities have taken place, including Baby Crawling Contests, Kid Model Fashion Show, "Lok Fu's Got Talent" show as well as sales promotions.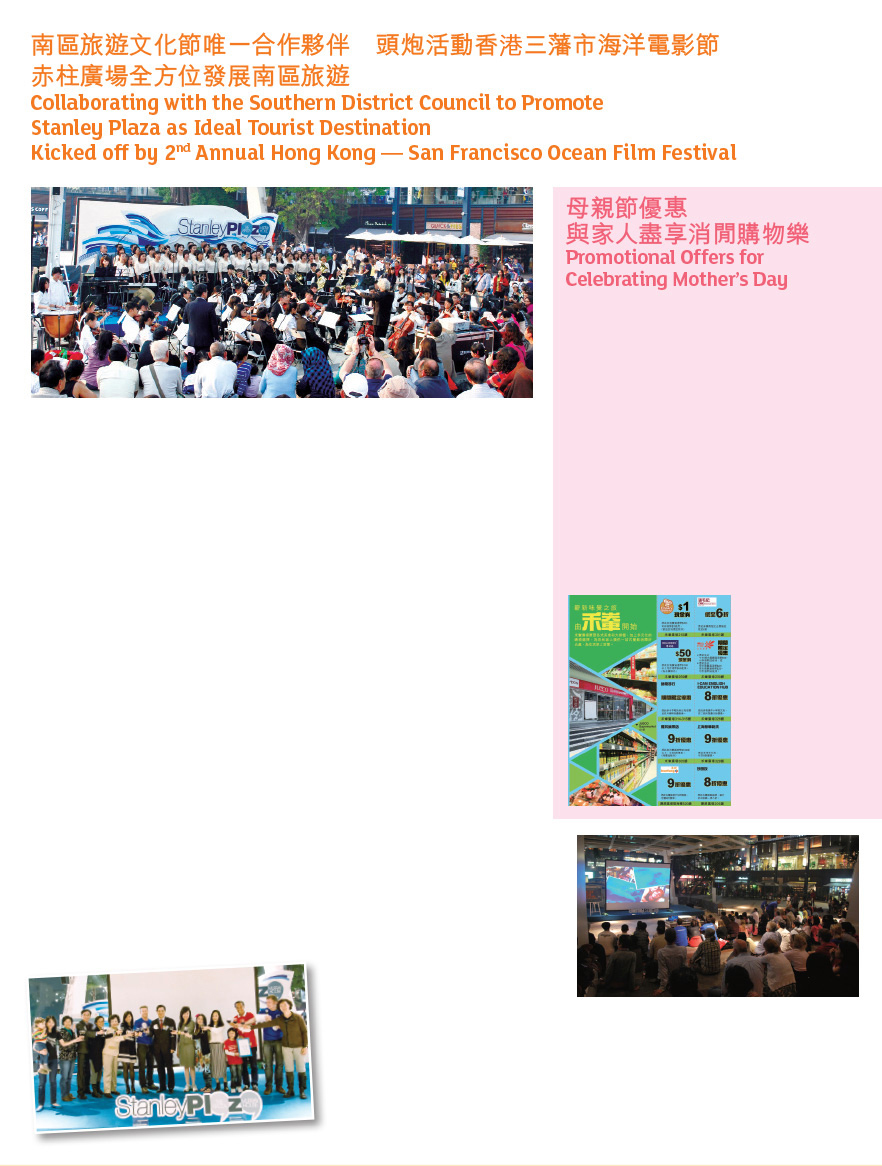 為吸引更多外地及本地遊客,領匯成為南區旅遊文化節的唯一合作夥伴,於赤柱廣場協助籌辦「2013年南區旅遊文化節」,全力支持此南區年度盛事,推動區內旅遊發展。
「2013年南區旅遊文化節」在今年不同月份舉辦全方位推動南區旅遊業發展活動,令赤柱廣場及美利樓充份發揮位處臨海地段的優勢,給予社區更大力度的支持和貢獻。全年精彩活動將陸續推出,其中包括第二屆香港三藩市海洋電影節暨浮動藝術展覽,於赤柱廣場及美利樓舉辦,並伸延至赤柱大街 — 赤柱國際啤酒嘉年華、節慶燈飾及文化節閉幕禮等,用以推廣風景怡人及充滿文化藝術色彩的赤柱旅遊熱點。
以第二屆香港三藩市海洋電影節暨浮動藝術展覽作為一連串活動的序幕,剛於4月舉行,吸引了大批市民及遊人參與,在感受環海樂趣及欣賞海洋紀錄片的同時,亦了解保育海洋的重要性,從而推廣保護海洋訊息。為配合海洋電影節,赤柱廣場及海傍一帶同時化身藝術長廊,展示多件由世界各地藝術家創作的藝術品,以另一形式表達海洋保育的議題,並期望藉此令公眾更關注環保及海洋保育問題。
In a joint effort to attract local and overseas tourists to Southern District, The Link partnered with Southern District Tourism and worked as exclusive partner for the first time in hosting several events as part of the annual Southern District Tourism and Culture Festival 2013, which takes place throughout the year.
An array of events that contribute to the local community have been or will be held in and around Stanley Plaza, Murray House and extended to Stanley Market this year, including the 2nd Annual Hong Kong – San Francisco Ocean Film Festival in April, the Stanley International Beer Festival in coming October, and the festival's opening and closing ceremonies.
The broad range of activities was kicked off by the 2nd Annual Hong Kong – San Francisco Ocean Film Festival in April, which attracted a lot of local visitors and tourists who enjoyed documentary films that displayed gorgeous ocean visuals and illuminated important conservation issues.
為了讓市民與至愛的家人盡享消閒樂趣,盡顯孝心,領匯特別於母親節期間推介一系列以家庭為主要消費客群的商場,包括慈雲山中心、竹園廣場、禾輋廣場及瀝源廣場等,於商場推出可供換領的優惠小冊子。小冊子介紹多間適合一家閒逛的店舖,並得到多間商戶支持,提供多項商戶優惠,換領反應熱烈。
The Link is providing a series of promotion offers and activities for visitors to enjoy shopping with and show their love to their families. During Mother's Day period, The Link published a promotion pamphlet which introduces shopping centres that aim at serving families, including Tsz Wan Shan Shopping Centre, Chuk Yuen Plaza, Wo Che Plaza and Lek Yuen Plaza, etc.
領匯市場策劃及推廣主管黃端華
(右七)與一眾主禮
嘉賓一起出席開幕典禮。

Head of Marketing of The Link, Hilda Wong (seventh from right), joined the Secretary for Commerce and other officiating guests at the festival's opening ceremony.
「香港三藩市海洋電影節」於赤柱廣場的音樂會及
海洋保育電影播放,吸引大批市民欣賞。

The Hong Kong - San Francisco Ocean Film Festival includes live music performance and public film screenings at Stanley Plaza.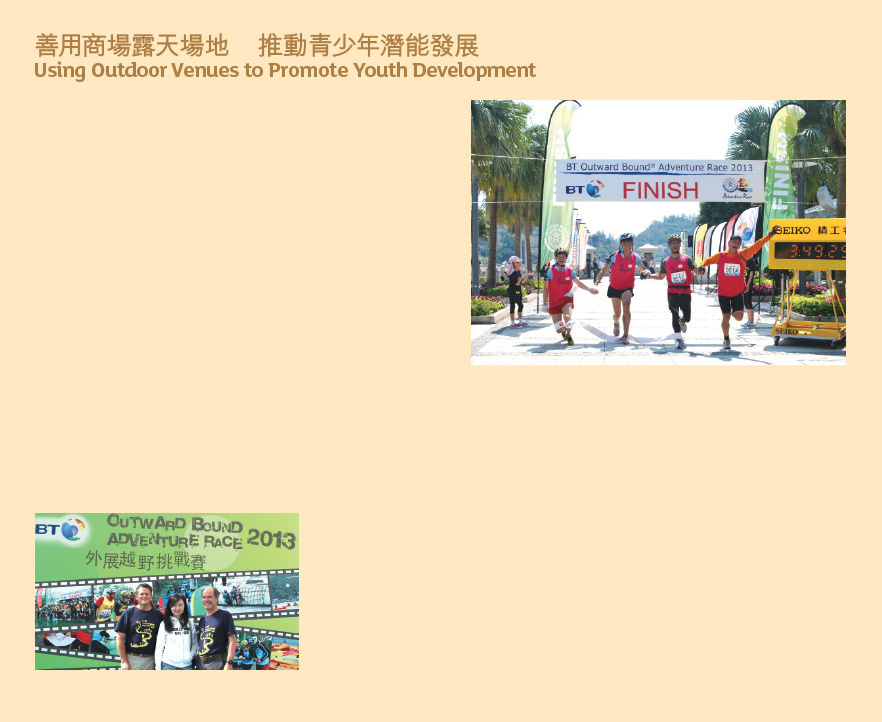 領匯一向十分鼓勵青少年參與不同種類的活動鍛鍊身心,對推動青少年發展不遺餘力,善用旗下商場的露天場地,夥拍不同機構舉辦多方面的戶外活動及競技項目,幫助青少年發掘其個人潛能,領匯全力支持於3月10日舉行的「外展越野挑戰賽2013」。
在赤柱廣場舉行的「外展越野挑戰賽2013」,參加人數為歷年外展越野挑戰賽之冠,過百隊參賽隊伍於銅鑼灣摩頓台起步,以赤柱廣場為終點站,全程約長19公里的賽事,結集了多項運動如跑山、獨木舟、野外定向及游泳於一身,再加上一連串挑戰,考驗青少年的意志及體能。
The Link is dedicated to helping young people explore and develop their potentials. Through its comprehensive portfolio, which includes various outdoor venues, The Link helps young people unleash their potentials by supporting open-air activities put on by different organisations. The Link's support of the Outward Bound Adventure Race 2013 held on 10 March is a good example.
The race, which started at Moreton Terrace in Causeway Bay and ended at Stanley Plaza, set a new participation record. Covering a total distance of 19 kilometres, the race included sports like kayaking, orienteering, swimming and trail running as well as "surprise" challenges, all of which combined to challenge the participants physically and mentally.
「外展越野挑戰賽2013」主辦機構代表Jon D'Almeida(左)、Richard Winter(右)及領匯市場策劃及推廣主管黃端華(中)現身領匯赤柱廣場終點站為參賽隊伍加油,見證他們完成賽事。

Jon D'Almeida (left) and Richard Winter (right), representatives from Outward Bound Hong Kong, and Hilda Wong, Head of Marketing of The Link (middle), supported the participating teams by showing up at the finishing point of the Outward Bound Adventure Race 2013 at The Link's Stanley Plaza.