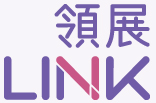 拓商機 展創意 領展連繫好生活
A New Identity to Link People to a
Brighter Future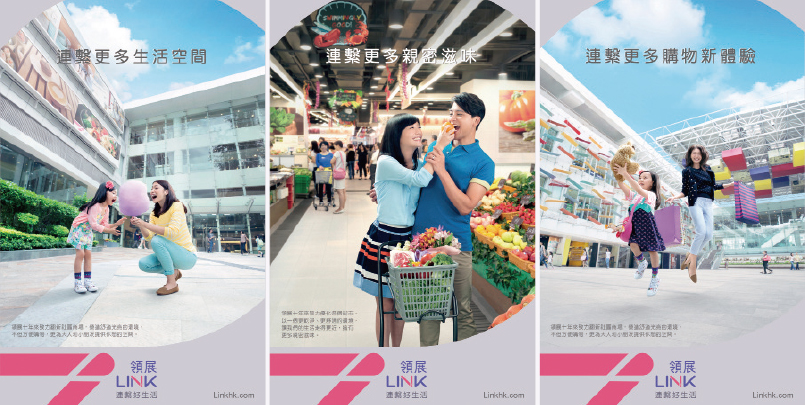 邁向上市10周年,我們為企業品牌注入新活力,清晰展示致力成為世界級房地產投資及管理機構的抱負。隨著新名稱及標誌於8月19日起生效,領展以嶄新形象致力服務社群並提升其生活質素,並將一如以往致力優化購物體驗,締造暢旺營商環境,連繫好生活。

As we approach the 10th anniversary of our IPO this year, we are reinvigorating our corporate brand, which expresses our vision of becoming a world-class real estate manager and investor. Under our new identity, which took effect on 19 August, we will continue to serve and enhance the lives of those around us, and remain committed to creating a better shopping experience and environment and to finding more ways to link people to a brighter future.
連接圖標 Link Icon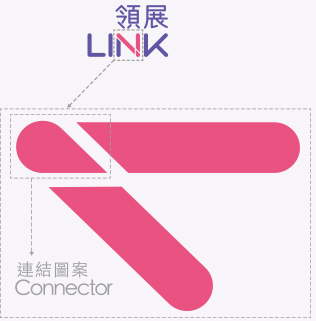 企業顏色的意義

企業主色為紫色。紅色突顯品牌個性,帶出領展作為社區中心點的特性。綠色代表每日出售新鮮食材的街市。橙色代表企業項目,鼓勵互動及參與。

企業標誌內的連結圖案,體現緊扣各持分者的品牌特質,將會在設計層面上廣泛應用,提升品牌認知度。

品牌廣告見於電視及印刷媒體,傳達連繫各界社區,令生活變得更美好的訊息。


Meaning of Corporate Colours

Our primary colour is Link Violet. Link Red represents our brand character and highlights our position as the hub of the communities we serve. Link Green refers to fresh markets, while Link Orange stands for corporate projects and initiatives.

The Link Icon, embedded in our new corporate logo, reflects our ability to connect people and helps garner recognition through design applications.

Featuring Link's ability to connect and bring people together, new TV commercials and print ads highlight the brand message of linking people to a brighter future.
公司新名稱
New Corporate Name

領展房地產投資信託基金
(原為 領匯房地產投資信託基金)

領展資產管理有限公司
(原為 領匯管理有限公司)

Link Real Estate Investment Trust
(formerly The Link Real Estate Investment Trust)

Link Asset Management Limited
(formerly The Link Management Limited)
新網址
New Website Addresses

Linkhk.com

Linkreit.com





領展電視廣告 Link's TV Commercial

新品牌 新地標
Temple Mall 矚目登場
"Temple" for Leisure Shopping
黃大仙除有中外馳名的黃大仙祠,亦有多個住宅屋苑,人口眾多。位處區內主要交通樞紐的龍翔廣場及黃大仙中心將在十月「二合為一」,成為區內大型商場,並將優化購物環境及商戶組合,減少行業重疊。合併後,商場以「黃大仙中心」命名,英文則為「Temple Mall」,突顯商場鄰近黃大仙祠的特色,進一步提升商場認知度。
Located near the famous Wong Tai Sin Temple and a major transport hub, Wong Tai Sin Plaza and Lung Cheung Plaza will be merged in October to form a new regional retail centre. Serving customers under the new name "Temple Mall", the property features diverse retail offerings and an enhanced shopping environment.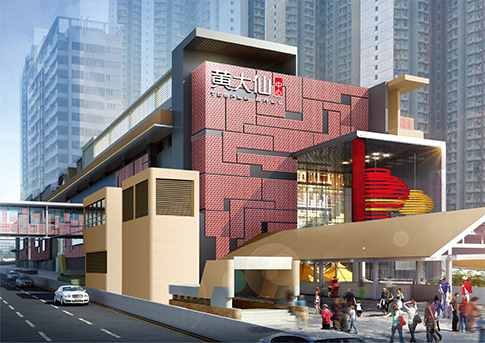 二合為一 強化形象
Stronger Image

新商場兩個主要部分由行人天橋連接,昔日的黃大仙中心稱為「黃大仙中心南館」/「Temple Mall South」,而龍翔廣場則稱為「黃大仙中心北館」/「Temple Mall North」。燈籠為祠廟特色,巧妙融入新商場標誌設計,製成大型裝飾,吸引行人及車輛乘客目光。

With two sections of the shopping centre connected by a footbridge, Temple Mall showcases lantern-inspired design elements and decorations to appeal to pedestrians and vehicle passengers alike.
協同效應 為社區創值
Better Synergies

現崇山商場為領展旗下新購入物業,毗鄰黃大仙港鐵站,步行可達新旗艦商場黃大仙中心。兩商場創造協同效應,有助服務區內顧客,為社區創造更高價值。

Temple Mall and the adjacent Lions Rise Mall, Link's recent acquisition in Hong Kong, offer strong synergies, enabling Link to better serve customers and create higher value for the community.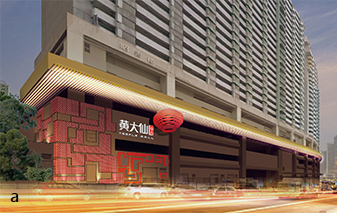 全面粉飾外牆,設計獨特時尚,吸引目光
Eye-catching exteriors with new brand identity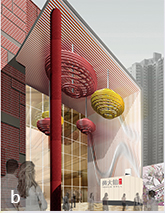 北館面向黃大仙祠入口
換上新裝
Entrance to the face-lifted
Temple Mall North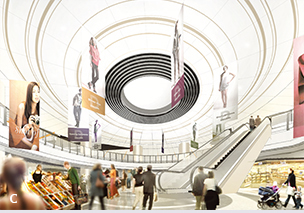 偌大中庭增添休閒氣氛
Spacious atrium offers a more relaxing atmosphere
商戶重整組合 選擇更豐富

黃大仙中心北館(原為龍翔廣場)快將完成資產提升工程,重點包括:

•   零售及美食商戶數目由90間升至逾110間,種類更豐富
•   引進多間首次進駐區內的商戶,包括謝瑞麟、New Vision、JUSTime、Pacific Coffee、美心翠園、百樂門宴會廳、一品螞蟻、
    上海廳1930 by上海婆婆、Panash Bakery、翠華、euro go go、Joy & Mario、Missha、Puma、允記、eGG Optical等
•   升高天花及美化牆身,增加空間感,突顯明亮氣氛
•   全面粉飾中庭,營造偌大休閒空間
•   新增顧客服務台、育嬰室,以及自動門、斜道等「暢通無阻通道」設施


Greater Choices

Temple Mall North, formerly Lung Cheung Plaza, will complete its asset enhancement work by the end of 2015.
•   Number of tenants has risen from 90 to over 110, providing richer retail and dining choices
•   Tenants that are new to the district include TSL, New Vision, JUSTime, Pacific Coffee, Jade Garden, Paramount Banquet Hall,
    Ant One, Shanghaiteng 1930 by Shanghai Po Po, Panash Bakery, Tsui Wah, euro go go, Joy & Mario, Missha, Puma,
    Wan Kee, eGG Optical, etc
•   Refurbished interior features higher ceilings for a bright, spacious shopping environment
•   Revamped atrium enhances the experience of leisure
•   New customer service counter, nursery room and barrier-free access facilities


* 畫家筆下的黃大仙中心,圖片並非現場實景。
* The images in this article are the artist's impression of the
 asset enhancement project, not photos of the property.
企業天地1號及 2 號 ─ 上海核心商業區地標
Corporate Avenue 1 & 2 ─
Commercial Landmark in Shanghai's core CBD
領展購入上海企業天地1號及2號,是領展內地首個辦公室項目,以及首個上海投資,標誌收入及增長多元化的重要一步。

Link's first investment in a mixed-use property in Mainland China and our first investment in Shanghai, Corporate Avenue 1 & 2 marks a major step for income and growth diversification.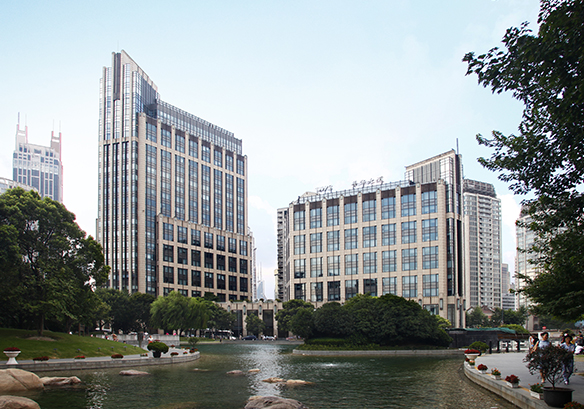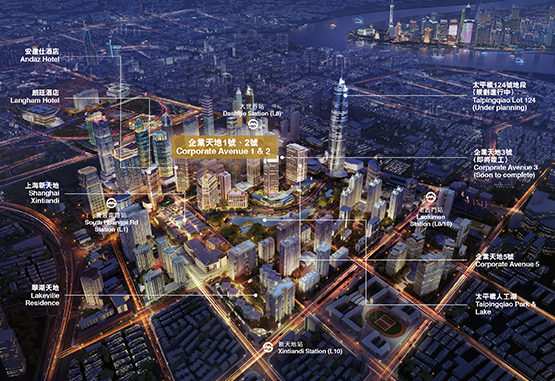 顯赫地段
Prestigious Location

上海企業天地1號及2號位處淮海中路核心商區,是國際馳名新天地發展項目一部分。顯赫地段成為知名企業首選,十大辨公室租戶包括專業服務、多媒體、銀行和工業品行業的跨國公司。

Corporate Avenue 1 & 2 is strategically located at Huaihai Middle Road CBD and is an integral part of Xintiandi, a world-renowned commercial and entertainment district. Its prestigious location appeals to prominent firms, with the top ten office tenants comprising multinational corporations from various sectors.
交通便捷
Strong Connectivity

鄰近三條地鐵線及四個地鐵站,交通便捷,受惠於優越商業及住宅社群。毗連高端商店、知名餐飲及娛樂設施、太平橋人工湖及休憩公園等,為物業零售業務帶來強健人流。

Well served by transportation networks, and in close proximity to four metro stations, the property is located in a renowned and affluent commercial and residential area. Visitors from luxury shopping and up-market dining and entertainment facilities, as well as from the nearby Taipingqiao lake and leisure park, provide strong footfall support for the property's retail business.
高端物業
High Quality Asset

擁有頂尖功能和卓越設計,體現裝飾藝術主義,展現上海30年代的獨特建築風格。

The property boasts top-notch features and specifications, while its Art Deco design style is reminiscent of Shanghai's architecture of the 1930s.
殷切需求
Positive Market Dynamics

內地企業及跨國公司需求殷切,核心商業區優質辦公室將繼續受市場追捧。物業所在浦西核心商業區,辦公室供應預期2017年到頂,其後數年沒有新供應。

In the Core CBD of Puxi, where the property is located, office supply will peak in 2017, with no new supply slated for the next few years.
關於企業天地1號樓及 2 號樓
About Corporate Avenue 1 & 2

•   2003年年底完成
•   兩座優質甲級辦公樓,由地面兩層商業群樓連接
    -  企業天地1共21層,19層為辦公室
    -  企業天地2共10層,8層為辦公室
•   兩層地庫有泊車位 226 個


•   Completed in late 2003
•   Two premium office towers, connected by two floors of retail podium on the ground
    -  Corporate Avenue 1 - 21-storey tower with 19 floors of office space
    -  Corporate Avenue 2 - 10-storey tower with 8 floors of office space
•   226 parking spaces at the two basement levels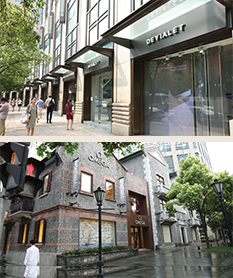 領展新增上海辦公室資產,強化各個業務分段,透過多元化策略創造價值。

六大動力驅動業務模式擴展,提高派息增長,並優化資產質素。

The growth of our multi-segment business, greatly aided by the addition of an office asset in Shanghai, generates business value through diversification.

Six business drivers underpin our expanded model to bolster DPU growth and enhance asset quality.
現時物業組合分佈(按估值)
Existing portfolio mix (by value)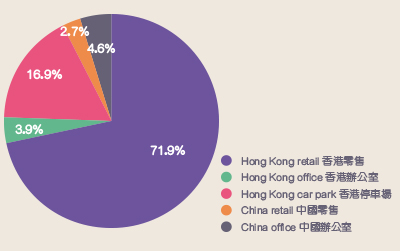 六大業務動力
Six business drivers
多元化業務創造價值
Multiple business segments
to create more value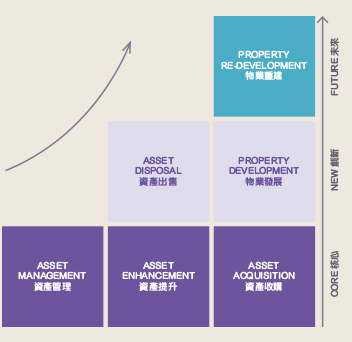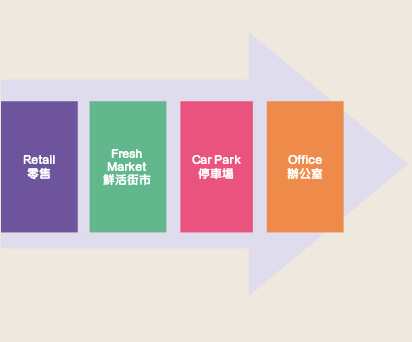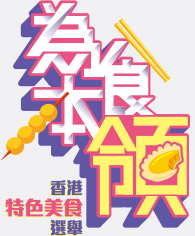 反應熱烈 投票逾四千五
Overwhelming Response to
"Link Good Food"

鬆化蛋撻、脆皮菠蘿包、惹味魚蛋、香滑奶茶...這些都是港人熱愛的地道美食。領展旗下特色食肆雲集,特別與U Magazine合辦首屆「為食本『領』香港特色美食選舉」,推廣香港特色美食及領展旗下商戶。公眾按十個熱門美食類別,提名100間參與食肆,並於網上及票站投票,反應空前熱烈,兩星期內有逾4,500人投票。每類別得票最高首三名合共30間食肆,10月初將於樂富廣場舉行的美食巡禮同場較量,由300名市民及專業評審團即場試食,選出金銀銅獎的得主。
Egg tarts, pineapple buns, fish balls and milk tea are amongst Hong Kong's most loved delicacies. To celebrate and share these treats with customers, Link enlisted its many unique restaurants to participate in the "Link Good Food" campaign launched in collaboration with U Magazine. Amongst the 100 participating restaurants, the campaign grouped entries into ten popular food categories for which the public voted online or in person for their favourites, with an overwhelming response of over 4,500 votes. The three contestants with the highest votes in each category (totalling 30 restaurants) will compete in a gourmet competition at Lok Fu Plaza in October. Three hundred members of the public and the judges will sample the delicacies on offer and determine the winners.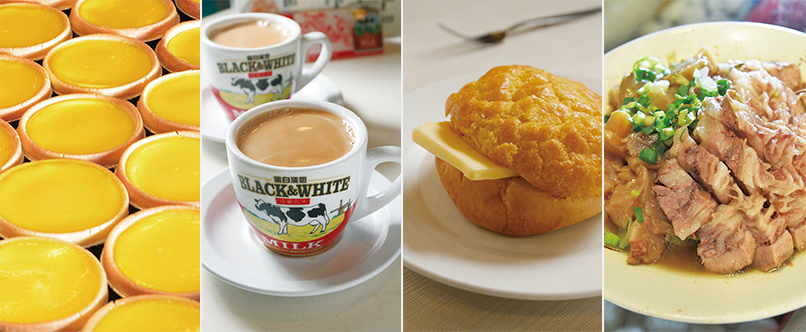 街坊提名他們最愛的香港特色美食店。
Members of the public nominate their favourite local restaurants during the street interviews.


公開投票期間,我們於多個領展商場邀請市民投票,選出最愛香港特色美食店。
We visited Link's shopping centres to invite the public to vote for their favourite local restaurants.
十個特色美食組別最後三強
Top Three of Ten Popular Food Categories
雲吞 Wonton

劉森記麵家
Lau Sum Kee Noodle Ka
雲吞生麵食
Wonton Shing Noodle
復興香港仔魚蛋王
Fook Hing Catering Ltd
牛腩 Brisket

嘉香汕頭魚蛋粉麵家
Ka Heung Shan Tau Noodle Shop
坤記麵家
Kwan Kee Noodle
怡景群記爽腩店
Eking Beef Noodle Company
燒味 Chinese BBQ

全盛燒臘茶餐廳
Chuen Shing Chinese BBQ Restaurant
全發燒臘
Chuen Fat Chinese BBQ
興記海鮮燒鵝飯店
Hing Kee Restaurant
煎釀三寶 Stuffed three treasures

小食皇
Snacks King
炸魚肉
Fried Fish
長發美食城
Cheung Fat Food City
西多士 French toast

龍鳳冰室
Lung Fung Café
巴黎冰室
Paris Ice House
星座冰室
Star Café
出爐蛋撻 Egg tart

泰昌餅家
Tai Cheong Bakery
蛋撻王
King Bakery
南豐餐廳
Nam Fung Restaurant
豆腐花 Sweet tofu pudding

珍豆漿豆腐花專門店
Jane Bean Juice
阿一豆花
One Bean Curd
豆腐主義
Tofulism
菠蘿包(油)Pineapple bun (buttered)

百份百餐廳
Café 100%
百好咖啡餅店
Pak Ho Café & Cake Shop
祥興咖啡室
Cheung Hing Coffee Shop
魚蛋/ 燒賣 Fish ball/ Siumai

小食皇
Snacks King
大圍小食
Tai Wai Snacks
有咸有甜
Yummy Yummy Café
港式奶茶 Hong Kong-style milk tea

金記冰室
Kam Kee Café
星座冰室
Star Café
香港風情
Hong Kong Style Restaurant
*排名不分先後 listed in no particular order
*各組別最後三強以美食巡禮公布為準
Final top 3 of each category are subject to changes and will be confirmed at the gourmet competition
全新小西灣本灣市場
突破時地界限
Debut of Innovative Fresh
Food Shopping at Siu Sai Wan Market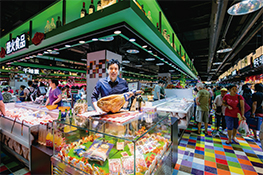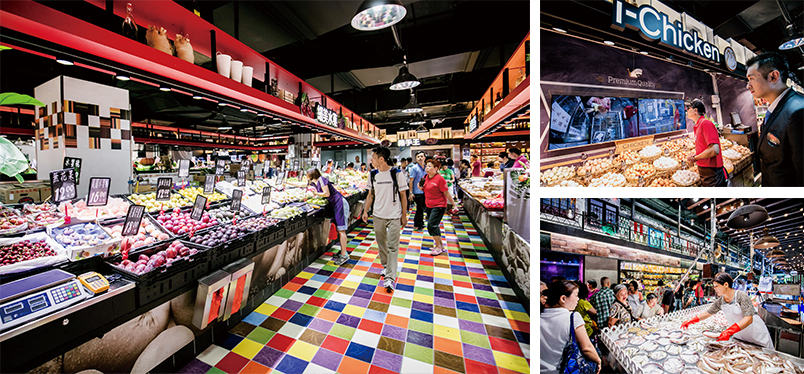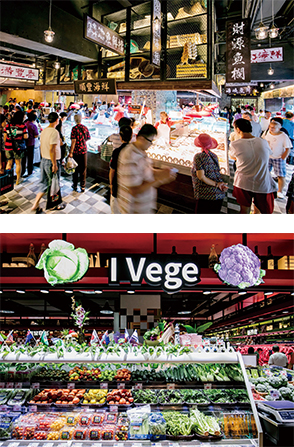 為滿足居民購買新鮮食材的需求,提升社區生活質素,領展旗下位於小西灣的本灣市場八月底完成資產提升工程重開,並引入多項全港首創服務,包括i-Chicken及24小時水果自動販賣機等,方便貼心之餘,更迎合上班一族的購物模式。

該街市原稱「小西灣街市」,翻新換上全新面貌,分成「本灣市場」及「本灣水產」兩部分,前者售賣肉類、家禽、蔬果、糧油等傳統食品外,更有不同種類的國際食材專門店,包括高級生果、海外進口蔬菜和日韓食品等。「本灣水產」寓意本港海灣市場,提供各地鮮活及急凍海鮮以及海味,場內特色餐廳更有「即買即煮」服務,為顧客即場烹調海鮮。兩部分設計各具特色,揉合時尚與傳統,呈現摩登街市及漁欄風貌,懷舊之餘亦展現朝氣活力。


By providing a better operating environment and a vibrant and unique retail experience, Link is creating the sustainable business proposition for tenants and creating closer ties to the local community. Siu Sai Wan Market has re-opened after completing extensive asset enhancement. To better cater to the needs of office workers, this revitalised market offers first-of-its-kind services, including the "i-Chicken" service and 24-hour fresh fruit vending machine.

In addition to traditional items such as meat, poultry, vegetables, fruits and other groceries, the property's fresh market section offers a wide variety of international food, including premium fruits, imported vegetables and Japanese and Korean food specialties. At the fish section, fresh local aquatic products alongside a wide selection of fresh and frozen seafood from around the world and dried seafood products are on offer. The section's design embodies Hong Kong's iconic fishing village tradition, offering a stark contrast with the fresh market section's modern décor. A restaurant is also available, providing on-the-spot seafood-cooking services.
領展團隊多次到海外考察世界各地鮮活市場,為香港傳統街市注入新意,日後將繼續透過鮮活街市改造項目,為商戶及居民創造獨一無二的零售體驗之餘,凝聚社區,連繫好生活。

During the past few years, Link's team has made multiple visits to overseas fresh markets for insights and inspiration. In bringing the international experience to Hong Kong, Link adds innovation and creativity to the traditional fresh market culture while fostering local community cohesion and linking people to a brighter future.
本灣市場其他服務包括:
Other services at Siu Sai Wan Market include:
1.
香港首個將會員計劃與八達通二合為一的街市會員咭,購物付款同時儲分,一拍即可,簡單方便。

The first fresh market membership card incorporating Octopus Card payment function. Customers can redeem membership points while paying with a simple and convenient swipe of the card.
2.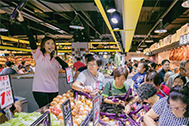 專業街市DJ以互動形式於場內為商戶推廣產品,提供時令食材及即時購物資訊。

A market DJ helps tenants promote their goods and provide residents with information about the latest discounts.
3.
物價監察委員會確保本灣市場物價保持競爭力。

A Price Monitoring Committee is available at Siu Sai Wan Market to ensure its market food prices are competitive.
4.
對於工作繁重而未能趕及於街市營業時間購買新鮮水果的居民,特設24小時新鮮水果自動販賣機,全日供應新鮮水果,即使一人份量亦可選購,方便上班一族。

With the market's 24-hour fresh fruit vending machine, help is at hand for busy customers who are not able to purchase fresh fruits during market operating hours. Customers can buy fresh fruits at any time and in any quantity.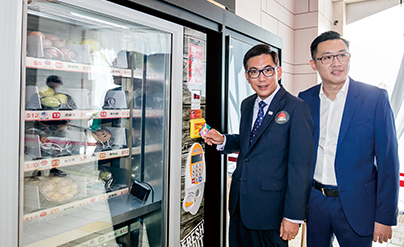 獎項與榮譽
Awards & Recognitions
Triple A資產服務、基金管理及投資者獎
The Asset Triple A Asset Servicing, Fund Management and Investor Awards


憑藉出色的房地產投資及管理策略,領展第三度於由國際著名財經雜誌《財資》(The Asset) 舉辦的「Triple A資產服務、基金管理及投資者獎」中,獲頒發「年度地產投資者」獎。

With excellent property investment and management strategies, Link was named 'Property Investor of the Year' for the third time in The Asset Triple A Asset Servicing, Fund Management and Investor Awards.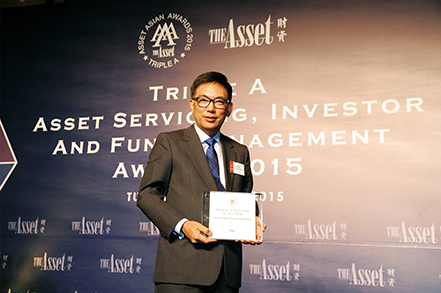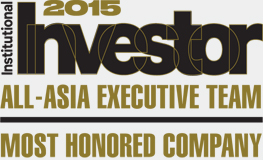 《機構投資者》亞洲區公司管理團隊調查
Institutional Investor All-Asia Executive Team Ranking


領展於《機構投資者》舉辦的「2015亞洲區公司管理團隊調查」中,囊括物業界別中的七個大獎,包括買方組別「最佳行政總裁」第一名、「最佳投資者關係」第一名、「最佳首席財務總監」第三名,以及賣方組別「最佳投資者關係」第一名、「最佳行政總裁」第二名。領展亦榮獲「最佳分析員日(房地產)」第一位,以及「最受尊崇的香港企業」第四名。

Link won seven awards in the Institutional Investor magazine's 2015 All-Asia Executive Team Ranking – Property Sector category. These include, on the buy-side, first in "Best CEO", first in "Best Investor Relations", and third in "Best CFO"; on the sell-side, first in "Best Investor Relations" and second in "Best CEO". Link also ranked first in "Best Analyst Day (Real Estate) ", and fourth in "Most Honored Company".
富時社會責任指數
FTSE4Good Index Series


領展連續第三年獲納入被受全球公認的富時社會責任指數,肯定其於企業社會責任範疇的傑出表現達至國際水平。

Link has been included in the globally recognised FTSE4Good Index Series for three consecutive years, affirming its outstanding performance in fulfilling corporate social responsibility.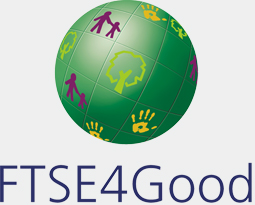 首屆「建築測量師大獎2015」
First Building Surveyor Awards 2015


樂富街市大型翻新工程,於香港測量師學會建築測量組首辦的「建築測量師大獎2015」,獲得專業評審的肯定,成功奪得「大型加建及改動及翻新工程-專業顧問」組別優異獎。

At the first Building Surveyor Awards 2015, organised by The Hong Kong Institute of Surveyors, the renovation project at Lok Fu Market won a merit award in the Major A&A and Renovation Works, Consultant category.