ISSUE 27
January 2018 Edition 2018年1月號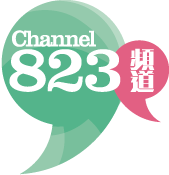 700 Nathan Road Commences Operation
旺角全新活力地標 彌敦道 700 號陸續啟用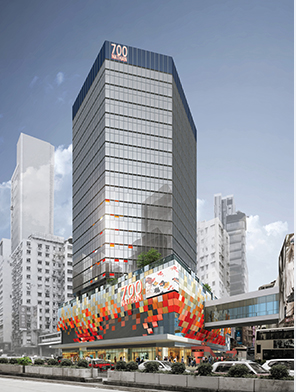 Following the completion of a major refurbishment, the tower of Link's commercial complex at 700 Nathan Road commenced operation in November 2017. The first batch of tenants, including clinics, general retailers, a co-working business centre, a beauty centre and offices, have started moving in.

Located at the junction of Mong Kok Road and Nathan Road, the Ginza-style complex connects directly with the MTR on the basement level. Its retail podium is scheduled for opening in mid-2018, with committed tenants including speciality restaurants, cafés, fashion, beauty and lifestyle outlets. Shop leasing has come to its final stage, with more speciality retailers expected to be signed on in stages.
領展彌敦道700號項目的商業大樓部分已完成提升工程,去年11月起開業,包括醫務診所、零售商戶、共享商業中心、美容中心及辦公室等多個商戶陸續投入服務。

此銀座式商業大樓坐落旺角道及彌敦道交界,地庫樓層與港鐵站出口相連,其零售基座預計於2018年中開業,已獲餐廳、咖啡室、潮流服飾、美容, 及生活品味等行業商戶承租,租務進度理想,已進入最後階段,希望吸納更多特色商戶進駐。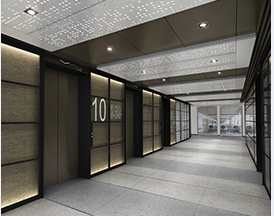 Breaking New Ground through
Technology Sector Partnership
地產科技 創新方向
To harness property technologies to enhance services, and promote the development of property technology in Hong Kong, Link partnered with Hong Kong Science and Technology Parks (HKSTP) to organise the Link-HKSTP PropTech Accelerator Programme for start-up technology companies.

Over 10 shortlisted companies with promising property technology solutions joined a 12-week intensive programme in late 2017, where they learnt first-hand from Link representatives about technology applications at Link, as well as Link's business development directions and corporate vision. Company visits were also arranged to equip them with a better understanding of industry needs. On the final demo day, participants had the opportunity to showcase their projects to potential investors and business partners, and explore co-operation opportunities with them.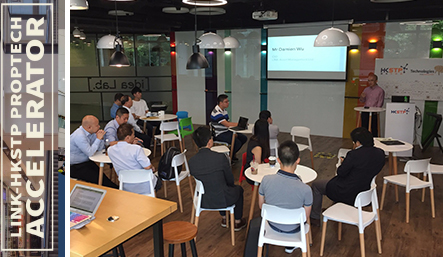 領展與香港科技園合辦「Link-HKSTP PropTech Accelerator」計劃,讓初創科技企業展示地產科技相關項目,不但有助探索嶄新應用方案,善用科技提升服務,亦同時促進地產科技在香港的發展。

十多家擁有相關技術方案的科技企業獲選於2017年底參加為期12個星期的密集課程,並聽取領展代表介紹相關的技術應用、業務發展方向及企業抱負,亦獲安排探訪企業,加強其對行業需要的了解。該計劃最後階段的展示日,參與者更有機會向準投資者和商業夥伴展示其項目,探索合作機會。
Shopping Experience Takes Flight at Fu Tung Plaza
富東廣場 優化購物體驗迎客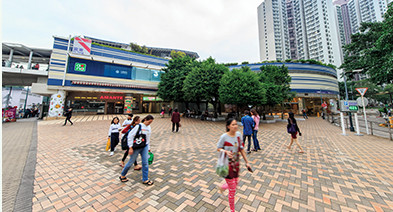 With its proximity to the airport, Tung Chung has seen strong growth in its residential population and tourist arrivals in recent years. Link's Fu Tung Plaza recently completed a major refurbishment to enhance services and facilities to better tend to the needs of residents of nearby customers and elevate the property's overall image. The new trade mix features a new F&B cluster that includes a Korean BBQ restaurant and a Chinese restaurant, which, together with a sizeable supermarket, helps enhance shopper flow throughout the mall.
Other new tenants include casual wear, jewellery retailers and a noodle shop. The mall's two rotunda areas have taken on a stylish look with the installation of a new steel and glass staircase and the addition of a flower-shaped sunshade to the circular glass canopy. The mall's dynamic and contemporary decor extends to the exterior, which showcases a newly refurbished façade and eye-catching banners for promotional messages.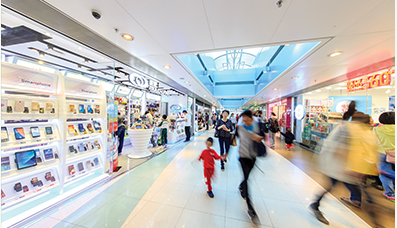 鄰近機場的東涌,人口和遊客數字近年均有顯著增幅。領展富東廣場近日完成大型提升工程,為鄰近居民帶來更稱心的服務及設施,並提升物業整體形象。提升後商場引入全新大型超市以及設有韓燒餐廳及中式酒樓的餐飲區,有效引導客流到商場各處。其他新商戶包括休閒服飾及珠寶零售商和麵店。此外,場內圓形中庭分別加設以鋼和玻璃製成的樓梯,以及於玻璃天幕加上花形的遮陽裝置。全新粉飾的商場外牆延續室內的現代化動感設計,並於當眼處增設橫額作推廣之用。
Renovated Market Offers Speciality Fresh Food
富東街市 網羅特色新鮮食材
Fu Tung Market has been revamped, introducing specialty tenants offering high-quality fresh food, as well as eateries serving Mexican and Thai dishes. Other distinctive retailers' offerings include eggs from around the world, and barbecue supplies catering to countryside visitors. With its welcoming and attractive entrances, the new market features low-rise stalls for higher shop visibility and an improved layout for better circulation.
剛完成提升的富東街市場引進多個供應優質新鮮食材的商戶,以及墨西哥和泰國菜食肆。特色商戶包括發售世界各地雞蛋的檔戶,以及郊遊人士最愛的燒烤食品店舖等。除了美化街市入口外,街市還採用矮檔設計,讓顧客一目了然,並改善佈局,優化訪客流向。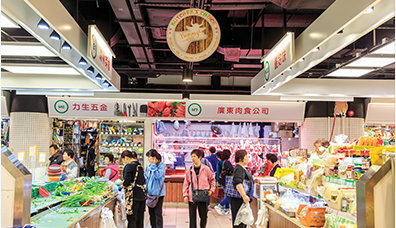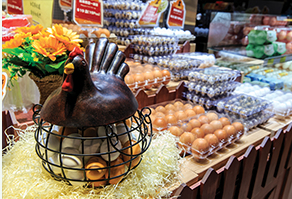 Tin Yiu Plaza
Introduces Premium
Dining Choices
天耀廣場 美食天堂
Tin Yiu Plaza's refurbishment has turned its lower ground first floor into a new air-conditioned retail zone complete with courtyards and benches to take its leisure shopping experience to a new level. Its F&B and retail trade mix has been strengthened by bringing in a Hainan chicken rice restaurant, KAZUTOYO and Chung Kee Dessert – all making their debut in Link's portfolio – as well as a popular Yunnan rice noodle outlet and various fast food tenants. A broad array of retailers is also featured in a new zone that offers products ranging from clothing to bedding and health food, and even fast haircut service.
天耀廣場LG1樓層完成優化工程,打造全新空調零售區,特設備有座椅的小型庭園,為訪客提供閒適休憩空間。商場亦強化商場餐飲及零售組合,引入 BUGIS@叻沙.海南雞飯、一豊及松記糖水,全部均為首度加盟領展的特色食肆,另有人氣雲南米線及快餐商戶。多個零售商戶則提供衣履、寢具、健康食品、速剪理髮服務等,方便區內居民。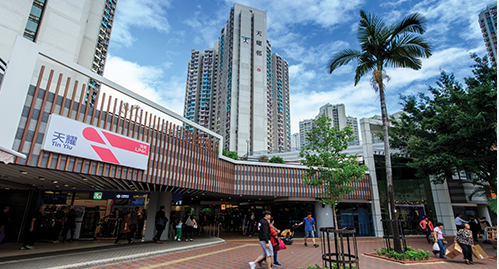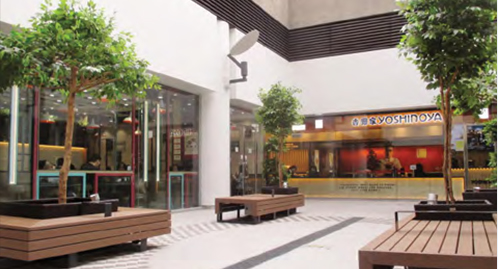 獎項與榮譽 Awards & Recognitions
Link's Board and Chairman Garner
"Directors of the Year" Awards
領展董事會屢獲殊榮 主席聶雅倫膺傑出董事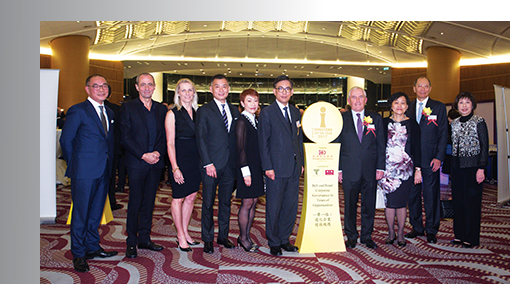 At the Directors of the Year Awards 2017, organised by the Hong Kong Institute of Directors, Link's Chairman and Independent Non-Executive Director Nicholas Allen was named the Directors of the Year Award winner in the Non-Executive Director category for "Listed Companies (SEHK - Hang Seng Indexes Constituents)", while Link's Board of Directors was a winner in the Board category in addition to receiving a "Recognition of Excellence in Board Diversity". Nick commented that the awards serve to recognise not only the achievement of individuals, but also the outstanding work of Link's entire Board of Directors and staff members.
由香港董事學會舉辦的「傑出董事獎」選舉,表揚具卓越領導力的董事。於2017年度的選舉,領展董事會主席及獨立非執行董事聶雅倫獲頒 「傑出董事獎」(上市公司(香港交易所-恒生指數成分股)非執行董事類別)奬,領展董事會亦奪得「董事會獎」及「董事會多元化卓越嘉許」殊榮。聶主席表示,獲獎不但是對個人成就的認同,更充分肯定領展董事會成員及全體員工的努力。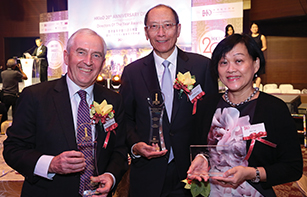 Link's CEO Named
EY Entrepreneur of the Year China Award Winner
領展行政總裁王國龍奪 安永企業家獎
Link's CEO and Executive Director George Hongchoy was named Country Winner for the Hong Kong/Macau Region at the renowned EY Entrepreneur Of The Year (EOY) 2017 China Awards. Honouring entrepreneurs who inspire others with their outstanding vision, leadership and achievement, the EOY Awards is one of the world's most prestigious business accolades for entrepreneurs.
安永企業家獎是世界上最負盛名的國際商業獎項之一,旨在表揚以非凡遠見、超群領導才能及卓越成就來激勵他人的傑出企業家。領展行政總裁王國龍奪得今屆安永企業家獎2017中國-香港/澳門地區大獎。

More about the EY EOY Awards
更多有關安永企業家獎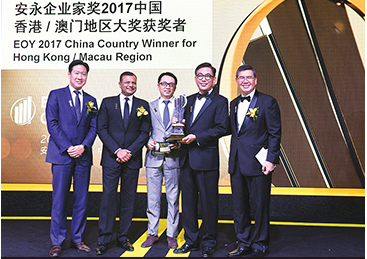 The Asset Corporate Award
最佳公司治理獎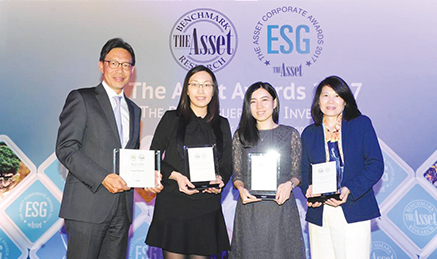 Link emerged a big winner at The Asset Corporate Awards 2017, garnering four accolades: The Asset Platinum Award, the Best Chief Executive Officer Award, the Best Investor Relations Team Award, and the Best Initiatives award in the "Diversity and Inclusion" category. The Asset Corporate Awards provide a benchmark for listed companies with regard to corporate sustainability.


領展於2017「最佳公司治理獎」中榮獲首度榮獲最高榮譽鉑金獎,並獲頒另外三個獎項,包括「最佳行政總裁」、「最佳投資者關係團隊」及「最佳多元共融項目」。「最佳公司治理獎」針對企業可持續發展,為業界釐訂嚴謹指標。
Hong Kong Corporate Governance Excellence Award
香港公司管治卓越獎
In recognition of its high standard in corporate governance, business ethics and board leadership, Link was an award winner in the "Hang Seng Index Constituent Companies" category at the Hong Kong Corporate Governance Excellence Award 2017, organised by The Chamber of Hong Kong Listed Companies.


領展再度於香港上市公司商會主辦的2017年度「香港公司管治卓越獎」中,獲選為「恒生指數成份股公司」類別的得獎公司,表揚其在企業管治、商業倫理及董事會領導方面的卓越成就。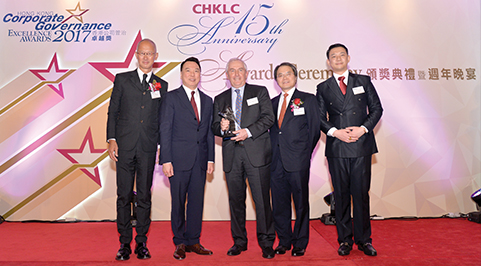 MIPIM Asia Awards
「亞洲國際房地產」大獎
The Quayside, a commercial property jointly developed by Link and Nan Fung Group in Kowloon East, was the Gold Winner of the Best Futura Project at the MIPIM Asia Awards 2017, which recognises the property industry's best and brightest.


由領展及南豐發展共同發展的九龍東商業項目「海濱匯」,在2017「亞洲國際房地產」大獎中榮獲「最佳未來建設項目」金獎,在一眾亞洲房地產項目中脫穎而出。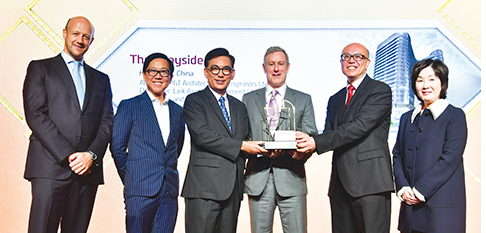 ICSC Asia-Pacific Shopping Center Awards
ICSC亞太地區購物中心大獎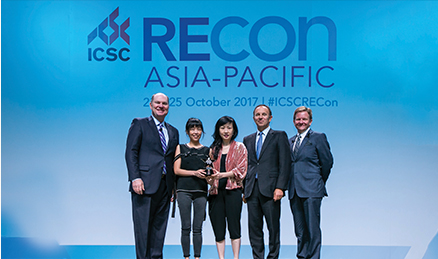 Stanley Plaza's "Paws by the Sea 2017" campaign was honoured with the Silver Award in the Public Relations and Events category at the 2017 International Council of Shopping Centers (ICSC) Asia-Pacific Shopping Center Awards, a premier recognition of excellence, innovation and creativity in the region's retail real estate industry.


領展赤柱廣場「文青狗狗藝術展 2017」於「2017國際購物中心協會(ICSC) 亞太購物中心大獎」的「公共關係及活動」組別榮獲銀獎。該獎項表揚亞太地區購物中心在市場營銷方面優秀和創新的表現。
Professional Design for a Welcoming Look
專業設計指引 助商舖吸客
The way a shop looks can have a big impact on its ability to draw in customers. In addition to offering professional advice on tenants' design plans, Link's in-house design team has developed a fitting-out handbook that provides tenants with practical guidelines covering various aspects of shop design, including show windows, lighting and product displays.

"Effective shop design centres around the techniques of arousing shopper interest," said Link's chief designer, Frank Chan. "For example, a speciality restaurant may showcase the process of a special food item being made through its shop window, while a fashion retailer stands a better chance of attracting shoppers' attention by displaying their wares slightly above eye level. A shop with visitors coming mostly from the left side should preferably position its door on the right side so it directly faces incoming customers to welcome them in."
商舖設計最重要是能招徠顧客。領展的專業設計團隊,除了為商舖設計提供意見外,還製作裝修手冊,就包括櫥窗、燈光及產品展示等多方面裝修事宜,為商戶提供實用指引及參考。

領展首席設計師陳復說:「商鋪設計以提高購物者興趣為目的。比方說,餐廳可考慮利用櫥窗展示特色食品的製作過程,而時裝店把貨品置於視線水平稍高位置,則有助吸引顧客注意。另外,如客流多來自商舖左方,把入口設於商舖右則,直接面向顧客,可加強迎客效果。」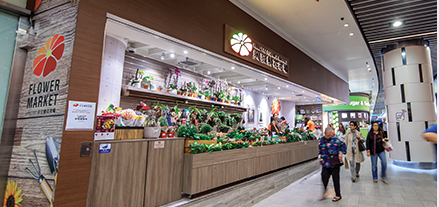 M.C. BOX Po Tat — The First Market with Alipay in HK
M.C. BOX寶達街市 率先引進支付寶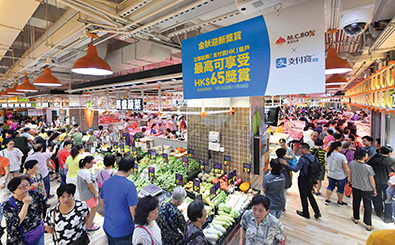 The newly refurbished M.C. BOX Po Tat Market, run by Single-Letting Market (SLM) operator Uni-China, became the first fresh market in Hong Kong to introduce the AlipayHK mobile payment system, making payment for fresh groceries a breeze. The market offers abundant food choices from over 40 stalls, and a specially designed food corner where customers can have their fresh seafood cooked on the spot.


由整體承租商建華營運的全新M.C. BOX寶達市場,率先引進支付寶服務,成為全港首個智能化的「無現金街市」,省卻找續麻煩,購物更加舒適便捷。場內特設40多個商舖及小食區,更有即煮海鮮服務,帶來美食新驚喜。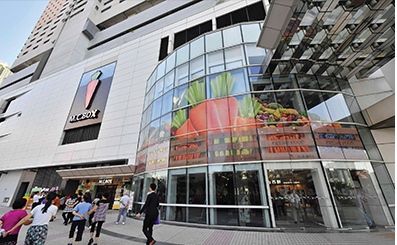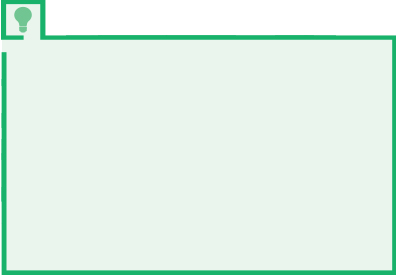 整體承租商知多啲
Single-Letting Market (SLM) Operator

As lessee of an entire market, an SLM operator is responsible for operating the market and improving its quality. It can operate its own stalls or lease some stalls to its own subtenants, just like a big food court tenant.

整體承租商整個街市,負責營運並提升其質素,並可把部分檔位分租予檔,就如美食廣場等大型租戶。