Central Walk Shopping Mall Boasts Convenient Rail -
Connected CBD Location in Shenzhen's Futian District
深圳福田中心城廣場 核心商區雙鐵優勢
Central Walk shopping mall, Link's latest acquisition to capture the growth of the Greater Bay Area, is located at the heart of Shenzhen's Futian CBD, a high-income and high-density commercial area which houses the South China head offices of Fortune 500 companies and leading domestic companies. The five-storey retail centre enjoys excellent intra-city and inter-city connections, as it sits atop two Shenzhen Metro lines and is easily accessible from the Futian China Railway High-speed station. It takes only 14 minutes to reach Hong Kong and less than an hour to reach most parts of the Pearl River Delta region via high-speed rail.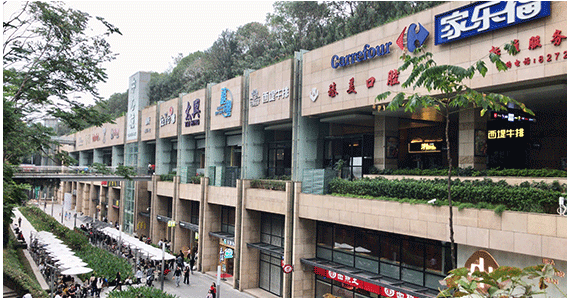 領展最近購入中心城廣場,藉以把握大灣區的高速增長。該商場樓高五層,位處深圳福田核心商區中心地段的高收入、高密度商業社區,匯聚「財富500強」企業及內地領先企業華南總部,社區及工作人口稠密。物業坐享便捷市內及城際交通網路,不但在兩條地鐵線正上方,亦信步可達高鐵福田站,並於一小時內可達珠江三角洲大部分地區。
Property Information
項目一覽 (只提供英文版)
From the Team behind the Deal 交易背後團隊心聲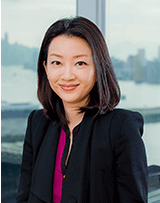 Christine Chan,
Director (Investment)
投資總監陳淑嫻 Central Walk marks another milestone in our expansion in mainland China. Our investments in the Greater Bay Area thus far have reached HK$36 billion. Its high-speed rail and metro-linked location at the heart of Futian CBD and in the Greater Bay Area brings in all the inbound and outbound city commuters. There are many possibilities and upside potential that can be created in this strategically located asset.

是次收購標誌集團拓展中國內地市場的另一里程碑,我們於大灣區的總投資已達360億港元。中心城廣場坐落福田核心商區中心,於大灣區具戰略地位,毗連主要高鐵及地鐵樞紐,有助服務龐大的出入境客流。物業可塑性高,上升潛力龐大。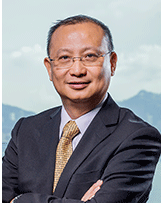 Gary Fok,
Director (Asset Management – China)
資產管理(中國)總監霍業生 Benefiting from the rapid growth of the technology sector, Shenzhen's per capita GDP is the highest among the four mainland first-tier cities. With the addition of this Shenzhen acquisition, Link's mainland Chinese assets make up 13.1% of our total asset value.

受惠於科技產業迅速增長,深圳人均本地生產總值是四個內地一線城市之中最高,加入深圳項目後,領展於中國內地資產將佔其總資產值約13.1%。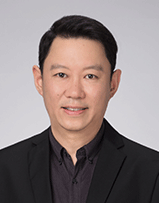 Ronnie Wong,
General Manager (Asset Management-China)
資產管理(中國)總經理黃日山 Shenzhen's Futian District houses a large number of financial businesses, municipal services and cultural facilities. The city government's plan to further expand the district's pedestrian walkway system will strengthen the property's connectivity.

深圳福田區匯聚眾多金融商務、市政及文化設施。政府當局計劃進一步擴展區內行人步道系統,將有助加強物業與多個商廈和景點的連接。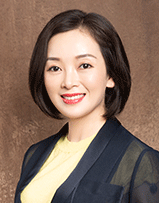 Cao Yahui,
General Manager, Central Walk Shopping Mall
中心城廣場總經理曹亞暉 Since its opening in 2007, Central Walk Shopping Mall has not undergone major refurbishment. We are looking to enhance services and foot traffic through repositioning, facility enhancement, and trade and tenant remixing.

商場於2007年啟用以來,未有進行大型翻新,我們會針對區內的消費者進行重新定位及優化環境、重整行業及商場租戶組合等,以改善服務及人流。
Link Issues Green Convertible Bond - a First for the
Real Estate Sector Worldwide
領展發行綠色可轉換債券 全球房地產行業首例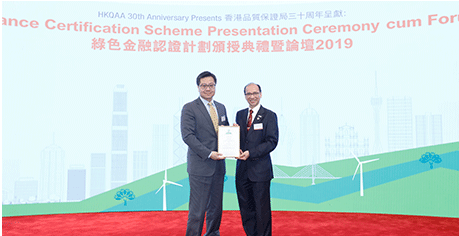 Link's convertible bonds have been certified by HKQAA's Green Finance Certification Scheme
領展的可轉換債券已獲得香港品質保證局的綠色金融認證計劃認證
Cementing its place as a global pioneer in green financing, Link's recent green convertible bond issuance marked a first for the real estate sector worldwide and Hong Kong issuers. Raising HK$4 billion at 1.6% per annum due 2024, the lowest coupon rate achieved by an Asian REIT over the past five years, the green convertible bonds have received an "A" rating from S&P. The proceeds will be used to refinance or fund Link's existing and future eligible green projects. The bonds were allocated to a balanced mix of Asian and European investors.

CEO George Hongchoy said, "The convertible bond issuance will help replenish our maturing facilities, diversify our funding sources and expand our investor base. We are delighted to work with like-minded investors to promote and improve corporate sustainability performance as well as build thriving, low-carbon communities."
領展發行綠色可轉換債券,為全球房地產行業及香港上市企業首例,彰顯其於國際綠色金融的領先地位。該批2024年到期的40億港元債券獲標準普爾給予「A」評級,固定年息率1.6%,為五年來亞洲房託債券中之最低。債券集資所得款項將為現存及將來的綠色項目提供資金,或用於項目的再融資。有關債券已均衡地配售予亞洲及歐洲的投資者。

行政總裁王國龍表示:「可轉換債券將有助補充我們將到期的融資,並擴闊資金來源及投資者基礎。我們很高興與理念相同的投資者合作,促進和提升企業可持續發展的表現,並建立蓬勃發展的低碳社區。」
Read more 了解更多
Link Scoops Best Deal Awards 領展獲最佳交易大獎
Link won the "Best M&A, Hong Kong" award at The Asset Triple A Country Awards 2018 as well as the "Best Deal of the Year" award at the recent RICS Awards Hong Kong 2019 for its successful disposal of 17 shopping malls for HK$23 billion, which marked Hong Kong's largest-ever retail property transaction in terms of size and scale. In addition, Link's Asset Manager Stanley Kwok was named "Young Surveyor of the Year" by RICS for his stellar performance.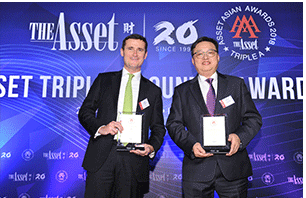 領展早前作價230億港元出售旗下17個商場,成為香港歷來最大宗商場資產組合買賣,在《財資》雜誌舉辦的「The Asset Triple A Country Awards 2018」中榮獲「香港最佳併購」獎項,並在RICS香港年度大獎奪得「最佳成交大獎」。領展資產經理郭培深亦因其卓越表現成為本年度「青年測量師大獎」其中一位得獎者。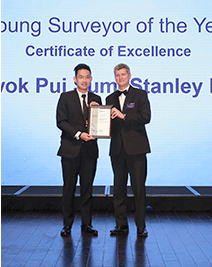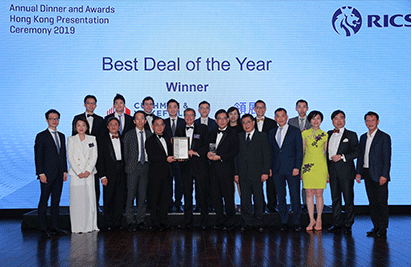 Fitch Initiates Coverage of Link with "A" Rating
惠譽給予「A級」首次評級 展望穩定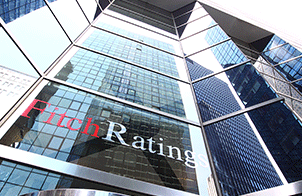 Fitch Ratings has assigned Link REIT for the first time a Long-Term Issuer Default Rating and senior unsecured rating of "A" with stable outlook. The rating agency has also assigned Link's US$5 billion medium-term note programme a rating of "A".

According to Fitch's rating report, key rating drivers for Link include its resilient investment property portfolio serving non-discretionary trades, its solid operating record in asset enhancement and trade remixing, and its history of prudent financial management as demonstrated by financial leverage that compares favourably with those of its local industry peers.

惠譽首次給予領展長期發行人違約評級及優先無擔保債務評級,兩者同為「A」級,展望為穩定。
根據惠譽評級報告,領展評級的主要指標包括其提供日常生活所需的投資物業組合具抗逆力、資產提升及優化商戶組合的營運往績良好,以及審慎財務管理,令其財務槓桿比率較同業維持相對穩健水平。
Read more了解更多
Link CEO Discusses Development Strategy on CNBC
行政總裁CNBC專訪談領展發展策略
Recently on "Managing Asia", CNBC's long-running programme featuring business leaders, CEO George Hongchoy talked about key aspects of Link's business, including diversification strategy and expansion into mainland China, asset enhancement projects and commitment to sustainability.George also revealed that he often plays the role of an undercover shopper at Link's malls and markets in his free time. A segment of the interview was conducted at Link's TKO Market.

行政總裁王國龍早前接受CNBC電視台商業管理節目《Managing Asia》專訪,暢談領展的發展,包括業務多元化策略、擴展內地市場、項目資產提升及可持續發展。George還透露他經常私下到訪領展的商場和鮮活街市。專訪的其中一幕正是在領展TKO街市拍攝。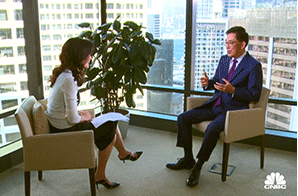 Full episode 足本重温
Engaging the Investment Community on
Investor Day in Shenzhen
領展投資者日於深圳舉行
At Link's Investor Day 2019 in Shenzhen, the senior management team gave an update on the company's business strategy and development to over 50 buy-side and sell-side analysts. Among the topics discussed were asset management in Hong Kong and Mainland China, sustainability, portfolio growth strategy and capital management priorities, as well as Link's vision for 2025 to achieve sustainable returns.

領展於深圳舉行投資者日2019,管理層向50多位買方及賣方分析員講解公司業務策略和發展,就香港及中國內地資產管理、可持續發展、投資組合增長策略、資本管理,以及朝著2025願景邁向可持續回報等多個題目進行分享。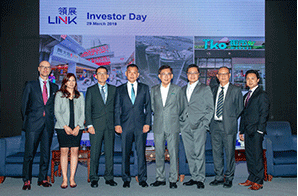 T Market Showcases Japanese Minimalist Design
T Market 頌富市場 日式簡約購物環境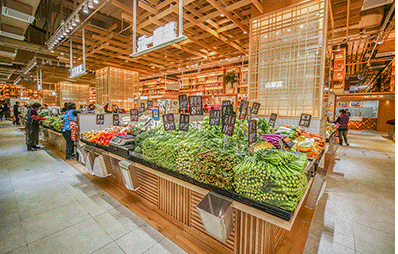 Exuding an air of Japanese minimalism, the newly renovated operator-run T Market in Tin Shui Wai features a wood-accented design showcasing Japanese cooking utensils and hanging lights to create a refreshing and spacious shopping environment. In addition to 70 shops offering a wide range of fresh foods and dried seafood, the market is equipped with a cooked food zone where residents can also enjoy delicious treats till 1 am.

由街市承租商營運的T Market頌富市場,採用以「木」為主調的和風設計,橫樑展示日式煮食用具及吊燈,營造簡潔清新及具空間感的購物環境。T Market內設有近70個商鋪,由新鮮食材到乾貨海味,應有盡有,更特設營業至凌晨1時的小食區,為附近居民帶來更多美食新驚喜。
More Late Night Dining Convenience at Food Town
Food Town 竹園市場 小食街方便夜歸一族
Food Town at Chuk Yuen Estate showcases an unconventional bamboo-themed fresh market design featuring bamboo stems in wavy patterns, and artistic rattan lamps and paper lanterns. In addition to close to 90 market stalls, the operator-run market boasts a snack street that is open till the early morning hours and offers a variety of quick eats, making it a late-night snacking hub for local residents.

F ood Town竹園市場設計突破傳統,天花及橫樑上的竹竿以流線型排列,營造流水韻律動感,配以藤藝燈飾及和紙吊燈,貫徹「竹」主題。該由街市承租商營運的街市設有近90個商舖,而匯聚各地地道美食的小食街則營業至凌晨,為區內居民營造「宵夜新天堂」。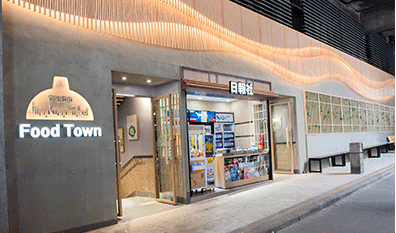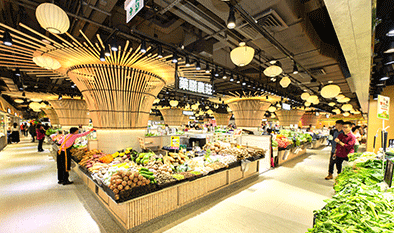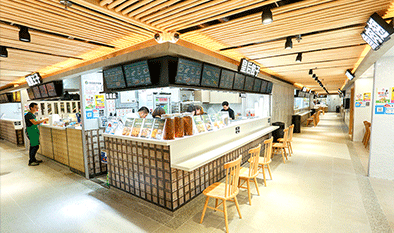 CONNECTION 2019
Explores Ways to Eliminate Single-Use Plastics
探討棄用一次性塑膠製品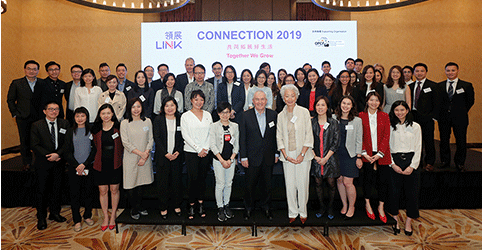 Link has pledged to roll out a pilot programme to eliminate single-use plastics at its properties. At CONNECTION 2019, the latest edition of the annual event organised by Link to engage service providers, contractors, tenants and NGOs in developing the company's long-term corporate sustainability strategy, over 60 participants took part in vigorous discussions on ways to cut down on single-use plastics in Link's properties. The participants came up with some insightful ideas, including pilot use of alternative products, the setting up of "no plastics" zones, a rental and collection service for recyclables, and a platform for collaboration among partners.
領展將就取締一次性塑膠推出試點計劃。由領展舉辦的CONNECTION 2019年度會議,透過跟服務供應商、承辦商、商戶及非政府組織進行討論,協助領展制定企業可持續發展策略,與逾60名與會者共商減少一次性塑料的方法,並提出不同的解決方案,包括試行替代產品、設立「無塑膠」區域、回收物品收集及租用服務,以及與夥伴設立合作平台。
Putting Safety First in Site Works
工地作業 安全第一
To enhance employees' safety awareness, Link published the "Site Safety Handbook" to provide important information on occupational health and safety in site works, and assist relevant teams in formulating work guidelines, safety management systems and precautionary measures.

為提升員工的安全意識,領展特別編製的《工地安全手冊》,就工地作業常見情況,提供職業健康及安全資訊,協助工程相關團隊制訂工作指引、安全管理制度和預防措施。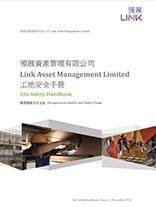 Driving Responsible Investment through Leadership of
the United Nations Environment Programme
引領聯合國環境規劃署 推動負責任投資
General Manager - Corporate Development & Strategy Calvin Lee Kwan was recently elected the Co-chair of the United Nations Environment Programme Finance Initiative (UNEP FI) Property Working Group (PWG) and a member of the UNEP FI Investment Committee. This is a two-year commitment, during which Link will steer the work and direction of the two groups, and act as a voice for the industry in the Asia-Pacific region. In the last five years, as a UNEP FI PWG member, Link has contributed to the formulation of global best practice guidelines on topics including measuring and reporting positive impact, and incorporating environmental, social and governance factors in valuation. Most recently, Link has supported the efforts of the Task Force on Climate-related Financial Disclosures.

企業發展及策略總經理關凱臨最近獲選為聯合國環境規劃署金融倡議物業工作組的聯合主席,以及該署金融倡議投資委員會的成員。於兩年任期,領展將督導該兩組織,並為亞太地區業界發聲。領展過去五年出任該工作組成員期間,為制定全球最佳作業指引作出多方面貢獻,包括社會及環境影響的評估及報告、把環境、社會及管治等因素納入估值報告,而近期領展亦支持推展氣候相關財務信息披露工作。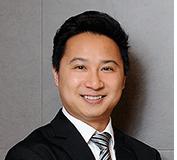 General Manager -
Corporate Development & Strategy
Calvin Lee Kwan
企業發展及策略總經理關凱臨