Beijing Malls Earn "Gold Landmark" Titles
北京兩商場獲「金地標」殊榮
At the China Commercial Real Estate Industrialization Summit, EC Mall and Jingtong Roosevelt Plaza in Beijing won the "Trendy Gold Landmark" and "Lifestyle Gold Landmark" awards respectively. During Chinese New Year, the two malls also held lion dance performances and festive bazaars.

於中國商業地產產業化峰會,北京歐美匯購物中心和京通羅斯福廣場脫穎而出,分別榮獲「動感潮流金地標」獎和「時尚生活金地標」獎。於新春檔期,兩商場亦分別舉辦新春舞獅表演及年貨市集活動,為購物環境注入節日氣氛。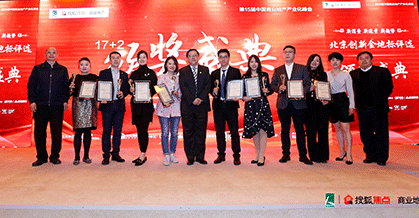 EC Mall Introduces Quality Brands
優質品牌落戶歐美匯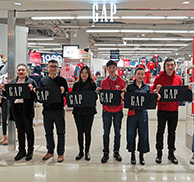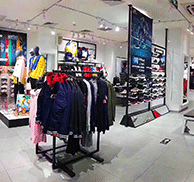 With a view to enriching customer experience, EC Mall has brought in nine new tenants, including Gap, Skechers, Dickies, Myflair, Walk On Earth, Dancing Lion hot pot restaurant, COCO Café, the Huawei experience store and the Apple experience store.

為豐富顧客購物體驗,歐美匯最近引入九家新品牌,包括GAP、Skechers、Dickies、Myflair、Walk On Earth、醒獅打邊爐、COCO都可、華為手機體驗店及蘋果手機體驗店。
Gourmet Tour Brings Together
Link's Hong Kong Malls and Metropolitan Plaza
香港美食大賞游 帶動中港飲食及文化交流
With the aim to promote culinary and cultural exchanges between the Mainland and Hong Kong, popular Key Opinion Leader(KOL) Zhang Ting-Ting led customers of Metropolitan Plaza in Guangzhou on a recent gourmet tour to Hong Kong to taste local gourment delicacies at eateries in five Link shopping malls as well as visit famous Hong Kong attractions.

As the starting point of the tour at Metropolitan Plaza, there were comedy and singing performances, entertaining cooking shows and a fun food-related game for hundreds of customers.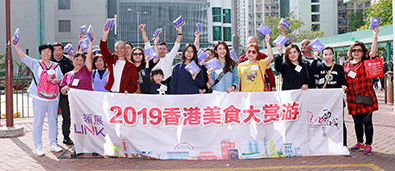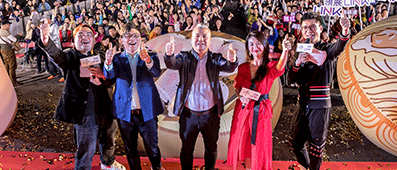 為加強中港兩地美食及文化交流,領展舉辦「粵港味•醉識歎之香港美食大賞遊」,由人氣KOL張婷婷帶領廣州西城都薈廣場的幸運顧客到臨黃大仙中心、樂富廣場等多個領展商場觀光購物,並於領展餐飲商戶品嚐香港特色美食,更遊覽著名香港景點。

西城都薈作為活動啟動儀式主場,有電台名嘴及人氣歌手鍾明秋及觀辰獻上精彩表演與商户美食表演,更有數百名商場顧客參與傳遞巨型美食氣球遊戲。
Fabulous Chinese New Year Prizes Up for Grabs
at Temple Mall 黃大仙中心 足金禮品賀新春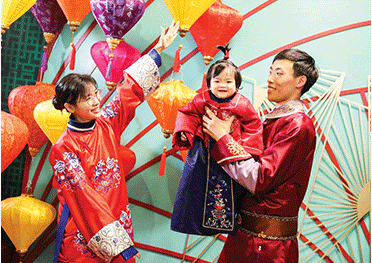 To ring in a prosperous Year of the Pig, Temple Mall invited visitors to join a red packet giveaway via the WeChat mobile app, with winners receiving 999 pure gold and other attractive prizes. This attracted visitors from as far north as Heilongjiang in China. Meanwhile, the newly refurbished Blessing Pavilion at Temple Mall North offered a family portrait and a pre-wedding photoshoot experience with traditional Chinese outfits available for everyone.
黃大仙中心舉辦豬年新春活動,以創意方式派紅包,顧客只需利用微信手機程式即有機會搖出紅包,同場更可參與遊戲贏足金,過肥年,活動吸引遠至黑龍江的訪客。顧客亦可於全新裝潢的祝福閣穿起傳統中國服飾拍攝全家福或婚照。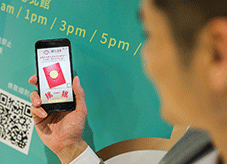 A Luminous Bike Dragon on Parade
夜光單車舞火龍
Joining the Hong Kong Tourism Board's "International Chinese New Year Night Parade" for the sixth year, Link's 80-strong procession of bikes took the shape of a luminous dragon dancing through the streets. We also showed our care for the community through decorative elements representing the Guide Dog and Happy Clown service projects funded by Link.

領展第六年參與香港旅遊發展局於大年初一舉辦的「新春國際匯演之夜」,由80人組成的巡遊隊伍,以單車燈光拼砌出夜光火龍於鬧市中舞動,並以獨特的造型代表「導盲犬服務計劃」及「耆青小丑~快樂速遞」兩個由領展資助的服務計劃,宣揚關愛社區的訊息。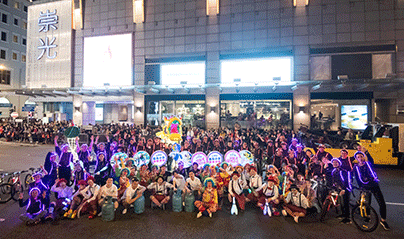 Guesstimate Challenge at Joint-mall CNY Celebration
領展新界東商場 金豬有禮賀新歲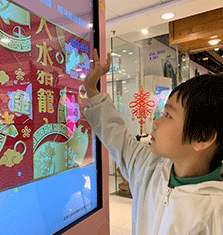 Five of Link's malls in the New Territories East (Tai Wo Plaza, Wo Che Plaza, Choi Yuen Plaza, Chun On Shopping Centre and Sha Kok Shopping Centre) jointly hosted an exciting Chinese New Year campaign allowing customers to participate in fun puzzles and a guesstimate challenge to bring home new smartphones, luxury home appliances, supermarket cash coupons and other amazing prizes.

領展旗下5個新界東商場(太和廣場、禾輋廣場、彩園廣場、頌安商場及沙角商場)舉辦「金豬有禮賀新歲」活動,讓顧客參與金豬競猜及拼圖等遊戲,贏取新款智能手機、名牌家電及超市現金券等豐富獎品。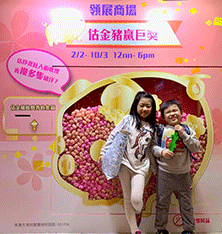 Sweet Valentine's at Stanley Plaza
赤柱廣場「心心相印」情人節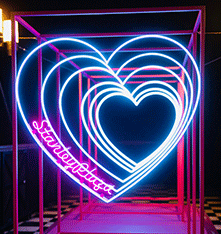 Stanley Plaza's "Sweet Valentine's" campaign featured five romantic Instagrammable photo spots scattered around Stanley Plaza and Murray House, and offered instant audio photo printing service allowing lovers to leave sweet voice messages for their partners. Combined with the "I'm Your Honey" bee-themed event, special menus and romantic spending rewards, the campaign made for a perfect Valentine's Day celebration.
赤柱廣場舉行「心心相印」浪漫情人節活動,於赤柱廣場及美利樓特設五大打卡位,讓戀人們輕鬆放閃,更提供即場免費打印錄音照片,為另一半錄製深情留言。場內更有「蜂之戀人」主題活動、情人節套餐及商品優惠,讓一眾愛侶甜蜜慶祝情人節。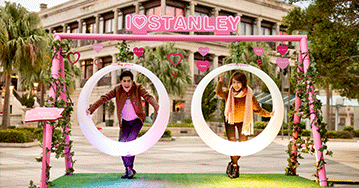 "Jumbo Claw Crane" at Butterfly Market and Plaza
蝴蝶街市及廣場 「豐衣足食 夾夾賞」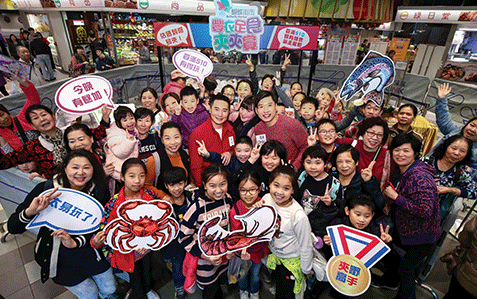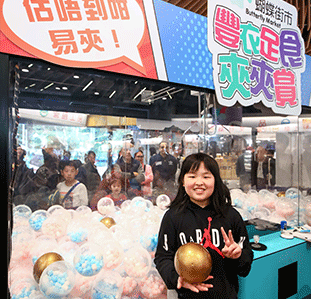 Butterfly Market and Plaza in Tuen Mun hosted the "Jumbo Claw Crane" game with prizes ranging from seafood to premium fresh fruits, targeting families with kids to get more familiar with the market and purchase fresh produce for home cooking. For a dose of extra excitement before Chinese New Year, local TV celebrities were invited to play the game with shoppers, and a "Claw Crane Van" toured in the district to bring the joy for residents of all ages.

蝴蝶街市及廣場推出夾夾機遊戲,為顧客送出海鮮及高級食材等獎品,鼓勵市民與家人多逛街市,選購新鮮食材在家下廚。活動除邀得人氣藝人到場與顧客同歡,更安排專車予屯門其他地區居民共享遊戲樂趣。
Expressing Love with Cantopop at T.O.P
T.O.P 唱住廣東情歌 渡過3個情人節
During the festive stretch of Chinese Lantern Festival, Valentine's Day and White Day on 14 March, T.O.P This Is Our Place was the perfect spot for celebrating romantic moments, with abundant Instagrammable photo spots featuring iconic Cantopop love song lyrics. Apart from drawing love fortune sticks and having them explained by local screen goddess Jess Sum via the T.O.P app, mall visitors could also record romantic messages for their lovers and create TOPsnap couple selfies. The mall also introduced the JOOX KBox Karaoke experience. During the festival, T.O.P partnered with tenants to launch the Red Packet Promotion and Double Points Campaign to engage shoppers and drive sales.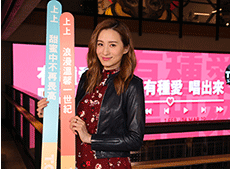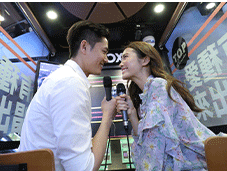 T.O.P This is Our Place 以《有種愛 唱出來》為主題與大家慶祝3個情人節,緊扣本地原創廣東情歌歌詞,設計多個特色打卡位。商場亦邀得溫柔女神沈卓盈解說愛情籤,訪客亦可錄製「愛情留 SING 卡」送給另一半,並且利用TOPsnap跟愛侶拍攝放閃照。商場更與 JOOX 合作帶來JOOX KBox 體驗。新春及情人節期間,T.O.P更推出豬福紅包獎賞及雙倍T.O.P points活動,促進商戶銷售額。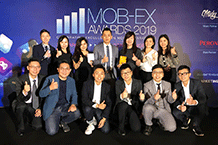 Park & Dine App and T.O.P App
Receive Mob-Ex Best App Award
泊食易及T.O.P應用程式
齊獲 Mob-Ex 最佳應用程式大獎
Link's Park & Dine app and T.O.P app, for their customer-friendly services, won Gold and Silver Awards in 'Best App – Property' respectively at Mob-Ex Awards 2019. In addition, T.O.P app took home the Bronze Award in 'Most Innovative Use of Mobile'.
「泊食易」及T.O.P應用程式一向以貼心的功能優化顧客的整體購物體驗,成績有目共睹,並分別獲Mob-Ex 頒發「最佳應用程式 – 地產」金獎及銀獎。另外,T.O.P應用程式更憑其創新思維榮獲Mob-Ex「最佳應用程式創新獎」銅獎。
Celebrating the Year of the Pig with Tenants
開市吉日 與商戶同慶新春
To welcome the Year of the Pig with tenants, Link hosted a spring reception at Temple Mall on 20 February. Officiating at the ceremony with the senior management team, CEO George Hongchoy explained that in addition to a continued focus on its home market in Hong Kong, Link will be leveraging its expertise in asset management to actively expand its presence in first-tier mainland cities to capture opportunities arising from the growth of the middle class and the development of the Greater Bay Area. He warmly invited tenants to explore the new business opportunities created by Link's commercial assets in Hong Kong and mainland China.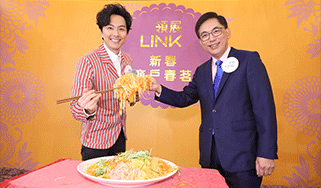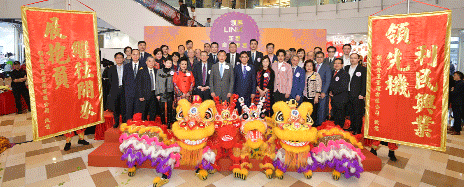 為與商戶共慶豬年,領展於2月20日假黃大仙中心舉行「領展新春開市吉日暨商戶春茗」。行政總裁王國龍聯同管理層主持開市儀式,致辭時亦提及,香港是領展業務重心所在,近年亦積極拓展內地一線城市,發揮集團商業資產管理的專長,把握內地中產人口增長及大灣區發展帶來的機遇。他亦邀請商戶加盟香港及內地的新商業項目。
Parking Expands E-Payment Channels
電子泊車新增付款辦法
The E-Parking function of Link's Park & Dine app, which enables drivers to access car parks and pay parking fees by scanning a QR code via their mobile phones, has increased the number of supported e-payment channels to 10 by adding Payme and Visa and MasterCard Direct Credit Card payment on top of the existing channels of Alipay HK, Apple Pay, JETCO, Octopus, PPS, and WeChat Pay. The service is available at six car parks at Temple Mall and Lok Fu Place at the moment.

領展「泊食易」手機應用程式的「電子泊車」功能讓車主以手機掃描二維碼進出停車場及繳付泊車費,最近新增萬事達卡及Visa信用卡直接付款和PayMe電子付款方法,連同包括支付寶香港、Apple Pay、銀通支付、八達通、繳費靈及微信支付等原有渠道,令服務所支援的電子支付渠道增至10個。該功能現時於黃大仙中心和樂富廣場六個停車場推出。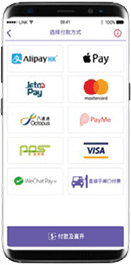 Park & Dine App's E-Stamp Streamlines
Reward Redemption
泊食易電子印花 助輕鬆兌換獎賞
To encourage customers to make repeat purchases, the Park & Dine app has introduced a new e-Stamp function, which digitalises and simplifies the sales redemption process, from registering sales receipt for e-stamps to converting the e-stamps into gifts. The service will be rolled out to promotional programmes of Link's shopping centres in phases.

為 鼓勵顧客消費,「泊食易」手機應用程式推出全新「電子印花」功能,將換領消費獎賞的程序電子化和變得更簡便,讓顧客輕鬆登記購物收據及以印花兌換禮品。該服務將分階段於領展的商場推廣活動推出。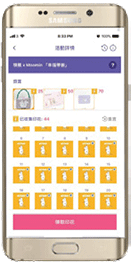 Pointers to Successful Selling
分享零售營銷之道
At a Link Tenant Academy seminar on successful selling, the former Miss Hong Kong-turned-snack shop owner Halina Tam and former news anchor Li Chan Wing offered tenants useful pointers in running a retail business and sales techniques to help boost business performance.

「領展商戶學堂」舉辦「Top Sales 是這樣練成的!」講座,從港姐冠軍變身小食店老闆的著名藝人譚小環及前新聞主播李燦榮與商戶分享營商策略及銷售秘技,冀助創造更佳業績。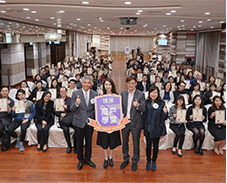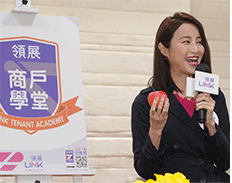 Editorial Board
編輯委員會
Claudio Cheung 張廣仁
Kassy Ho 何嘉善
Calvin Lee Kwan 關凱臨
Danny Lee 李應權
Fred Wong 王兼發
Eric Yau 丘兆祺
Produced by Corporate Communications Department 企業傳訊部編製