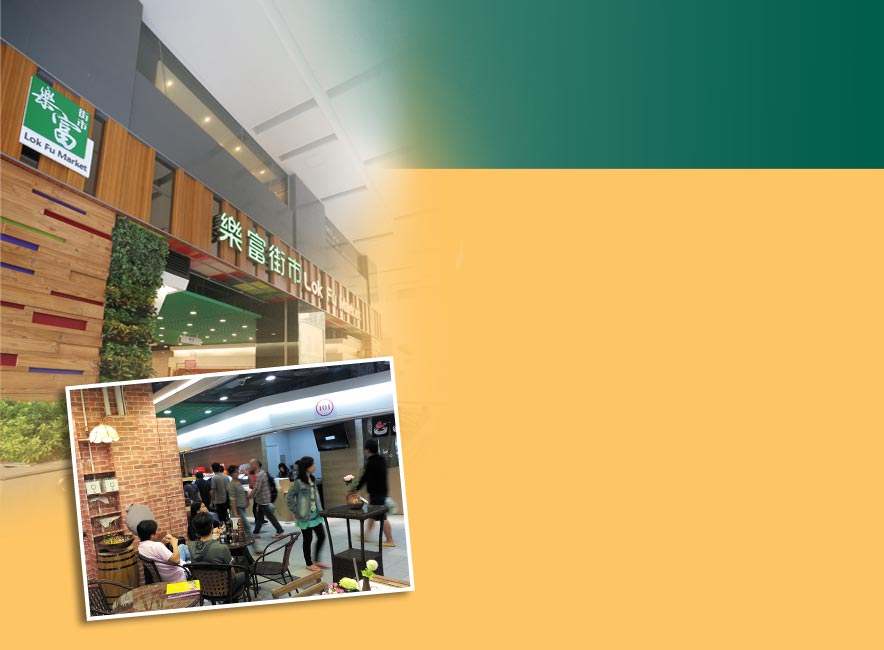 樂富街市
Lok Fu Market
非一般摩登街市
An Exceptional Modern Market
剛於十月底以全新面貌示人的樂富街市,不但全面提升環境,租戶組合亦更豐富,以迎合區內不同年齡家庭的需要。

這個摩登街市的租戶組合兼容並蓄,除了基本行業外,多家別具特色的新商戶包括生蠔專門店、壽司店、高級肉食店、海味店、有機蔬果攤檔等亦會相繼開業,產品種類豐富,選擇亦更多元化。優化後的租戶組合將與樂富廣場的零售商舖產生更佳的互補作用,全方位照顧居民的日常生活需要。

Lok Fu Market offers a brand-new shopping environment and an enhanced tenant mix, designed to cater to the needs of different age group families, after it reopened in late October following a major renovation.

Apart from offering basic essential trades, this new-era market features a number of new tenants, including an oyster bar, sushi shop, gourmet food stall, dried seafood shop, and organic fruits and vegetables store, offering broader product choices with higher overall quality. The enhanced tenant mix is designed to better complement the existing trade mix in Lok Fu Plaza, by bringing a well-rounded shopping experience to its shoppers.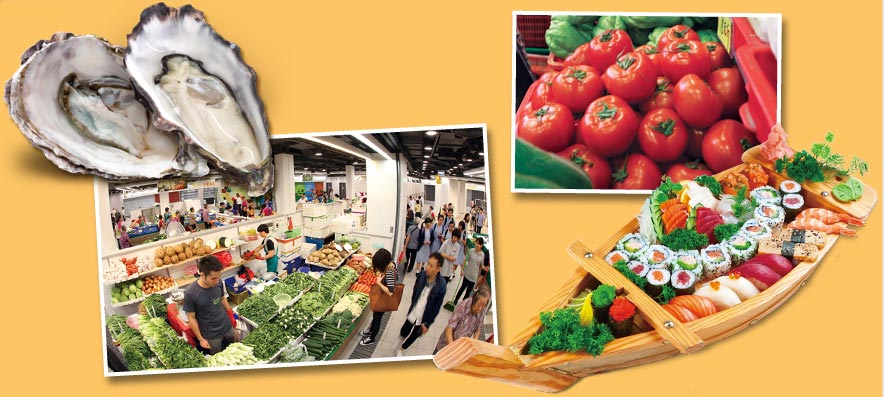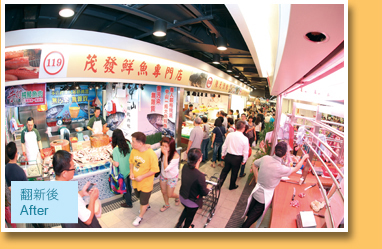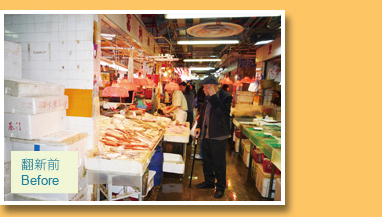 特色攤檔設計 街市通明潔淨
Tailor-Made Stall Design for High Storefront Visibility and a Fresh Look
揉合了大元街市及愛民街市的設計優點,樂富街市採用曲線佈局以增加趣味性及滲透性,亦增加了半腰檔的數量(至超過四成),進一步提升街市的通透度,令視野更開闊,攤檔一目瞭然,顧客購物更輕鬆。

領匯項目及策劃部助理總經理陳紹富指出:「是次工程的重點包括重整排水系統、提升供電系統、在場內安裝環保節能燈、善用半腰檔設計及全新空調處理機組以增加空間感,以及開闢獨立通道供鮮魚檔上落貨使用。另外,我們亦為半腰檔加裝LED燈並提供產品展示架,務求令整個街市的照明更佳,整潔之餘亦不失趣味。」

Lok Fu Market was carefully crafted to capture the beauty of both Tai Yuen Market and Oi Man Market. It has been totally reconfigured to create an optimal shopping experience. The number of low stalls has been expanded to over 40% to further enhance the permeability and visibility of the market, allowing shoppers to locate their favourite stalls at a glance.

"In this asset enhancement exercise, we have revamped the drainage system, improved the power supply system, installed an environmentally friendly lighting system and a new air-conditioning system, introduced low stall design to make the market look more spacious, as well as adding a separate corridor for the use of fish stalls. In addition, we have mounted extra LED lights and display benches for low stalls to provide better ventilation and a neat and tidy look," said Terence Chan, Assistant General Manager of Project and Planning Department.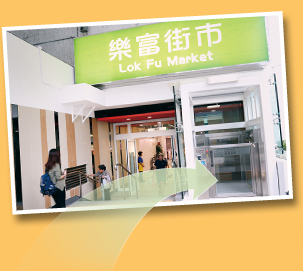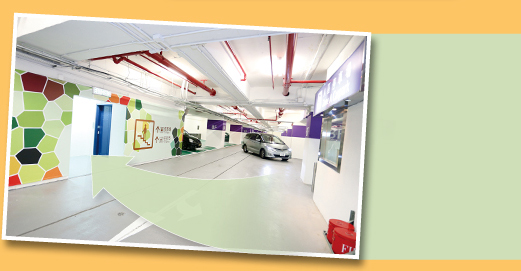 完善配套接連商場及停車場,包括新增的客𨋢。
Enhanced facilities connect the market, plaza and car park including a new lift.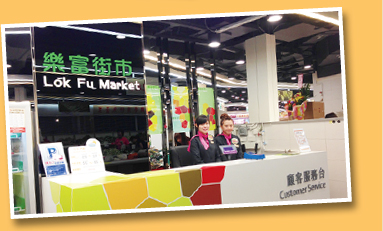 翻新後,樂富街市設於樂富廣場旁的入口亦已擴闊,並加裝「暢通無阻通道」設施,如斜道及暢通易達升降機,以及增設客𨋢貫通商場及停車場,讓使用者可以輕鬆來往樂富廣場及街市,盡享購物樂趣。

The entrance of Lok Fu Market situated as part of Lok Fu Plaza has been enlarged, and barrier-free access facilities, such as a ramp and accessible lift, have been installed. A guest lift has also been added to connect the market with the shopping centre and car park, giving shoppers easy access to all levels within the premises.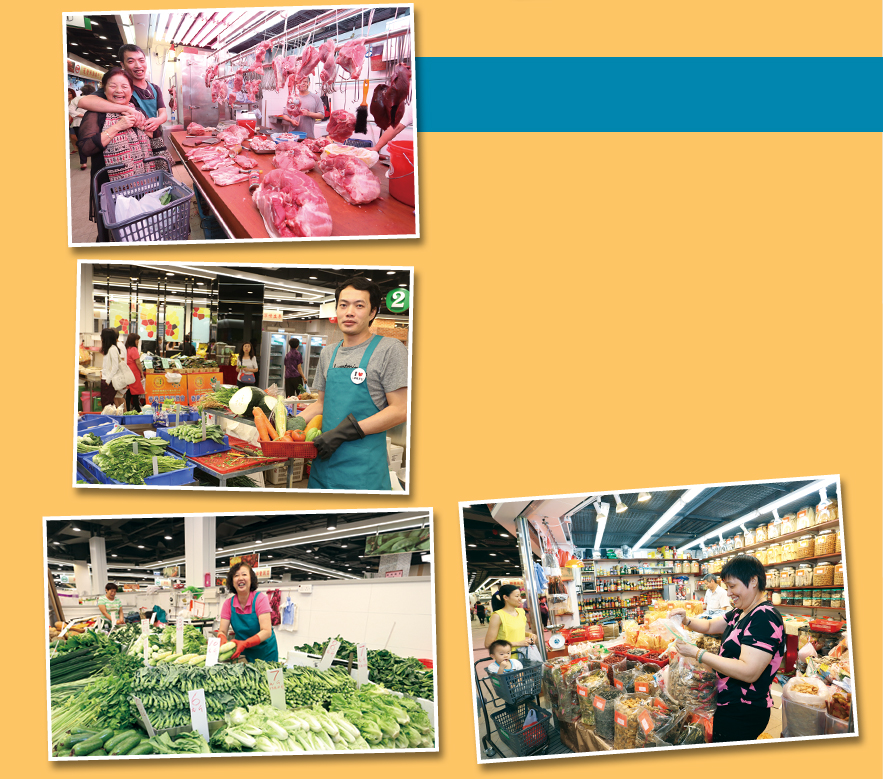 商戶心聲
Hear from Our Tenants
商戶及顧客對樂富街市的嶄新面貌一致讚賞!大家都認同樂富街市變得整潔開揚,而寬闊的通道及手推車借用服務令顧客可以輕鬆自在購物。開業首日的樂富街市人潮如鯽,商戶與熟客寒暄問好,現場滿佈歡樂笑聲!

Both tenants and customers appreciate the fresh look of Lok Fu Market, which features a cleaner and more spacious environment. With wider corridors and the provision of trolleys, the market is more comfortable and convenient for shopping. On its reopening day, Lok Fu Market was crowded with customers, old and new. Some regular customers were happy to return, greeting long-time tenants and filling the market with joy and laughter!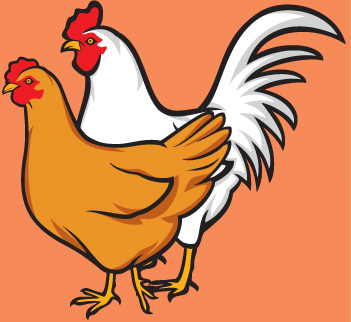 區內獨有活家禽供應
Exclusive Live Poultry Supply in Lok Fu
有見區內缺乏活家禽供應,為滿足居民對鮮活食材的需要,領匯已向有關政府部門申請搬遷一個活家禽檔到樂富街市。這個約500呎的活家禽檔設有獨立抽風系統,並按照安全指引採用封閉式設計的玻璃牆分隔顧客和活家禽,確保達到最高的安全衞生水平。

While live poultry is a rare provision in the district, The Link has approached relevant government authority to transfer a live poultry stall to move in Lok Fu Market in order to meet the needs of local residents. Equipped with a separate ventilation system and glass wall partition, this 500-square-feet live poultry stall is designed to ensure the utmost safety and hygiene requirements are being met.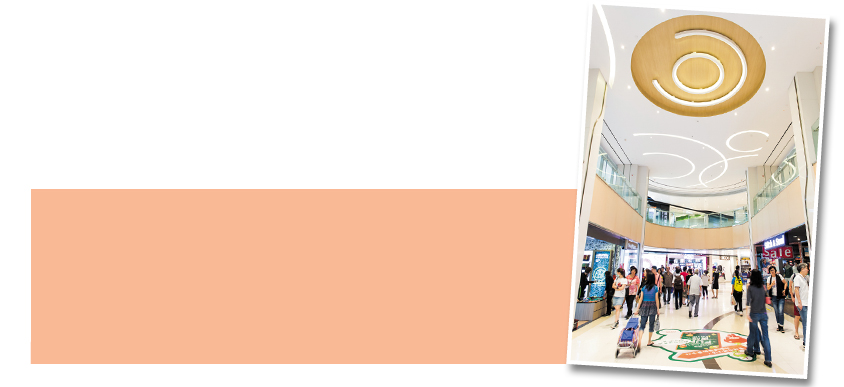 融入自然風貌 頌富廣場釋放潛力
Bringing a Touch of Nature to Chung Fu Plaza
毗連濕地公園的頌富廣場剛完成翻新工程,因應頌富獨特的地理位置,設計師特意將自然風貌元素引入其中,以水滴及漣漪作設計主題。工程首階段完成後,場內面貌煥然一新,幾可媲美新落成的大型商場。

頌富廣場一期完成資產提升工程後,室內不但更明亮,亦更具空間感。設計師將原有的標準樓底重新規劃及升高,令公共空間大增,置身其中感覺更加舒適。空調系統亦經重新設計及處理,採用特別設計的出風口,令廣場在空間增加情況下,仍能保持室溫不變,達至節能效果。

Located in Tin Shui Wai district, Chung Fu Plaza is adjacent to the Hong Kong Wetland Park. To highlight these geographical characteristics, the architect for the asset enhancement project has adopted a wetland theme, such as water drops and ripple elements, to give a natural feel to the property. Such elements carry through to the interior design of the revamped plaza.
Upon the completion of the first phase of the enhancement work, Chung Fu Plaza has been opened up with a bright and spacious layout. Its floor-to-ceiling height has been maximised to bring a sense of spaciousness, making the entire environment more comfortable. The air-conditioning system has also been modified with a specially designed air vent, which can maintain the indoor temperature of the enlarged area and save more energy.
水滴和漣漪的元素展現在外牆、電梯、地板和天花板等設計上,除了與鄰近的濕地公園呼應外,也象徵「水為財」。

The design elements of water drops and ripples have been integrated into Chung Fu Plaza's exterior, escalators, floors and ceilings. These features echo the natural scenery of the Hong Kong Wetland Park nearby, while water is also a symbol of good luck and prosperity.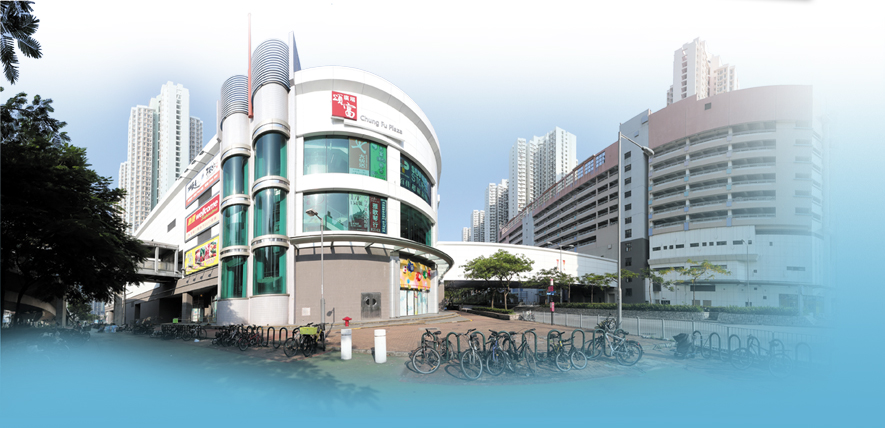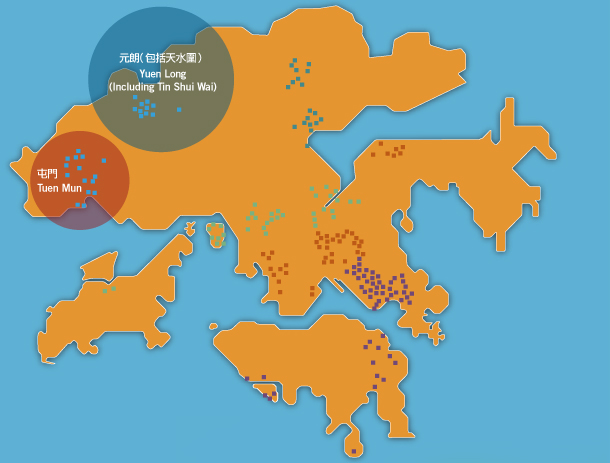 新界西發展 勢不可當
An Unbeatable Development Trend for the New Territories West
頌富廣場位處新界西天水圍人口密集之處,區內近年發展迅速,成為投資界看重的新焦點。

總體計算,領匯在新界地區的物業佔59%,其中以估值計有17%位於屯門及包括天水圍的元朗區。領匯財務總監翟廸強表示,觀乎新界西近年的發展,多項大型及邊境基建相繼在該區落成,因地利及交通之便而較易吸引內地旅客到訪,帶動區內的零售業發展。而且區內家庭收入水平不俗,人口增長率更較市區快速,可見該區正處於增長期,發展潛力優厚。

因此,領匯近年積極提升旗下商場的質素,自2008年至今,先後於新界西進行六個大大小小的資產提升工程,包括已完成的頌富廣場、天耀廣場、天瑞商場、蝴蝶廣場、良景廣場,及預計明年底完成提升工程的友愛及安定商場。

翟廸強指,新界西零售業興旺,國際品牌相繼加盟大型商場,而領匯旗下商場則吸引不少本土品牌進駐。以頌富廣場為例,商戶續租態度積極,可見其競爭力不斷提升,業務可望持續增長。
Chung Fu Plaza is located in the western part of the New Territories, where remarkable infrastructural change has occurred in recent years, making it a new focal point for the investment community.

"Overall, 59% of our assets are in New Territories of which 17% by value are located in Tuen Mun and Yuen Long including Tin Shui Wai. With the completion of large-scale infrastructure projects and new border crossing, the district has attracted more Mainland visitors, which has driven the growth of its retail market. The district's average household income has been rising, while the population growth rate is expected to be higher than the city's urban areas, contributing to the huge development potential of the district," said Hubert Chak, Director of Finance.

For this reason, The Link has been actively repositioning and revamping its shopping centres within the New Territories. Since 2008, it has initiated a total of six asset enhancement projects in the Yuen Long and Tuen Mun districts, with most of them already completed, including Chung Fu Plaza, Tin Yiu Plaza, Tin Shui Shopping Centre, Butterfly Plaza, and Leung King Plaza. The repositioning of shopping centres at Yau Oi and On Ting are due to be completed by end of 2014.
"Retail business in the New Territories West has been robust and has brought many international brands to larger scale shopping centres, while The Link's shopping centres have remained more attractive to local brands. Taking Chung Fu Plaza as an example, its increased competitiveness and growth potential is manifested in tenants' keen interests in lease renewal," said Mr Chak.
財務總監翟廸強
Hubert Chak, Director of Finance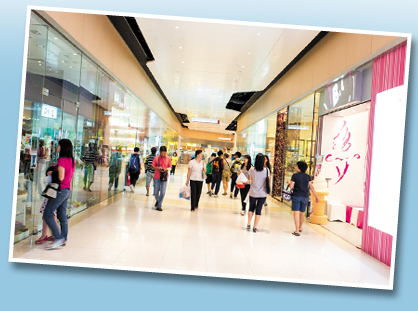 善用空間 便利商戶顧客
Better Space Utilisation for Shoppers and Tenants
除了優化環境及提升顧客的購物體驗以外,提升工程更著眼於如何協助商戶提升銷售。如頌富廣場是次重新規劃間隔,不但讓空間得以善用,現時地下小型商舖數目亦增加,引入更多新食肆加盟,為顧客提供多元化餐飲選擇;地下走廊由單邊商舖搖身一變成兩旁皆設有店舖,這種優化設計,更有助帶動人流。而一樓的電梯位置改動後,顧客購物更方便。廣場亦新增了自動門和育嬰室,並增設更多洗手間,「暢通無阻通道」設施設計亦同時提升。
The enhancement work is meant to not only spruce up the environment, but also provide customers with a more diverse and fun-filled shopping experience, thereby boosting tenants' opportunities for business. The reconfigured floor layout has been smartly crafted to accommodate more small shops on the ground floor. A new range of food and beverage outlets has been introduced to offer customers more dining choices, boosting up the shopping ambience and convenience for shoppers. Shops are now available on both sides of the corridor to increase traffic, and the escalator on the first floor has been relocated to bring greater convenience to shoppers. A nursery room, more washrooms and auto-doors have also been added. Barrier-free access facilities have been enhanced to improve accessibility and user-friendliness for all of the centre's customers and employees.
商戶及顧客心聲
Hear from Our Tenants and Customers

雅歌琴行賴先生:「頌富廣場落成時我們已經進駐,至今開業13年了,一直見證頌富廣場無論在環境或管理服務方面都愈來愈好;商場翻新帶動了區外顧客,也有助我們擴展生意。現在不只附近居民,還有學生專程由元朗過來學琴!」

"We have been running our business here for 13 years and have witnessed Chung Fu Plaza's progress since its inception. We are delighted to see the continued improvement of its shopping environment and management service standards. Our business has benefited in many aspects. Apart from children of local residents learning here, people from nearby estates and students from Yuen Long also travel all the way to come here to learn piano!"

Mr Lai, Simply Music Piano Company

金翼髮型屋姚小姐:「翻新後,商場更光猛、更美觀,我們都很喜歡!現在人流更多,加上頌富廣場鄰近區內酒店,經常有旅客過來找我們理髮。」

"What impressed me most is the revamped plaza's contemporary look and spaciousness. It has become even more attractive to our shoppers after the renovation. In addition to the increased traffic, tourists from the nearby hotel have been coming by for a haircut."

Ms Yiu, Gold Wings Salon

許女士:「頌富廣場翻新後美觀多了,購物也更方便。餐飲選擇更多,現在還有孫兒最喜歡的壽司店。」

"The renovated Chung Fu Plaza offers us a better environment and is now more enticing to shoppers. More F&B outlets are now available, including the sushi bar, which my grandson likes the most."

Ms Hui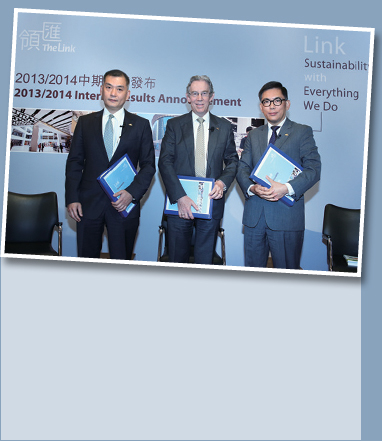 業務持續增長
The Link to Sustainable Growth
領匯管理有限公司主席蘇兆明表示,即使經過八年的增長,領匯旗下物業組合仍有許多潛力有待釋放。領匯將繼續努力透過為顧客提升購物環境和服務,發揮潛力,為社區和投資者增值。領匯亦成立了「愛•匯聚計劃」,選出10個社區項目提供支持和資助,進一步加強與鄰近社區的關係。

領匯管理有限公司行政總裁王國龍指出,透過地區策略,領匯挑選出潛力最優厚的資產提升機會。天水圍頌富廣場及將軍澳尚德廣場的資產提升工程均於期內完成。友愛商場和安定商場的資產提升為新界西發展策略重點之一,我們亦已擴大了其工程範圍。基於本港消費上升和訪港旅客人數持續增長,特別是內地遊客,相信香港零售市場將保持健康發展。

Nicholas Sallnow-Smith, Chairman of The Link Management Limited, indicated that even after eight years of growth, much of the potential of our portfolio remains untapped. The Link will continue to work at releasing that potential by improving the quality of the environment and services our shoppers experienced and by doing so, add value to the local community and our investors. We have also established "The Link Together Initiatives". Ten projects were selected to support and fund with an aim to further strengthen relationships with the communities around our shopping centres.
George Hongchoy, CEO of The Link Management Limited, said that through our district strategy, we were able to identify asset enhancement opportunities that offer the best potential. During the period, we completed the asset enhancement works at Chung Fu Plaza in Tin Shui Wai and Sheung Tak Plaza in Tseung Kwan O. As part of our strategic focus in the New Territories West, we have expanded the project scope of Yau Oi Commercial Centre and On Ting Commercial Complex. We are confident that Hong Kong retail market will remain healthy on the strength of the uplift in domestic consumption, and continuous growth in inbound tourism, in particular from the Mainland.
領匯主席蘇兆明(中)、行政總裁王國龍(右)及
首席財務總監張利民(左)。
Nicholas Sallnow-Smith, Chairman of The Link Management
Limited (middle), George Hongchoy, CEO of The Link
Management Limited (right) and Andy Cheung, CFO of The Link
Management Limited (left).
業績亮麗 增長穩健
Robust Results with Solid Growth
領匯在2013/14年財政年度上半年錄得總收益34.93億港元,較去年同期上升9.3%。物業收入淨額按年增長11.6%至25.17億港元。每基金單位中期分派80.22港仙,較去年上升12.9%。

In the first half of financial year 2013/14, The Link's total revenue rose 9.3% year on year to HK$3,493 million. Net property income reached HK$2,517 million with a year-on-year growth of 11.6%. Interim distribution per unit is HK80.22 cents, a 12.9% increase compared to the same period of last year.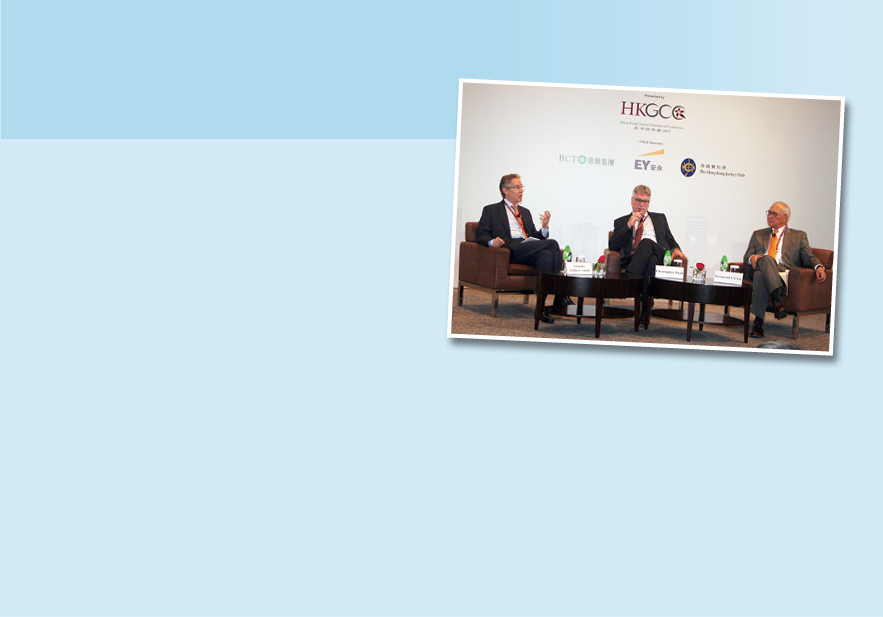 集思廣益 應付人力資源挑戰
Brainstorming for Manpower
Opportunitiesand Challenges
近年來,人力資源被視為企業發展的一大挑戰。蘇兆明主席十月下旬出席香港總商會的「人力資源總裁大會2013」,並於題為「人力資本與業務發展:挑戰與機遇」的討論中擔任主持,與兩位於本港大型企業擔任主席的講者,一同探討香港企業面對人力資源的挑戰,以及董事會在這方面的角色。蘇主席指,對所有企業而言,「人」至為重要。「人」才是一間公司成功的關鍵,而非公司所擁有的任何硬件設備,現時公司董事會對人才亦日益重視。香港企業正面對的難題之一是現行法規令人力市場日漸僵化,然而人力市場具有彈性,才有助商界保持成功。

「人力資源總裁大會」兩年一度,商界領袖、人力資源管理專家、學者和政府高官聚首一堂,探討香港的人力資源發展。香港總商會將歸納會上各方意見,就結構性人力資源問題向政府提出建議。
Human resources remains one of the challenges for the industry. At the CEO Manpower Conference 2013 organised by Hong Kong General Chamber of Commerce in October, Nicholas Sallnow-Smith, Chairman of The Link Management Limited, chaired the keynote panel discussion entitled "Human Capital & Business Growth: Challenges and Opportunities", and discussed the major manpower issues facing Hong Kong, and the board's role in tackling them with two panel speakers, both of whom are chairmen of major corporations in Hong Kong. Mr Sallnow-Smith said that all businesses are "people" business, meaning their success depends on people, not the hard assets they own. Company boards are increasingly focusing on that. A key issue for the city's labour market today is the increasing inflexibility and rigidity that are being introduced on the regulatory front. Hong Kong's business sector needs to continue to enjoy flexibility in order to maintain success.

In this biennial conference, business leaders, human resources specialists, academia, and senior government officials gather to discuss manpower development trends in Hong Kong. Based on the ideas discussed, the organiser will come up with a practical proposal for government's consideration.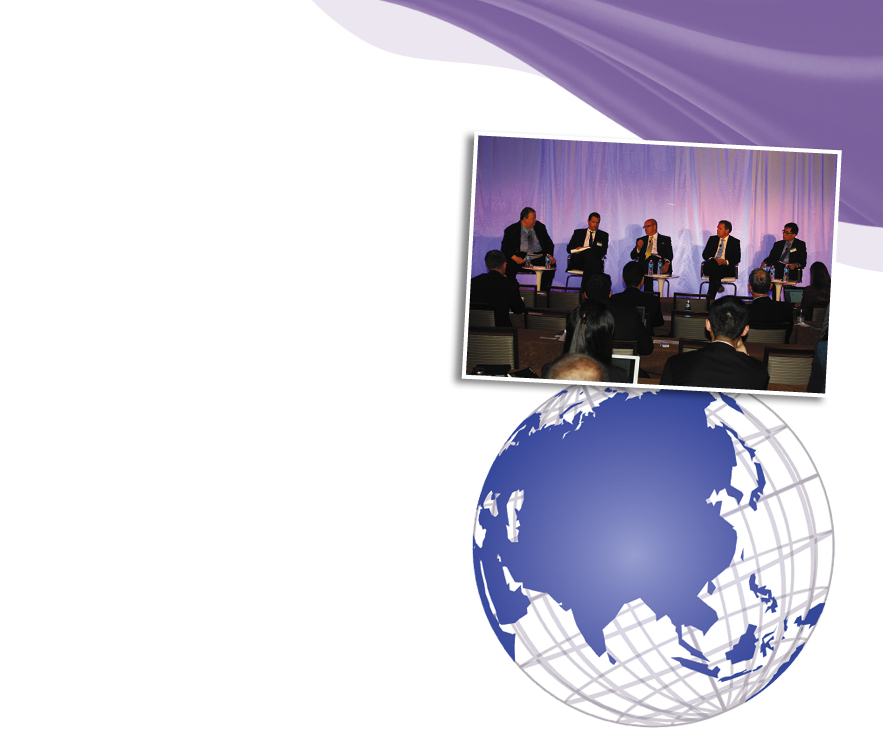 全球房地產研討會
縱觀環球大勢 橫看本地商機
Bank of America Merrill Lynch
2013 Global Real Estate Conference
領匯管理有限公司行政總裁王國龍及投資者關係團隊於九月中前赴紐約,出席由美銀美林舉辦的全球大型房地產投資會議「2013全球房地產研討會」。

今年有超過900名來自160間世界各地頂尖房地產公司的同業參加會議,領匯團隊藉此與來自不同國家的投資者和基金經理會面,而王國龍更獲邀與另外三位歐美商場物業公司代表,就「縱觀環球零售世界」主題進行討論。

王國龍認為國際品牌喜愛進駐香港,令本港零售業百花齊放,發展蓬勃,領匯作為扎根於香港、以零售業為主的房地產投資信託基金,亦同樣受惠。同場講者則認為無論對零售企業或房地產公司而言,開拓海外市場實屬發展趨勢。王國龍又指,資產提升、強勁的零售市場以及與政府協商推動發展社區,是拉動領匯業務向前的「三頭馬」。

領匯着重與各方持份者溝通,包括來自世界各地的基金單位持有人。除了舉行週年大會和投資簡報會外,管理團隊亦經常出席業界活動和會議,積極與業界和投資者溝通交流。

In September, CEO of The Link Management Limited, George Hongchoy, and members of the Investor Relations Team, attended the 2013 Global Real Estate Conference held by Bank of America Merrill Lynch in New York City.

Over 900 professionals from 160 world-leading real estate companies joined the conference. George Hongchoy was invited to speak as part of the "Around the Retail World" panel, along with representatives from three retail property companies in the US and Europe. He highlighted the phenomenon of international brands flocking to Hong Kong, adding fuel to the local retail market. As a result, The Link REIT – the largest retail-focused REIT in Hong Kong – is well positioned to benefit from the trend. He also stressed that asset enhancement, the growth momentum of the retail market, and community engagement are three powerful impetuses for The Link REIT.

The Link REIT placed great emphasis on communications with various stakeholders, including unitholders from all over the world, during its annual general meeting, results announcement meetings, and other opportunities at various events and conferences.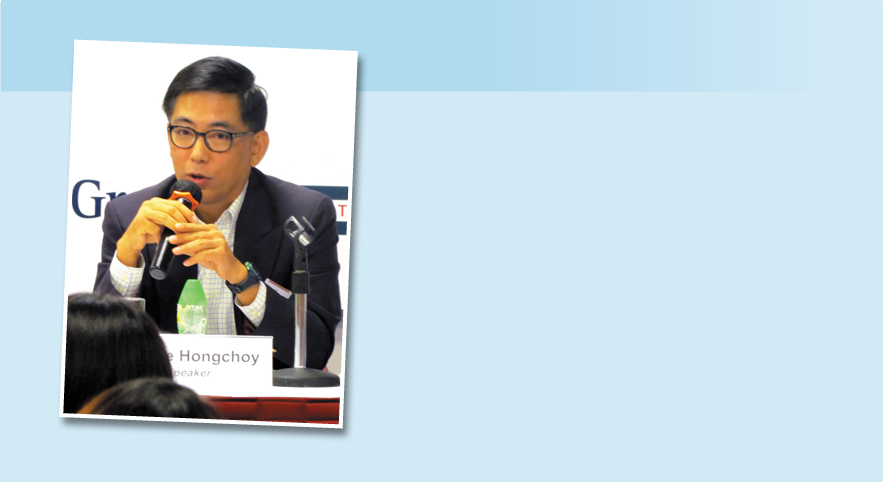 瞻前顧後 會計師職責大不同
Accountants Should Be "Forward-Looking"
會計師出身、為香港會計師公會資深會員的領匯行政總裁王國龍,八月份出席會計專業發展會議,分享他對會計行業發展的看法。

王國龍說,時移勢易,現今會計師職責大不同。當會計的專業人士不能只「顧後」,還要懂得「瞻前」– 傳統的想法是,會計師着重回顧過去,在年度結束時為公司做財務報表;但今日的要求是會計師更要掌握數據為公司作前瞻性的分析,協助公司部署業務發展。會計師地位因此相對提高了,而社會對他們的要求亦更高,分析與表達能力亦不可或缺。

George Hongchoy, CEO of The Link Management Limited, and a fellow member of the Hong Kong Institute of Certified Public Accountants, was invited to attend a career conference held by the institute in August.

George spoke about the role of accountants today and in the future. He said accountants need to take not just a retrospective view in performing their financial reporting roles, but as professionals, they must be forward-looking by interpreting the key financial and operational figures in analytical ways to help their companies plan strategically for the years ahead. As their social status has risen, so have people's expectations of them. Analytical thinking and communication skills are indispensable for them to succeed.
獲Euromoney評選為「香港最佳投資經理」
The Link Named "Best Investment Manager
in Hong Kong" by Euromoney
今年九月,領匯房地產投資信託基金於享譽國際的金融雜誌Euromoney舉辦的「2013房地產調查」中榮獲「香港最佳投資經理」大獎。該調查由來自全球的房地產投資專家、基金經理及銀行家投票選出提供最佳房地產項目和產品的公司。首席財務總監張利民(左)代表公司領獎。

In September, The Link REIT won the "Best Investment Manager in Hong Kong" award in the Euromoney Real Estate Survey 2013 compiled by the renowned international financial magazine Euromoney. The Euromoney Real Estate Survey canvassed the opinions of real estate investors, investment managers, and bankers worldwide to uncover the best providers of real estate products and projects. Andy Cheung, Chief Financial Officer (left) received the award on behalf of the company.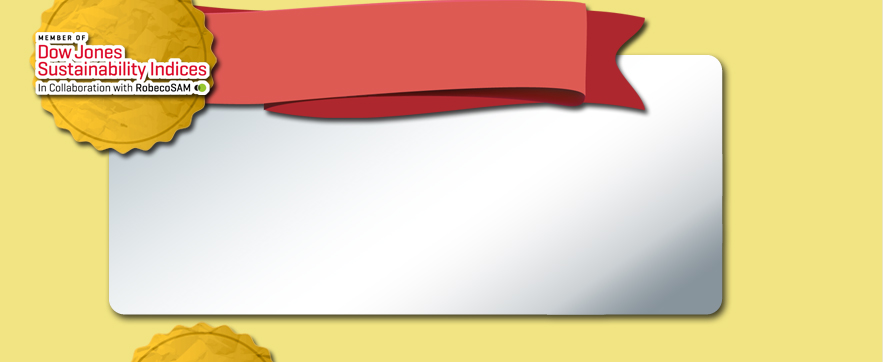 首家房地產基金躋身道瓊斯可持續發展指數
The Link REIT Added to the Dow Jones
Sustainability Indices
領匯房地產投資信託基金獲選為道瓊斯可持續發展指數亞太指數2013/2014年度的成份公司。根據於9月23日生效的道瓊斯可持續發展指數成份股變動,領匯是首家也是香港唯一的房地產投資信託基金躋身該指數。

The Link REIT has been selected as an index component of the Dow Jones Sustainability Asia Pacific Index (DJSI Asia Pacific) 2013/2014. The Link REIT is the first and only Hong Kong REIT added to DJSI Asia Pacific in the recent component changes, made effective on 23 September 2013.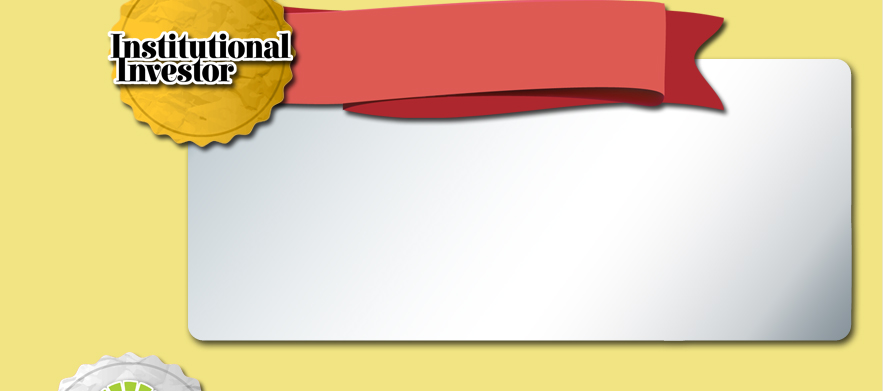 榮獲「亞洲區公司管理團隊調查」獎項
A Top Ranking in the 2013 All-Asia
Executive Team Survey
領匯房地產投資信託基金榮獲由國際著名投資雜誌《機構投資者》舉辦的「2013亞洲區公司管理團隊調查」中物業組別的三個大獎,其中領匯榮獲「最佳投資者關係」第一名、行政總裁王國龍榮獲「最佳行政總裁」第一名,而財務總監翟廸強則獲選為「最佳投資者關係人員」第三名。

The Link REIT won three awards in the Property Sector of the 2013 All-Asia Executive Team Survey compiled by Institutional Investor – a leading international business-to-business publisher. The awards included first place in "Best Investor Relations", CEO George Hongchoy won "Best CEO", and Director of Finance Hubert Chak won third place in the "Best Investor Relations Professional" category.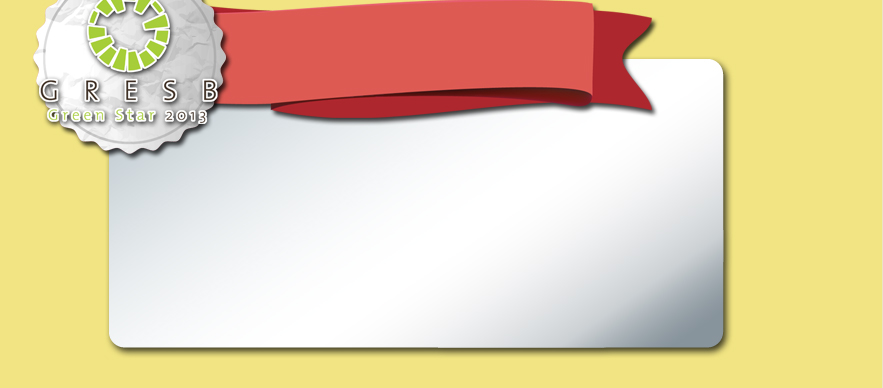 獲全球房地產可持續性標準綠星評級
A Green Star in the Global Real Estate
Sustainability Benchmark
領匯房地產投資信託基金憑藉其在可持續發展範疇中的卓越管治和措施,榮獲2013全球房地產可持續性標準 (GRESB) 綠星評級。GRESB為評核公共及私人房地產項目可持續發展表現的國際標準之一。

The Link REIT has been awarded the Green Star 2013 in the Global Real Estate Sustainability Benchmark (GRESB), in recognition for its outstanding management and implementation of key sustainability practices. The GRESB assesses the sustainability performance of public and private real estate investment companies around the world.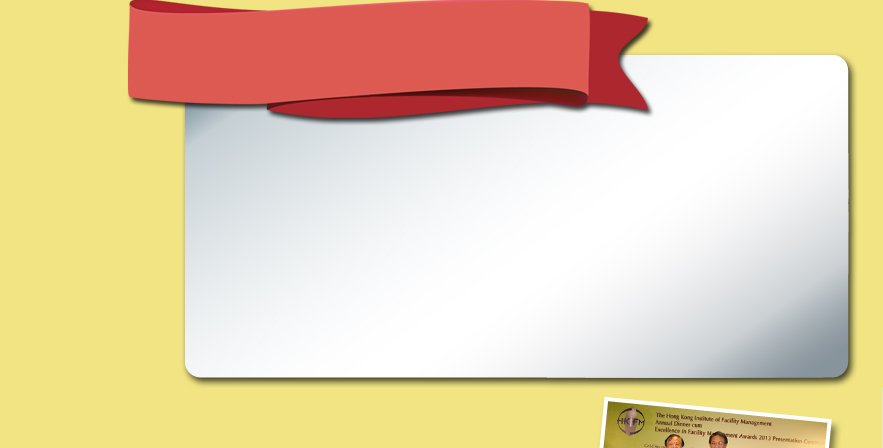 獲選為M&E BDO Asiamoney 優質企業指數成份股
The Link REIT Added to the M&E BDO Asiamoney
Stars Index
在最新修訂的「M&E BDO Asiamoney優質企業指數」,領匯房地產投資信託基金首次入選成為該成份股之一。該指數主要根據香港上市公司之管理績效及其報告的透明度作評估準則,而領匯憑藉其企業可持續發展的主要關鍵─良好的企業管治及具透明度的管理模式,成功躋身成為該成份股,位列第八。

The Link REIT was added as a constituent of the M&E BDO Asiamoney Stars Index, which focuses on tracking management performance and reporting transparency of Hong Kong listed companies. The Link REIT ranked 8th in its inaugural inclusion in the latest edition of the Stars Index. Inclusion in this index is a testament to The Link REIT's strong corporate governance and transparent management approach which is a key component of The Link REIT's corporate sustainability.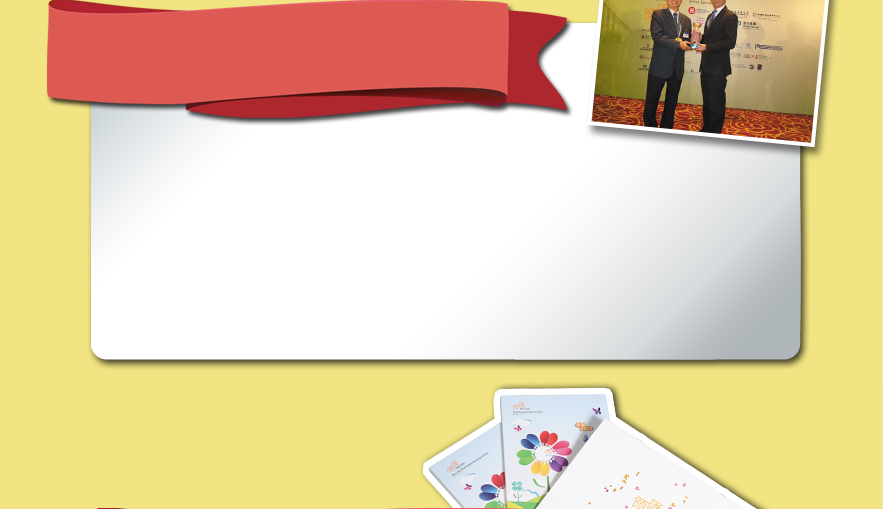 赤柱廣場榮獲「卓越設施管理獎」
Stanley Plaza Wins for Excellence in
Facility Management
赤柱廣場榮獲由香港設施管理學會頒發的零售類別「卓越設施管理獎 2013」。是次獎項為肯定機構於設施管理的卓越表現及貢獻,其評審範圍包括科技應用、環保措施、減碳措施、暢通無阻通道、職業安全健康及團隊精神。物業管理分區總經理李文豪(右)代表公司接受獎項。

Stanley Plaza won the Excellence in Facility Management Award 2013 in the Retail Category evaluated by the Hong Kong Institute of Facility Management. This award recognises the outstanding performance and contribution of organisations in delivering an exemplary record of facility management, including technology, green initiatives, carbon reduction, universal access, occupational health and safety, and team building. Louis Lee, Division General Manager – Property Management (right) received the trophy on behalf of the company.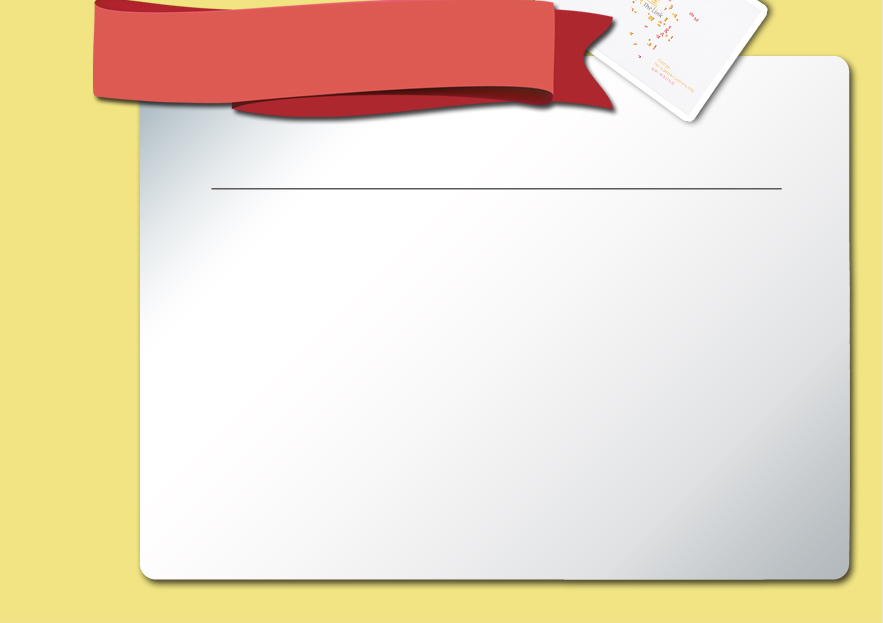 領匯年報及企業簡介獲獎
Accolades for The Link REIT's Annual Report
and Corporate Brochure
領匯公司年報、企業簡介最近榮獲以下獎項:
The Link REIT has received the following accolades for its Annual Report and Corporate Brochure:
香港管理專業協會
Hong Kong Management Association

★ 2013年最佳年報獎 – 銅獎
  2013 HKMA Best Annual Reports Awards – Bronze Award

國際傳訊評選機構
MerComm Inc Galaxy Awards 2013

★ 國際年報Galaxy Awards銀獎 (零售 – 購物中心組別)
  Retail – Shopping Malls Category – Silver Award
★ 國際年報Galaxy Awards銅獎 (房地產投資信託基金組別)
  REIT Category – Bronze Award

League of American Communications Professionals LLC 2013 Spotlight Awards

★ 企業簡介 – 銅獎
  Corporate Brochure – Bronze Award
★ 年報 – 銀獎
  Annual Report – Silver Award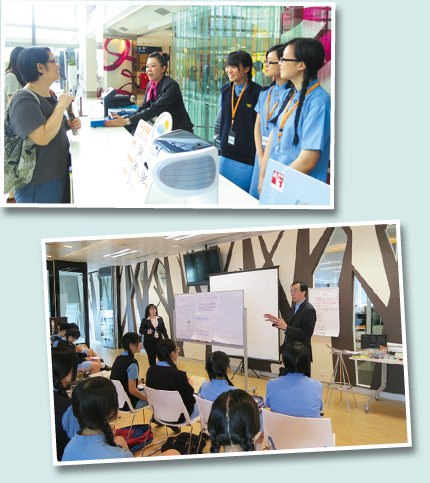 商校再度攜手 提供影子實習機會
Job-shadowing Opportunity for High-School Students
學生親身到職場體驗,能更瞭解投身社會的實況。領匯於早前再度與香港總商會合作,為真光女書院的學生安排了影子實習日。

十一位學生於樂富廣場兵分三路輪流到客戶服務台、保安崗位及管理處體驗真實的工作環境,全程皆由經驗豐富的前線同事進行親身示範和工作指導。參與實習的同學表示,從活動中學習到待人接物的技巧及積極的工作態度,對個人日後投身社會大有裨益。

在影子實習之前,領匯亦為學生舉辦一場關於顧客服務的講座,以輕鬆的手法講解何謂良好顧客服務,並介紹公司提升服務質素的措施。

One of the best ways for students to prepare for their future careers is to experience and partake in a real working environment. The Link REIT has again partnered with the Hong Kong General Chamber of Commerce to offer a job-shadowing programme to the students of True Light Girls' College.

A total of 11 students worked on rotation at customer service counters, security posts, and in the management office at Lok Fu Plaza, where proper guidance and job tasks were given by experienced staff members. Participating students said they obtained useful skills for their career development, such as customer service techniques, and discovered the importance of a proactive working attitude.

Prior to the job-shadowing exercise, The Link REIT tailor-made a training workshop to outline what constitutes good customer service, and introduced the company's customer service enhancement initiatives to the students.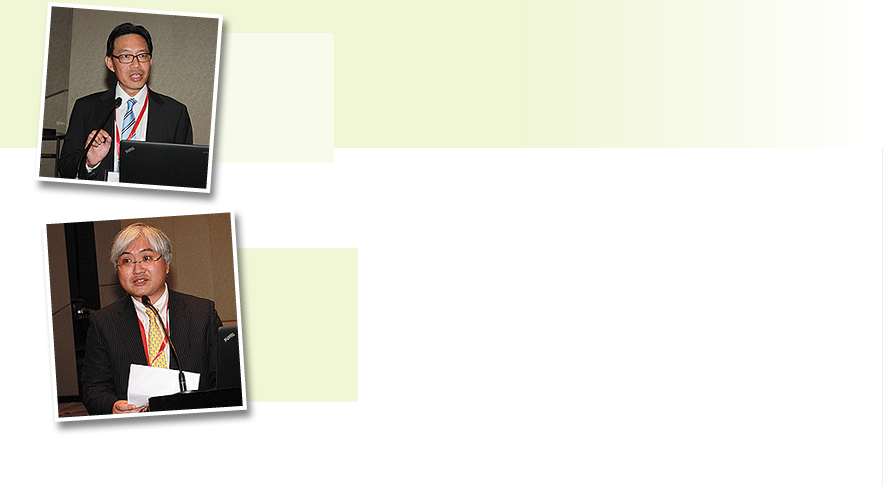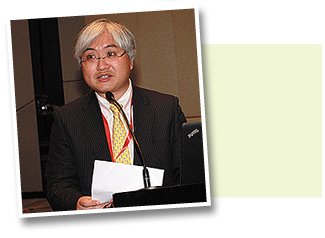 提升資產價值心得分享
Sharing Experiences about
Enhancing Asset Values
領匯商場的資產提升項目成績斐然。財務總監翟廸強和項目及資產發展總監梁玄狄獲國際購物中心協會邀請,10月15日於座談會上分享商場的市場定位及翻新工程的秘訣,以及相應的市場推廣策略。座談會有多個本港及國際知名地產商、商場管理機構代表及學者出席。一眾與會者更到訪樂富廣場及大元街市,親身參觀及瞭解翻新工程的成效。

The asset enhancement projects developed by The Link's shopping centres have been highly regarded as success stories in terms of bringing great value to stakeholders. On 15 October, Hubert Chak, Director of Finance, and Dick Leung, Director of Project and Asset Development, were invited by the International Council of Shopping Centers to share their experiences in repositioning and enhancing shopping centres. Attendees comprising representatives from international developers, shopping centre management companies, and academia also visited Lok Fu Plaza and Tai Yuen Market to find out more about these enhancement projects and their results.
財務總監翟迪強
Hubert Chak,
Director of
Finance
項目及資產發展
總監梁玄狄
Dick Leung,
Director of
Project and Asset
Development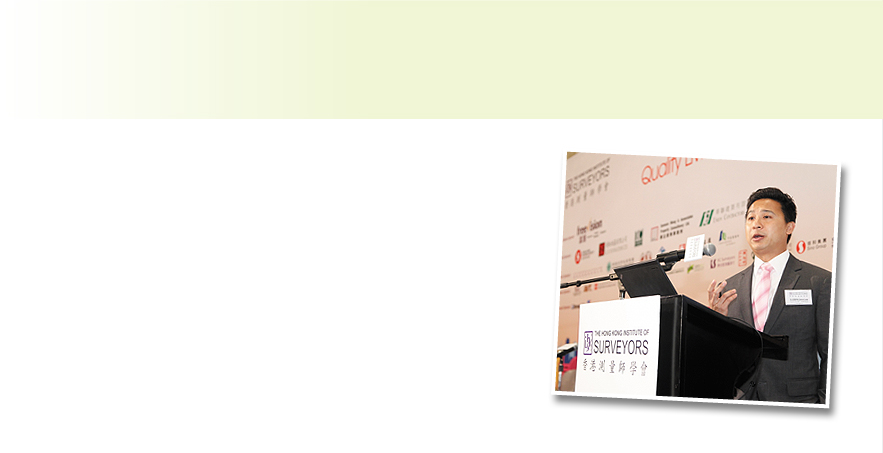 資產提升 舊物業再現光芒
Sustaining Property Life through Asset Enhancement
透過資產提升,有三十年歷史的大元街市得以活化,達到可持續發展,並為社區增值。可持續發展總經理關凱臨博士(右圖)於九月出席香港測量師學會舉行的「建築測量師會議 2013」,以大元街市作例子,分享如何為下一代建造可持續發展建築物。

Following asset enhancement works, the 30-year-old Tai Yuen Market has been totally revitalised. It has become a successful model of sustainability, demonstrating how such enhancement brings innovation and value to the community. In September, Dr Calvin Kwan, General Manager of Sustainability (photo on the right), joined the Hong Kong Institute of Surveyors' Building Surveyors Conference 2013 and shared his views on how to make buildings more sustainable for future generations, drawing on the experience of Tai Yuen Market.