一年一度的領匯員工派對於九月十三日舉行,員工與家人、朋友合共2,200人於迪士尼樂園黑色世界共度驚嚇哈囉喂狂歡之夜。

派對當天下午,員工陸續從香港各區抵達迪士尼樂園,浩浩蕩蕩前往「獅子王慶典劇場」參與員工派對和大抽獎。今年頭三獎以別開生面的方式揭曉:由領匯管理有限公司行政總裁王國龍親自致電得獎者。同事們無不緊拿着電話,期待手中的電話響起,成為幸運兒。

王國龍亦致辭感謝一眾同事的付出,不但令公司業務持續發展,成果更得到國際機構肯定,讓領匯房地產投資信託基金最近成為道瓊斯可持續發展指數亞太指數的成份公司之一。

The Link's annual staff party was held on 13 September this year. A total of 2,200 people, including staff as well as their families and friends, stepped into Disneyland's "Haunted Halloween" to experience a night of delight and fright.

In the afternoon, staff members from different districts across Hong Kong met up in the "Theater in the Wild" for the staff party and lucky draw. This year, winners of the first three prizes were announced in an exciting and innovative way. The prize presenter, CEO of The Link Management Limited, George Hongchoy, called the winners onto the stage by the phone. All staff members had their mobile phones ready, hoping to become one of the lucky ones to receive a call from George!

George also expressed his appreciation for the efforts that staff members made throughout the year. He highlighted that all their contributions had not only driven the sustainable growth of the business, but had also enabled it to achieve international recognition as The Link REIT has just been included in the Dow Jones Sustainability Asia Pacific Index.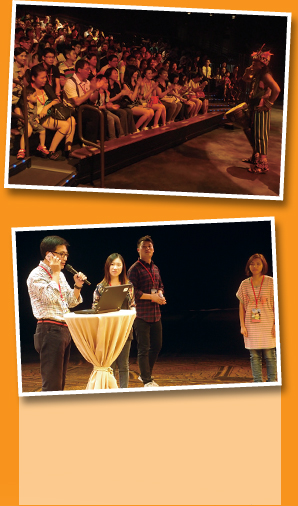 領匯管理有限公司行政總裁王國龍親自致電得獎的同事。
George Hongchoy, CEO of The Link Management Limited, called the winners of the lucky draw onto the stage.