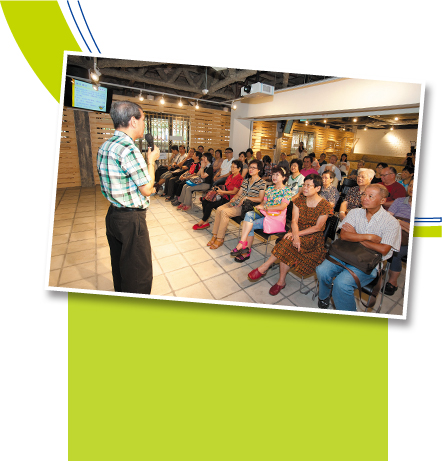 長幼共融新角度 領匯協力推動
The Link Fully Supports
Life Journey Centre
大家有沒有想過短短六十分鐘可以體驗整個人生?一個極具生命教育意義的嶄新概念由領匯與長者安居協會𢹂手傳遞,並於座落在何文田愛民廣場四萬多呎空間的長者安居協會新總部「賽馬會『生命‧歷情』體驗館」放送。

設於長者安居協會新總部一樓的「賽馬會『生命‧歷情』體驗館」獲香港賽馬會資助,透過六十分鐘的互動歷程,讓參加者體驗人生不同歷程,反思人生。一趟關乎「生老病死」的精華遊結束後,專業社工會與參加者討論和分享。整個過程的目的是讓參加者明白人生無常,學懂珍惜身邊的人和事。體驗館裡特別設有郵筒和電話亭,讓參加者即時將心聲傳遞給身邊所愛的人。曾經有一位學生走進電話亭,致電給帶他到體驗館的班主任,為要及時感謝他多年的教導。

Have you ever considered what it would feel like to experience your entire life in just 60 minutes? A unique educational concept that invites you to do just that has been envisioned by The Link in conjunction with the Senior Citizen Home Safety Association (SCHSA), and will be showcased in the newly established headquarters of the SCHSA "Jockey Club Life Journey Centre" in Oi Man Plaza, Ho Man Tin.
Located on the first floor, the "Jockey Club Life Journey Centre" was funded by the Hong Kong Jockey Club. Through a 60-minute journey, participants can experience four different stages of life. After which, professional social workers will share and discuss the experience with participants. The project aims to convey the message that life is transient and should be treasured. The centre also provides a postal box and telephone booth that allow participants to share their stories with loved ones immediately afterwards.
超過40年歷史的愛民邨有很多老人家;現址位於忠孝街60號。60是甲子,與長者安居協會服務的對象及理念配合。
Oi Man Estate has over 40 years of history with many senior citizens. The current address is No. 60, Chung Hau Street. The number 60 represents being 60 years old, which matches with the service targets of SCHSA.
交流與分享 促進長幼共融
Promote Inter-Generational Harmony through Sharing
體驗館還能促進長幼共融。館內的生命教育員都是已退休的社工和教師,人生經驗豐富。透過在體驗期間指導和分享,他們能為年輕的參加者帶來啟發,而當年輕人分享自己的感受時,亦能讓生命教育員多瞭解他們的想法。

三樓的「賽馬會銀齡館」亦貫徹了長幼共融的主題,為該概念注入新元素。「銀齡館」設有長者故事圖書館、小型影音製作室等設施,未來可讓長者到中心自行編製「自傳」或書,交由協會替他們印刷。其設計連接愛民邨平台公共空間,希望可以與街坊親近一點,更能夠幫助「老友記」安居於社區。

新總部的裝修設計亦以濃郁的人情味掛帥,以「展現舊事物的美」為題,注入各種香港的懷舊元素,創造一個新舊交融且和諧的空間,例如二樓的員工茶水間採用古老大排檔的設計,廁所名為「茅廁」、儲物室就名為「柴房」,整個辦公室空間配以細緻的懷舊裝飾,盡顯舊事物的美。

被問及從觀塘商廈選址遷往愛民廣場的考慮因素,協會行政總裁梁淑儀指新總部的空間至少足夠未來數年作協會發展之用,而領匯能提供極優惠租金肯定是不可或缺的關鍵因素。另外,現址位於交通便捷的九龍中心,與鄰近其他旺區相鄰,將來更有地鐵接駁,是個大交匯站,使協會對外更四通八達。
The centre also promotes inter-generational harmony, with life guides that are all retired social workers and teachers with rich life experience. They are able to draw inspiration from participants and encourage them to open up and share their thoughts and feelings.

Jockey Club Silver Age Centre on the third floor expands on the main theme by offering complementary elements. A story library for senior citizens and a small studio are housed in the museum where senior citizens can make their own biography or book and get it published by the association. Since the museum connects to the public area of Oi Man Estate, its close proximity can also help senior residents of the estate access the service with ease.

The design of the new headquarters reflects Hong Kong's retro element to create a sense of the old meeting the new. For example, the pantry on the second floor adopts the design of Hong Kong's street-side food stalls, while the office area is graced with vintage decorations.

Irene Leung, CEO of SCHSA, explained that the relocation of the headquarters was due to the need for a larger space and the attractive leasing offer from The Link. The location of the new headquarters also brings more convenience, as it's closer to the downtown area and transport link to other districts.
「愛民中心」毗鄰愛民邨,設計師特意將員工休息空間打造成充滿懷舊感覺的「大排檔」,在洋溢人情味的老社區展現舊事物的美。
"Oi Man Centre" is near Oi Man Estate. The pantry and resting area are designed as street-like food stalls, reflecting the old community element.


特惠租金作實際支持
Direct Support through Concessionary Rents
長者安居協會希望建立一個社區參與平台,推動商界、團體、學界及個人的參與,培養正面的老年觀念。協會倡導優質積極的晚年生活,促進「長幼共融」及「長者友善」,正與領匯與社區共享成果的理念相同,故此領匯以低於市值的單位數特惠呎租、九年特長租約及多項優惠包括延長免租期、額外儲物室等把何文田愛民廣場四萬多呎空間租予長者安居協會作為新總部,積極推動社區進步。

SCHSA hopes to develop a social platform that encourages participation from corporations, groups, schools and individuals that cultivates more positive attitudes towards aging. As sharing the same vision to promote a quality retirement experience and foster inter-generational harmony in the community, The Link has offered the SCHSA concessionary rent with a nine-year lease, and other favourable terms, such as an extended rent free period and extra storage rooms, to turn this 40,000-square-feet space into its new headquarters to support community development.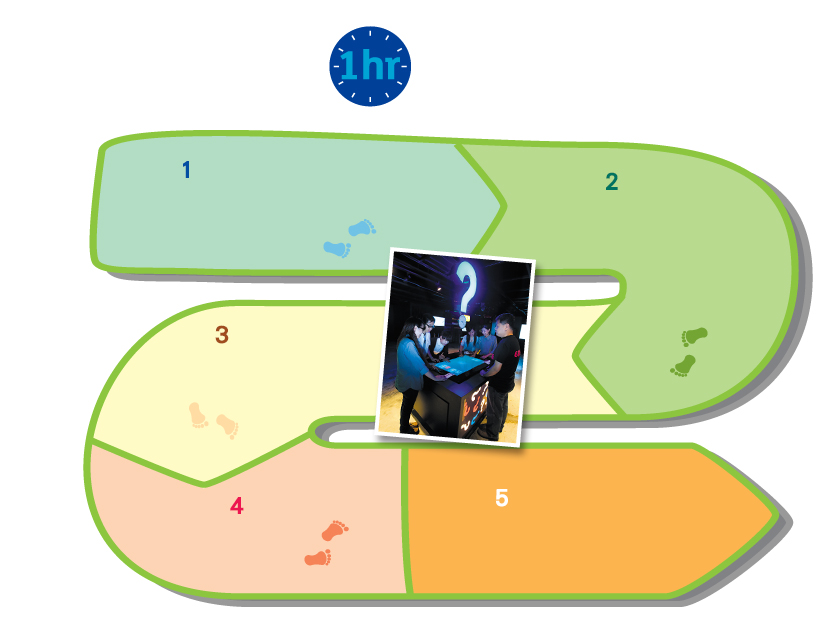 六十分鐘人生旅途
A 60-Minute Life Journey
為自己的人生大事如工作、拍拖、退休等作出取捨
Make trade-offs for jobs, relationships and retirement
遊戲地帶,你可以隨自己喜好,從六至七個不同遊戲中自由選擇
Select games to play according to your preferences
抽一張「命運卡」 Choose a "Destiny Card"
時光隧道
Dark tunnel
安息地,一嘗「入土為安」
的感覺,反思人生。
Cemetery to reflect on
your life in its entirety
「領匯商戶學堂」傳授溝通新思維  
發掘商獨特吸引力
The Link Tenant Academy
Teaches New Ways of Communicating and
Helps Tenants Discover Their Unique Attributes
要銷售成績理想,除了產品與服務介紹簡易清晰外,與顧客及員工之間的溝通亦非常重要。

「領匯商戶學堂」於九及十月分別邀請了資深傳媒工作者及著名企業培訓師黃桂林博士及行為心理國學專家黃健基博士向商戶傳授與顧客溝通的新思維,以及管理不同世代員工所需的跨世代的溝通技巧。黃桂林博士更即場分享了如何以創新的思考方式設計難忘的顧客體驗。透過以上課程,「領匯商戶學堂」協助商戶建立顧客對他們的信任、發掘自身的獨特吸引力,並幫助管理層與員工建立互信關係,從而提高營運效率。

In addition to presenting products and services to customers in a clear and simple way, tenants must also listen to customers effectively to ensure that their sales strategies align with what customers want.

To teach tenants these skills, The Link Tenant Academy invited Terence Wong, an experienced media administrator and renowned corporate trainer, and Cactus Wong, a master of traditional Chinese culture, to host seminars in September and October, where they shared with tenants new ways of communicating with customers as well as with staff members from different generations. Terence showed how tenants can use creativity to give customers memorable shopping experiences. By organising these seminars, The Link Tenant Academy aims to help tenants gain the trust of their customers, discover their unique attributes and build mutual trust with their staff members, so that their daily operations can be made more effective.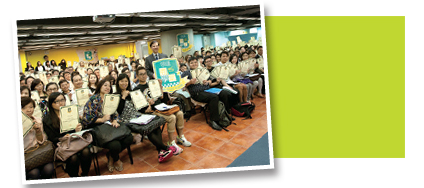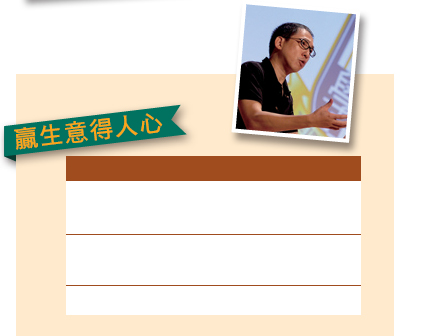 資深傳媒工作者黃桂林博士(中)
Dr. Terence Wong, an experienced media administrator (middle)
課堂預告
日期:
時間:
講者:


報名熱線:
2013年12月19日
下午3:00至4:15
張堅庭
九龍觀塘翠屏道3號
基督教家庭服務中心
29909878
地點: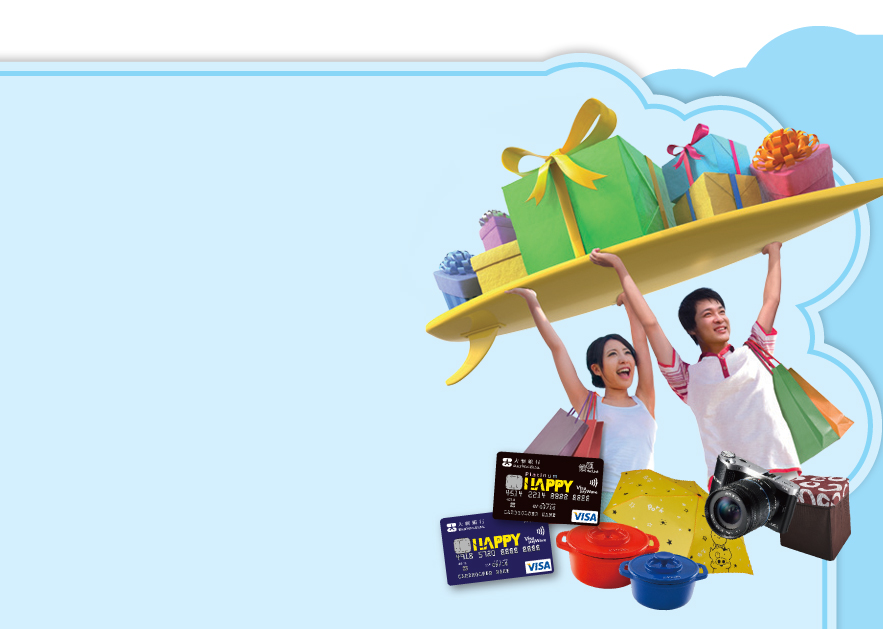 大新領匯Happy Visa卡
夏日狂熱我至Like
締造暑假消費熱潮
Dah Sing The Link Happy Visa Card
Summer Fever – I LIKE It!
於今年暑假期間,領匯聯同大新銀行舉行「夏日狂熱至Like賞」,成功為商戶增加商機,超過1,700人次換領獎賞,合共消費金額超過50萬港元。客戶只需憑卡單一簽賬滿300港元,可獲電子印花一個,於領匯「開心商戶」簽賬更可獲印花兩個。累積滿指定印花數量,便可自由選擇免費換領「至Like」獎賞。

This Summer, The Link and Dah Sing Bank combined forces to bring customers "Summer Fever – I LIKE Rewards", which created a summer spending trend at The Link's shopping centres. Over 1,700 customers spent a total of over HK$500,000 and earned a variety of valuable rewards.

Customers received an electronic stamp for each purchase of HK$300 or above made with the Dah Sing The Link Happy Visa Card, and they received two electronic stamps when purchases were made at designated "Happy Merchants". After accumulating a certain number of stamps, customers could redeem them for "I LIKE" Rewards.
新加盟商戶
Newly Joined Tenants
海悅豪園
Maritime Bay Shopping
Centre

Monkey Tree

教育 Education

高層商場 UG15-16號舖

Shop Nos. 15-16, UG/F

2362 4838

厚德商場
Hau Tak Shopping Centre

童裝天地
KIDSWONDERLAND時裝 Apparel

1樓172號舖

Shop No. L172, 1/F

2703 9483

小西灣廣場
Siu Sai Wan Plaza

駿盈電訊
Phoenix Telecom通訊器材
Telecommunication Equipment

2樓221號舖

Shop No. 221, 2/F

2178 1718

赤柱廣場
Stanley Plaza

Mayarya

時裝 Apparel

1樓104號舖

Shop No. 104, 1/F

2968 0939

赤柱廣場
Stanley Plaza

Crafts World

生活用品 Lifestyle

4樓402號舖

Shop No. 402, 4/F

2524 3371

安定商場
On Ting Commercial
Complex

Café 1950

特色食肆 (西式)
Specialty Restaurant
(Western style)

停車場及街市大廈

地下C107號舖

Shop No. C107, G/F,

Car Park and Market Block

2861 1991

瀝源廣場
Lek Yuen Plaza

誠進球拍專業服務中心

運動服裝 Sportswear

富裕樓1樓S8號鋪

Shop No. S8, 1/F, Fu Yu House

6224 4000

瀝源廣場
Lek Yuen Plaza

康健中醫診所

診所 Clinic

富裕樓1樓S1號鋪

Shop No. S1, 1/F, Fu Yu House

2871 3533

平田商場
Ping Tin Shopping Centre

MS Computer Company

電腦及流動電話配件
Computer & Mobile Phone
Accessories

2樓213號舖

Shop No. 213, 2/F

3908 4255

樂富廣場
Lok Fu Plaza

Joni

時裝 Apparel

3樓3133C號舖

Shop No. 3133C, 3/F

2979 8001