十周年紀念特稿:
10th Anniversary Special Feature:
打造優質組合
共創世界之先
專訪行政總裁王國龍
Building a Productive
Portfolio Achieving World-class Standards
A Dialogue with CEO George Hongchoy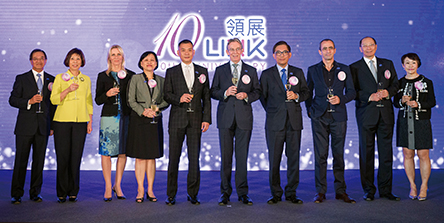 領展的成立,旨在透過釋放市場力量,改善眾多社區的購物環境。由市場新手到立範創新的先進企業,領展於短短十年間多方面取得長足發展。繼上一期專訪主席蘇兆明,《823頻道》在領展上市十周年之際,邀請行政總裁王國龍(George)分享對公司發展的看法,回顧團隊的重要成就。

George指出,市民每日到來商場購物消閒,是他們生活空間的延伸,與親友樂聚的好地方,因此為他們提供稱心滿意的產品及服務極為重要。

「相較十年前,今天領展商場提供更豐富的選擇,日常所需、特色食肆、潮流商品,都應有盡有,居民更愛留區消費,帶動人流上升,商場使用率屢創新高。」

「這都全靠大小商戶的信賴和支持。一些國際知名品牌,見到多項提升措施的成效,都已紛紛進駐。自上市以來已完成41個資產提升項目,擴大物業商圈,為商戶提供更佳營商環境,令街市行業重回升軌,客群更為年輕化。」

商場透過引入各式增值服務、提升職員服務水平,務令顧客賓至如歸,George說:「為了更能迎合顧客的要求,旗下商場分為三大組別,按其定位設定服務水平,迎合社區需要。我們更推出全新手機App,市民可輕易掌握實時車位供應情況及商場食肆資料,方便駕車前來購物。」

業務推展造就穩定增長的業績,最近五年領展的年均複合總回報高達兩成。「可持續發展與業務相輔相承,公司致力把可持續發展融入日常運營,積極回饋社區,並以此為重要營運指標。我們撥出8%樓面面積以特惠租金租予慈善機構,斥資兩億港元全面提升商場暢通無阻通道,全方位支持社區服務,為青少年及長者謀福祉。」他說。

George於任內除了強化資產管理及提升固有業務,亦訂立新企業抱負,作出多項前瞻性策略部署,推動業務多元化增長。「我們不但於香港收購三個商場,今年更首度投地興建物業,並且進軍內地一線城市,購入北京商場及上海甲級商廈。」

「隨著業務模式擴展,增添物業發展、資產出售及物業重建三大新動力,配合資產多元化,我們得以在整個物業生命週期,不同地域市場及資產類別,把握增長機會。」

公司今年更推出全新品牌,George指出,新名字和標誌突顯領展連繫社區的角色,亦跟致力邁向世界級管理,提升社群生活質素的企業抱負,十分匹配。

「卓越的管理有賴熱誠的專業團隊。業務領域拓展,將為同事帶來更多機會發揮所長。我深信,十年以來所奠定的穩固基礎上,我們將向另一個高峰進發。」
The founding of Link REIT has greatly improved the shopping environment for communities by harnessing the power of the free market, and unlocking the potential of the asset portfolio. In just ten years, Link has evolved from a new market player to a leading innovative enterprise. Following our 10th anniversary special interview with Chairman Nicholas Sallnow-Smith in the last issue, Channel 823 spoke to CEO George Hongchoy for a review of the team's major accomplishments that have led to Link's astounding transformation in the past decade.

George said that as an extension of people's living space, Link's retail centres are where customers come for shopping on a daily basis, and have good time with their families and friends. Offering them products and services that cater to their changing wants and needs is of paramount importance.

"Compared to ten years ago, we are now providing a much broader range of merchandise, covering specialty food and beverage and lifestyle product, in addition to daily necessities. Residents are now spending more time shopping within their home district, boosting centres' footfall and taking occupancy rates to record high."

"All these changes to shoppers' experience are made possible, thanks to the trust and support tenants place in us. More international brands, having seen the effectiveness of our enhancement initiatives in generating new opportunities, decided to join our portfolio. Forty-one asset enhancement projects have been completed to date. This has expanded catchment areas and improved tenants' operating environments while opening a new chapter for local fresh markets and attracting younger customers."

Link is also making customers feel at home by introducing more value-added services and raising service standards across teams. "To better cater to customer needs, our centres are grouped into three categories, each with its unique set of service standard based on its market positioning. Our new mobile app allows customers, especially drivers, to know at a glance the availability of parking spaces at our centres and offerings from our restaurant tenants," said George.

Business development has fuelled the steady growth in returns to unitholders, signified by an average annual compound return of 20% in the last five years. "Sustainability and business development go hand in hand. We have been integrating sustainability into our daily operations and actively give back to the community. We view these as key indicators of our performance," he explained.

"We set aside 8% of our total floor area for leasing to charity organisations at concessionary rates, invest HK$200 million to improve barrier free access at shopping centres, and make an annual donation to support community services that benefit the elderly, families and youth."

Over the years, Link has been strengthening its expertise in asset management and enhancement. Since a new set of corporate Vision, Mission and Values was launched in November 2010; the company has delivered on multiple growth drivers through a number of strategic moves. "We have acquired three assets in Hong Kong, and in this year, for the first time, embarked on a development project and expanded to first-tier Mainland cities by acquiring a mall in Beijing and a Grade-A office and retail complex in Shanghai."

"Growing our business model by diversifying our assets and adding new growth drivers has enabled us to capture opportunities across the entire property life cycle and in different markets and asset classes."

The new name and logo highlight Link's role in linking community living while echoing its vision of becoming a world class real estate investor and manager that improves people's lives.

"Management excellence relies on a passionate, dedicated and professional team. As our business expands, our team is poised to leverage on our expertise to take Link to the next phase of growth, building on the strong foundation we have laid", he concluded.