新設委員會 加強義工參與
New Committee Promotes
Staff Volunteering and Outreach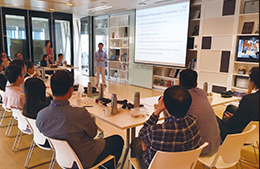 為加強動員同事參與義務工作,公司新設「領展義工委員會」,由廿多名熱心同事組成,將協助宣傳「愛•匯聚計劃」義工活動,建議、審視及協助籌劃適合大力鼓勵的義工活動,並就義工事宜作為同事與公司之間的溝通橋樑。租務部馬志剛當選為委員會主席。

To encourage greater participation in volunteer service among staff, Link has formed Link Volunteer Committee, which comprises 20 staff members. It will assist to promote volunteer service of "Link Together Initiatives", recommend worthwhile volunteer service activities, and act as a communication channel between staff and the company on volunteering matters. Tony Ma of the Leasing Department was elected the committee chairman.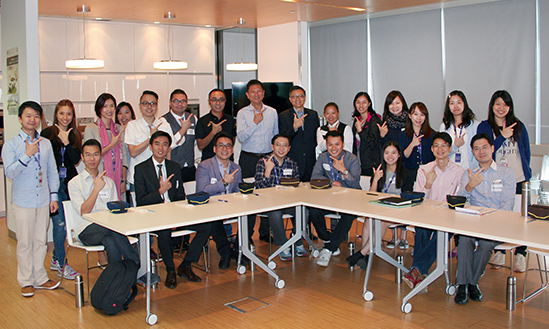 編者的話 Editor's Message
結伴同行 發熱發光
Fostering Stronger Links
領展的可持續發展框架,是業務策略核心所在,其七大範疇當中,三項都是以群體為本,即員工、租戶、社區。公司一連串的十周年慶祝活動,就把這三大群體聚集起,見證十年發展成果。

周年紀念日的大型慶祝酒會,向多個範疇的業務夥伴致敬。會上新知舊雨共聚一堂,賓客之中不少是租戶,一直與領展並肩打造更合顧客心意的服務體驗,是親密的戰友。

對於推動業務所在社區的持續發展,領展不遺餘力,於會上聯同受助社福單位,一齊啟動獲領展「愛•匯聚計劃」捐助的社區服務項目。

員工、租戶、社區三大群體,一環扣一環,每天以旗下的物業組合為平台互動協作,發熱發光。筆者有幸參與這次慶典,思考三者關係,領略匯聚各方力量,連繫好生活的真諦。


Sustainability lies at the heart of Link's business strategy. Of the seven core elements in Link's sustainability framework, three are related to people, namely staff, tenants and community, all of which were represented and honoured at the celebratory events commemorating Link's tenth anniversary.

Held on Link's anniversary day, the celebration party paid tribute to Link's business partners in various fields. Shop tenants, who working tirelessly with Link to enhance the shopping experience, were a major group in attendance.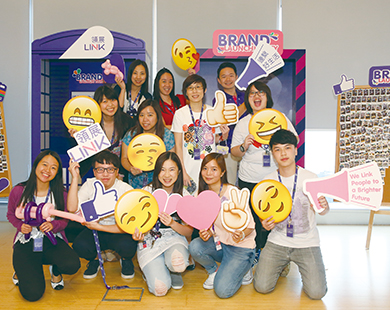 The company has spared no effort in promoting sustainable development within the communities where it operates. At the party, Link joined our beneficiary charity organisations to launch the social service projects sponsored by Link Together Initiatives.

Staff, tenants and communities are closely intertwined, each making important contributions in their own way to Link's network of shopping centres. Being a part of the anniversary celebrations has offered me a new perspective on this inter-relationship and how Link has brought these groups together over the years to link people to a brighter future.
編輯委員會
Editorial Board
張廣仁 Claudio Cheung
何嘉善 Kassy Ho
高詠詩 Fiona Ko
關凱臨 Calvin Lee Kwan
李應權 Danny Lee
盧炳松 BC Lo
吳於恩 Yvette Ng
企業傳訊部編製 Produced by Corporate Communications Department