「泊食易」App 方便好用
Hassle-free Parking and Dining
「泊食易」自10月推出以來,反應熱烈廣受好評。為鼓勵更多市民下載使用,領展邀得以熊仔頭短片聞名的人氣創作人炮製YouTube網上短片,由熊仔頭及新晉演員蘇麗珊擔綱,以活潑輕鬆手法,帶出「泊食易」多項貼心功能,包括停車場車位實時資訊、自動導航、搜尋食店、飲食優惠、記錄泊車位置等。

兩人試用後,均稱讚「泊食易」介面清晰易用,省卻尋找車位及飲食資料的時間和煩惱。「駕駛人士可以預先確定商場有車位可供停泊,而透過GPS導航功能,更得知最為直接的路線前往商場,非常實用。」熊仔頭導演一語道出「泊食易」的最大方便。

最近「泊食易」更增添了多個鮮活街市資料,包括相片、平面圖、產品類型及街市特色等,更加入領展最新的活動與推廣,例如「為食本『領』香港特色美食選舉」得獎食肆資料,讓用戶盡情享受一站式食、買、玩樂趣。

最新泊食易聖誕篇宣傳短片已經推出,請即按以下連結前往觀賞。
Launched in October, Link's mobile app, Park & Dine, has continued to receive enthusiastic response since then. To encourage wider use of the app, Link has teamed up with the popular YouTuber Teddy Head and up-and-coming actress Cecilia So to produce a YouTube video.

Both commended the app for its easy-to-use interface and convenient access to useful information, taking the hassle out of parking and dining. "This app is very helpful, providing route navigation and real-time parking information on parking space availability and restaurant information," said the YouTuber, Teddy Head.

New updates to the app have added information of fresh markets, including photos, floor plans, and shopping highlights. Users can also check Link's promotions and activities, such as the award-winning restaurants from the Link Good Food campaign.

A special Christmas version of YouTube video has just been launched, you may find out more by clicking the link below.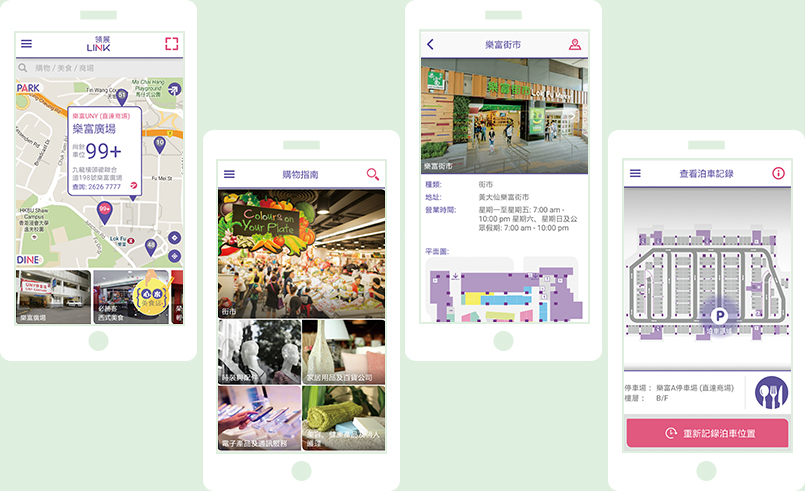 取得停車場實時車位供應及各停車場的相關資訊
Real time information on available parking spaces
購物及飲食指南搜羅領展旗下商戶,方便取得最新購物及美食情報
Search for shops and eateries in the mall, and get updates on their offerings
全新鮮活街市頁面,提供平面圖及全面街市資訊
New section offers floor plans and key information on fresh markets
於指定停車場內記錄泊車位置, 輕鬆找回座駕
Locate your car with the "Find My Car" function
「泊食易」YouTube網上短片
YouTube videos of Park and Dine
歐美匯「從心瘋狂」慶祝五周歲
EC Mall Celebrates 5th
Anniversary with Give Me Five


領展內地首個商場北京歐美匯,9月推出「從心瘋狂」五周年店慶。一連兩天的活動包括人氣組合BOX傾力演出,還有創意歌舞表演、互動遊戲及幸運抽獎,讓顧客感受濃厚派對氣氛。場內多個零售及食肆商戶,亦推出消費優惠誌慶。

於生日會環節,現場觀眾搖著手機一齊倒數, BOX 組合與行政總裁王國龍一起切蛋糕,祝福歐美匯五周年生日快樂。

George 表示:「歐美匯落成五年,是中關村一個重要的商業地標項目,倡導樂活生活方式。商場精心打造的商戶組合,與領展一樣彰顯著旺盛的生命力,具有可持續的發展前景。 」


Link's first Mainland China shopping centre, EC Mall, celebrated its 5th anniversary in September with Give Me Five event. The two-day celebration event featured performances from popular idol group BOX, interactive games and lucky draws. Dining and retail outlets also joined in the celebration by offering discounts.

The party saw the audience waving their phones and counting down together as CEO George Hongchoy and BOX cut the birthday cake to wish a bright future for the mall.

"EC Mall is an iconic commercial landmark in Zhongguancun, promoting healthy and sustainable lifestyles. Its dynamic mix of trendy shops exudes an energetic vibe, echoing Link's own aspirations for growth and development," said George.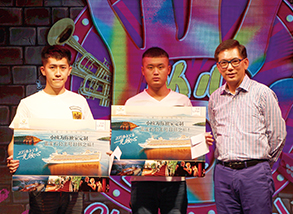 George為幸運顧客送上日韓郵輪大獎
George presents the sea cruise package to
the lucky draw winners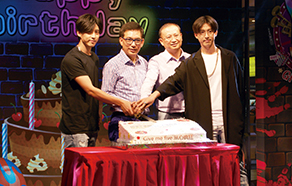 主禮嘉賓切下歐美匯五周年生日蛋糕。
Officiating guests at the cake-cutting
ceremony
鬼迷心跳 萬聖節
Spooky Halloween
with Happy Screaming


歐美匯 10 月底舉辦「鬼迷心跳」萬聖節主題活動,由真人人體雕塑裝扮成的男巫,突然「甦醒」,帶給訪客意想不到的驚嚇。場內特設佈置令人毛骨悚然的鬼屋,吸引訪客留影,另有小丑表現環節,為緊張氣氛帶來歡笑。
EC Mall launched the Halloween-themed event, Happy Screaming, at the end of October. Eerie, statue-like figures greeted visitors with unexpected surprises. The spooky haunted house was a popular location for visitors taking memorable photos with their loved ones.
新加盟 商戶
Newly Joined Tenants


MISSHA
美容Beauty
地庫LG03號舖
Shop No. LG03,
Lower Ground Floor
2670 7611

上海廳1930 (上海婆婆)
Shanghaiteng 1930
(Shanghai Popo Restaurant)
中式餐廳
Chinese Restaurant
地庫LG05 & LG08號舖
Shop No. LG05 & LG08, Lower
Ground Floor
2350 2028

謝瑞麟 TSL
珠寶首飾 Jewellery
地下G08號舖
Shop No. G08, Ground Floor
2488 1821

一品螞蟻 ant One
西式美食 Western Cuisine
地下G13號舖
Shop No. G13, Ground Floor
2467 6108

百樂門宴會廳
Paramount Banquet Hall
中式餐廳
Chinese Restaurant
二樓N222號舖
Shop No. N222, Level
2833 2929

Joy & Mario
時裝與配件
Fashion & Accessories
一樓N103號舖 Shop No. N103,
Level 1
2327 1398

太平洋咖啡
Pacific Coffee
輕便及零售美食
Delis & Confectionery
一樓N111-N112號舖
Shop No. N111-N112, Level 1
2351 3078

Shimmernet
美容
Beauty
一樓N132號舖
Shop No. N132, Level 1
2352 0603

eGG眼鏡
eGG Optical Boutique
眼鏡 Optical
一樓N140號舖
Shop No. N140, Level 1
2259 3106

正官庄
Cheong Kwan Jang
健康產品
Health Product
二樓N207號舖
Shop No. N207, Level 2
2523 1080

官燕棧
Imperial Bird's Nest
健康產品
Health Product
二樓N220號舖
Shop No. N220, Level 2
2111 0450

watsons baby
個人護理
Personal Care
二樓N221號舖
Shop No. N221, Level 2
2274 3109

佳記餐廳
Kai Kee Restaurant
香港特色美食Local Restaurant
地下L048-L050號舖
Shop No. L048-L050,
Ground Floor
2412 9978

海怡普通話教育中心 (坑口)
Hai Yi Putonghua
Educational Centre
教育
Education
一樓B173號舖
Shop No. B173, Podium Level 1

Q房網 QFANG.COM
其他
Others
地下A16, A30號舖
Shop No.A16 & A30,
Ground Floor

正時計
JUSTime
鐘錶
Watches & Clocks
地下G22號舖
Shop No. G22, Ground Floor
2780 0916

Beef & Liberty
西式美食
Western Cuisine
地下G04號舖
Shop No.G04, Ground Floor
2563 2798

H & M
時裝與配件
Fashion & Accessories
1, 101及201號舖
Shop No 1, 101 & 201
2811 1584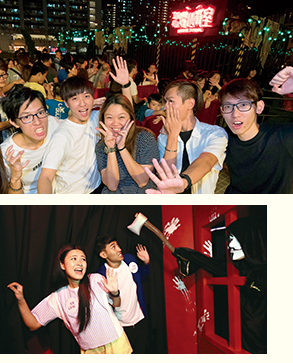 另類「驚」喜 挑戰心魔
New Halloween horrors to
Challenge One's Darkest Fears


領展自2011年起打造全港首個市區免費主題式鬼屋,備受一眾「鬼迷」熱捧支持;2015年領展乘著樂富廣場萬聖節推廣活動五周年,特別以創新另類驚嚇的「恐懼心戰室」為主題,首度以多個貨櫃組成全長70米的感官挑戰場,挑戰心理恐懼,配合多媒體裝置,以多個經典驚慄電影元素,設計出衝擊五大感官的機關,考驗各種人性的心理弱點,讓顧客盡享另類萬聖節驚喜!

Since 2011, Link has presented the only free haunted house-themed event in Hong Kong during the Halloween period. To mark the 5th anniversary of our Halloween spectacular at Lok Fu Plaza, a new kind of creative and scary experience was offered. For the first time, a 70-metre-long chain of cargo containers was transformed into themed chambers recreating scenes from popular horror films. These chambers placed visitors in environments such as a dark forest or a hallucinatory space that challenged the five senses.
「超級星期 $2」
慶祝樂富街市兩周年
Lok Fu Market Celebrates
its 2nd Anniversary with
'Crazy $2 Offers'


為慶祝以全新形象登場兩周年,樂富街市特別呈獻「樂富街市營食兩周年」。場內多間商戶破天荒以2元發售多款食材及海鮮逾10,000件,當中包括鮑魚、大閘蟹、生蠔、紅酒和冬菇等名貴食材,以答謝市民一直的支持。街市於周六特設多個期間限定「潮食攤位」,推出多款特別為樂富兩周年設計的人氣小食。

Link hosted the "Lok Fu Market 2nd Anniversary Food Fest" to thank customers for their support in the past two years. Irresistible $2 price tags were placed on over 10,000 premium food products and seafood, including abalones, hairy crabs, oysters and red wine. Special food kiosks were set-up to offer limited-edition yummy bites during weekends.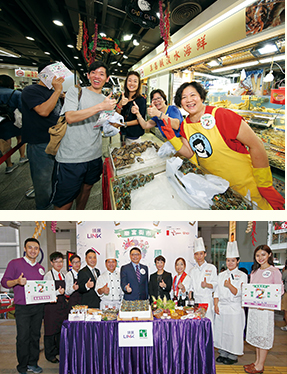 優化商場項目竣工 營造更佳購物體驗
Shopping Incentives at the Newly
Renovated Tsing Yi Shopping Centre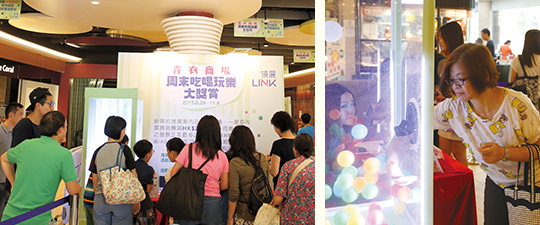 青衣商場已完成優化工程,除了提升整體設施外,亦引入多元化餐飲食肆及零售商舖,為該區市民帶來優閒舒適的購物新體驗。商場於2015年8至11月特別舉辦活動推動消費,包括有獎遊戲及的士車費回贈,獲顧客踴躍支持。

To celebrate the completion of its asset enhancement project, Tsing Yi Shopping Centre offered a special shopping incentive programme from August to November 2015, including instant games and taxi fare refunds. The programme received enthusiastic support from shoppers.
廿四節氣養生食療 帶領健康飲食潮流
Using the 24 Solar Terms to Promote a Healthy Diet
為推廣健康飲食文化,與眾分享健康煮食心得,領展推出按廿四節氣而設的24款養生食療,一眾街市服務大使接受待客之道的培訓,並由名廚張錦祥傳授烹飪秘技,在樂富、大元及H.A.N.D.S三個街市主持多場「廿四節氣烹飪示範」至2016年4月。

To promote healthy diet, Link's market ambassadors are offering till April 2016 cooking demonstrations under the theme "Healthy Diet for 24 Solar Terms" at the markets in Lok Fu, Tai Yuen and H.A.N.D.S. Training on customer service and cooking techniques was provided to enable the ambassadors to better engage customers and energise the community with healthy eating ideas.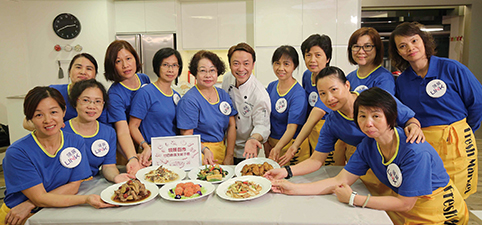 赤柱廣場打造 港版德國聖誕市集
A German Christmas at Stanley Market
赤柱廣場獲德國駐香港總領事館及德國商會全力支持,推出匯聚約80個攤檔的「港版德國聖誕市集」,展出各式德國特色禮品,讓市民與摯愛瞬間置身德國,體驗最傳統、最濃厚德國氣氛之聖誕佳節。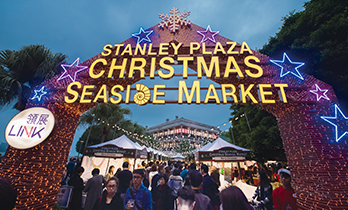 Stanley Plaza celebrated the festive season by organising the Hong Kong version of a German Christmas Market. This first-of-its-kind event showcased nearly 80 booths that offered visitors the chance to sample special delicacies and enjoy the authentic experience of a traditional German Christmas.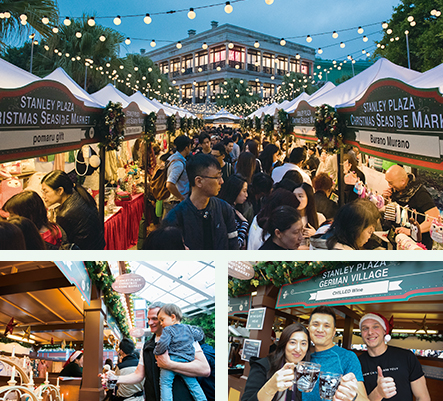 「聖誕好輕ZONE」 以運動助減壓
Reducing Stress with "Christmas Chill Out"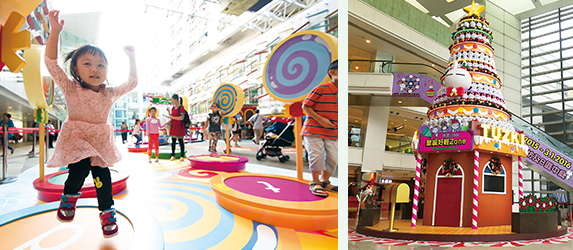 「港人壓力指數問卷調查2015」的街頭訪問發現,港人壓力指數屬於偏高。領展今個聖誕打造全港首個以歡笑減壓為主題的「聖誕好輕ZONE」活動,設計一系列以「釋放能量」、「分享關愛」、「抒發情感」、「傾訴心聲」四大減壓元素為基礎的聖誕裝置及遊戲,分別在黃大仙中心、樂富廣場、H.A.N.D.S及頌富廣場四大領展商場舉行。

活動更邀請造型鬼馬的Tuzki為主角,加強減壓元素,為社區送上充滿正能量的聖誕。活動免費開放給市民參與,讓大家於聖誕佳節「鬆一鬆」。
A recent public survey showed that Hong Kong people's stress levels are on the high side. To bring awareness to this issue and help improve the city's overall mental health, Link launched the "Christmas Chill Out" at four major shopping centres, namely Temple Mall, Lok Fu Plaza, H.A.N.D.S and Chung Fu Plaza. This festive campaign featured a series of games using four key stress management techniques to help customers relieve stress.

Link also invited the playful cartoon character, Tuzki, to bring laughter and share the Christmas spirit with the local community.
揉合鮮果及運動
歡度健康周末
Serving Up a Great
Weekend of Fruit
and Sports
「赤柱廣場國際美食音樂節」一直備受追捧,活動踏入第五週年,創新地加入新興互動玩樂元素–泡泡足球運動,吸引大批市民及遊客親臨支持。為響應香港旅遊發展局年度盛事「香港美酒佳餚月」,今年以鮮果美食為主題,訪客可於「雜果泡泡足球競技場」激戰一番,享受運動樂趣。

Link presented the popular "Stanley Plaza World of Food and Music" for the fifth consecutive year. To echo "Hong Kong Wine & Dine Month" organised by the Hong Kong Tourism Board, the festival featured the Fruit Print Bubble Soccer game to spread the important message of having a healthy lifestyle.