從掌管財務到人事管理 新任獨立非執行董事謝秀玲
From Finance to People Management
Interview with Independent Non-Executive Director Nancy Tse
謝秀玲在職場上身經百戰,專業生涯最為難忘的,莫過於在工作達二十多年之久的醫院管理局處理SARS的挑戰。這場世紀疫症中,面對未知的病源、醫治方法,疫潮退卻無期,全港束手無策,市民深感憂慮無助。然而,她與一眾面對生死與共的醫療專業同事,同心應對這場硬仗,令她體會患難見真情及團隊精神的重要,並領悟出管理「人」比處理數字更見挑戰。且聽她分享抗疫經驗,以及管理和人生的獨特看法。

謝女士縱橫公共服務界別多年,身居管理要職,對於引領機構發展自有獨到心得。本身為財務專才的謝女士,在醫院管理局內任職財務總監,掌管該局每年近500億港元的財政是採用審慎和靈活運用的理財方法。除此之外,她亦是資訊科技部主管,在SARS抗疫期間,為醫護團隊提供緊密支援,並極速建立eSARS通報系統,其後更取得國際的認可和獎項,努力備受肯定。身為管理團隊的一員,謝女士經常與專業的醫護團隊溝通,了解他們的需要,並建議善用資源提高日常運作效率,令她體會到管理人事既重要又極具挑戰性,人際關係與數字處理兩者須要同時兼顧,最終能令醫護團隊了解成本效益及風險管理,做對決策。

謝女士認為醫管局及領匯兩間機構有很多共通點。兩者規模龐大,面對群眾及不同持份者,既受當局嚴格規管,亦要面對區議員、消費者權益組織及傳媒的監察,所以必需掌握公眾脈搏,密切留意社區發展以作出適切反應。管理挑戰亦大於一般上市公司,因為要跟眾多持份者保持良好關係,包括單位持有人、機構投資者、政府、租戶、員工、外判公司,以至普羅大眾等。而董事局亦需平衡各方需要,一起為達成機構目標而努力。醫管局及領匯亦皆屬服務性行業,跟服務對象有著非常互動的關係:醫護人員要確保病人受到適當的照料,而領匯則要確保商戶商機提升,顧客購物舒適稱心。兩機構目標亦同出一轍,不但只要達致財務目標,更要令整個社會和諧進步。由於她覺得很有意義,因此毅然接受領匯主席的邀請,出任非執行董事。

保值、增值、創造價值

財務管理是謝女士的老本行,她指出箇中要義在於利用有限資源為機構保值、增值及創造價值,發揮最大效益。在日常業務中,管理層需認清、評估及處理危機,以確保機構運作暢順。管理層亦需不時審視外在環境的變化,例如利用先進科技增加效益,必要時調整服務模式以應對公眾及消費者日益提升的期望。她堅信管理人先要清楚了解機構宗旨,制定策略,透過與不同持份者的溝通,共同達致目標。



Throughout her successful career, the challenge Nancy Tse faced during SARS when she was working in the Hospital Authority was definitely the most memorable. Nancy recalls that there was a general feeling of helplessness in the face of this deadly epidemic, and that the outbreak created literally life and death battles within the organisation. While it was stressful, team spirit was certainly enhanced and individual staff members rose to the occasion. The ordeal made Nancy realise that managing a team is more challenging than managing numbers alone.

Nancy worked in the public service sector for many years in top management positions, leading organisations with her unique experience. She was the Chief Financial Officer of the Hospital Authority, managing the organisation's budgeted expenditure of approximately HK$50 billion per year, which she considered was not a very difficult task. In addition to her role in finance, she was also in charge of information technology. During the SARS battle, Nancy worked closely together with her clinical colleagues and provided support in various aspects. This included the development of the eSARS information system in an astonishing short period of time, which led to international recognition and awards. As a member of the senior management team, she interacted regularly with the healthcare professionals, tried to understand their needs and advised on optimising the use of resources for operational effectiveness and efficiencies. This was an area which she considered more challenging as she needed to communicate on what's behind the numbers and engage clinician in understanding the importance of cost benefit and risks in decision making process.

Nancy notes that The Link and the Hospital Authority share several similarities in addition to their large size: both are highly regulated and under scrutiny from various public bodies such as District Councillors, consumer advocates and the media. The interests of many different stakeholders have to be taken into account, including Unit holders, institutional investors, Government, tenants, employees, contractors/suppliers as well as the general public. This is where the Board will play an important role in balancing the needs of various parties in achieving the organisation objectives. Both The Link and the Hospital Authority are in the service sector, which means that both organisations routinely interact with people in the community: Hospital Authority health care workers have to ensure delivery of quality patient services, and The Link employees try their best to enhance tenants' business activities and create a satisfactory and comfortable shopping environment for customers. The objectives of both organisations do not just focus on financial but to also enhance social harmony and healthy environment, which lends Nancy's work greater meaning. She therefore accepted the role of Non-Executive Director of The Link without hesitation.

Value Protection, Value Enhancement, Value Creation

Speaking about her accounting profession, Nancy's management principles are to achieve organisational effectiveness through value protection, enhancement and creation. In a normal business situation, management needs to constantly identify, assess and manage risk in order to maintain a sustainable operation. Senior executives would need to constantly review the dynamic and ever changing macro environment, such as leveraging the advancement in technology to enhance operational efficiencies; and to make changes in our approach in delivery of services or to create new business models in order to meet the high consumers/public expectations. She strongly believes that one should have a clear understanding of objectives of an organisation, set the strategic direction and targets; engage key stakeholders through a systemic business planning process to achieve the goals.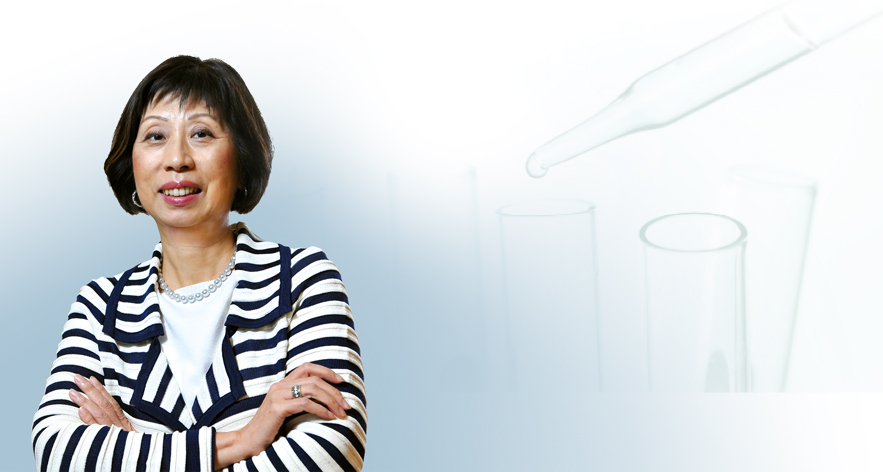 謝女士在退休後並沒有閒賦下來,仍積極參與社會事務。她現在是兩間上市公司的獨立非執行董事、醫管局公積金計劃的受託人、香港中文大學賽馬會公共衞生及基層醫療學院客座教授及香港大學財務委員會成員。同時亦熱心公益,出任多個慈善團體及非牟利團體的董事局。她亦積極參與香港會計師公會各機構管治計劃項目。現在她最開心的是有較多時間與女兒相處溝通,並教導女兒人生就如三腳椅:事業、家庭和朋友,能兼顧就是樂活人生。做任何事都需盡心盡力,用熱情及關愛全力以赴;而在不同人生階段中在三者取得平衡亦是人生中最大的挑戰!

After her retirement, Nancy keeps herself busy through her continuous contribution to society. She is now an independent non-executive director of two listed companies, a trustee of the Hospital Authority Provident Fund Scheme, an Adjunct Professor of The Jockey Club School of Public Health and Primary Care of the Chinese University of Hong Kong and a member of the Audit Committee of The University of Hong Kong. She also sits on the Boards or Committees of a number of charitable organisations and NGOs. She has also been active in Corporate Governance projects with the Hong Kong Institute of Certified Public Accountants. These days, she is pleased to be able to give more time to her daughter, to whom she imparts the following lesson: Life is like a three-legged stool: family, career and friends, which are the three key pillars in life for pursuit of happiness. For whatever you do you need to give your heart. At the end of the day, one would hope all three pillars are filled with passion, care and commitment. However, drawing a good balance among the three pillars throughout the different periods in life is a challenge!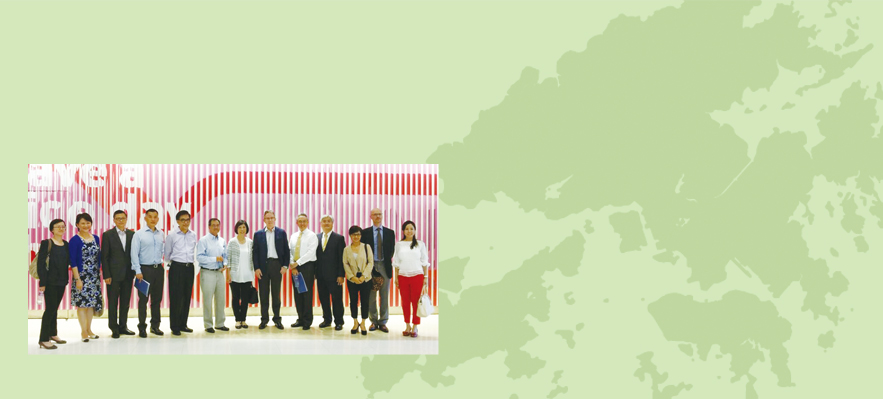 董事會成員到訪新界西
Board Visit to New Territories West
新界西發展潛力優厚,領匯旗下不少位處該區的物業亦已完成或者即將翻新。董事會成員及管理團隊同事一行十多人,於8月27日到訪其中三個物業,包括朗屏商場、天瑞街市以及友愛和安定商場,親身視察物業的現況。安定商場已完成翻新,而友愛商場的工程仍在進行,商場翻新前後對比非常明顯,令董事會更深入了解有關提升工程的成效。

Owing to the huge development potential of the New Territories West, The Link has been actively renovating properties in the district. On 27 August, Board members and members of the senior management team visited several of these properties, namely Long Ping Shopping Centre, Tin Shui Market as well as Yau Oi Commercial Centre and On Ting Commercial Complex, to gain a first-hand view of the current progress of the renovations. The striking contrast in the environment between On Ting Commercial Complex, which has already been renovated, and Yau Oi Commercial Centre, which is still under renovation, greatly impressed our Board members.
租務部新辦公室 正式入伙
New office for Leasing team
位於觀塘Landmark East安盛金融大廈23樓的新辦公樓層剛正式入伙,入伙儀式於9月24日由行政總裁王國龍、首席財務總監張利民,及租務及市場推廣總監江寶欣主持。樓層現時主要供租務部使用,希望同事都喜歡新的辦公空間。

Our leasing team has moved into new office space on the 23rd floor of AXA Tower, Landmark East, Kwun Tong. The opening ceremony was held on 24 September, officiated by CEO George Hongchoy, CFO Andy Cheung and Director (Leasing and Marketing) Peionie Kong. We hope the team enjoys its new and spacious working environment!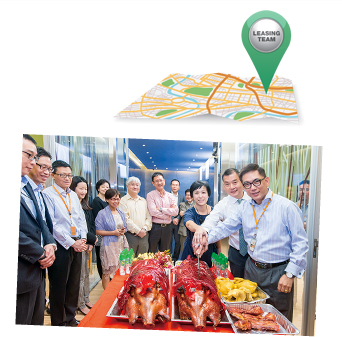 世上四份一人信奉伊斯蘭教,為加強對此宗教的了解,見習管理人員8月份時組織了「多元文化發現之旅」,由WEDO Global的人員帶領同事到訪九龍清真寺暨伊斯蘭中心,並聆聽傳道人和香港土生土長的信徒,從宗教及世俗角度,講解伊斯蘭文化。

One quarter of the world is Muslim, so to promote a better understanding of Islam, Management Trainees organised a staff tour to the Kowloon Mosque and Islamic Centre in Tsim Sha Tsui this August. The tour was led by WEDO Global, a Hong Kong-based social enterprise that aims to enhance global awareness and cultural sensitivity through multicultural education programmes. During the tour, a religious leader and two Muslims born and raised in Hong Kong introduced our colleagues to Islamic beliefs and culture.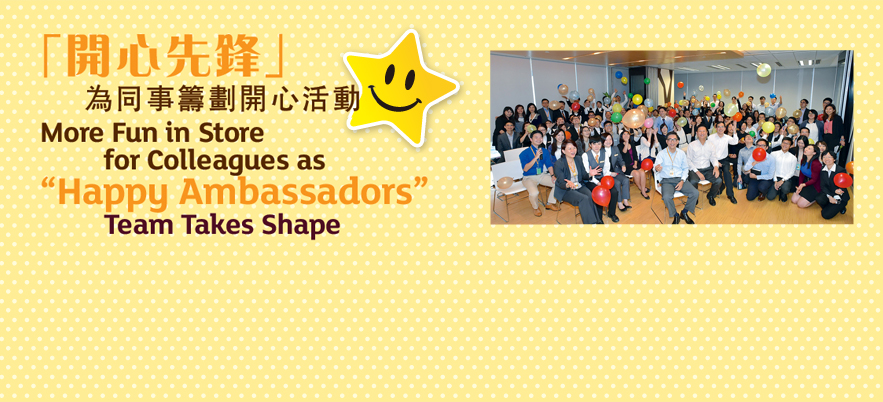 為迎接領匯邁向十周年的重要里程碑,多項精彩活動亦正在籌備當中。早前各個部門所推薦的一班充滿陽光活力的同事,已經組成「開心先鋒」團隊,正在接受培訓當中。有關「開心先鋒」的開心任務,敬請拭目以待。

As The Link's 10th anniversary draws near, a series of activities are being planned. Recently, each department nominated a group of positive, cheerful colleagues to form the "Happy Ambassadors" team. They are undergoing training now. Please stay tuned for more about the team's happy mission.
鄭太分享安利中國成功故事
Eva Cheng Shares the Inspiring Story
of Amway China's Success
領匯董事會獨立非執行董事鄭李錦芬於9月23日抽空現身觀塘Landmark East辦公室,與一眾高層職員會面,並分享安利中國早年面對內地政府的直銷禁令,如何大膽突破固有業務模式,重建監管機構和消費者對直銷業的信心,令這間美國公司在太平洋彼岸穩步發展的故事。

Eva Cheng, Independent Non-Executive Director of The Link REIT, had met with senior management at Kwun Tong Landmark East office on 23 September, and shared the inspiring story of Amway China's success. In the face of a national ban on direct selling in late 1990s, Amway China adopted a business model novel to the American company, rebuilt confidence and regained trust of authorities and consumers in direct selling, laying fertile grounds to thrive healthily on the other side of the Pacific Ocean for the multinational company from the U.S.A.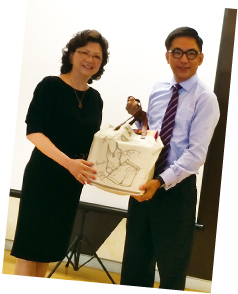 員工晉升
Staff Promotions
朱樂民 Chu Lok Man Peter
物業經理
Property Manager
黃凱琳 Wong Hoi Lam Virginia
物業經理
Property Manager
文洪平 Man Hung Ping Ivan
助理物業組合經理
Assistant Portfolio Manager
吳海濱 Ng Hoi Pun Chris
助理物業組合經理
Assistant Portfolio Manager
胡漢釗 Woo Hon Chiu Guy
助理物業組合經理
Assistant Portfolio Manager
賴慧君 Lai Wai Kwan Kendy
署理助理物業組合經理
Acting Assistant Portfolio Manager
甯靜儀 Ning Ching Yee Jeni
高級市場項目發展主任
Senior Market Development Officer
陳泰亨 Chan Tai Hang Heyman
高級物業主任
Senior Property Officer
霍思敏 Fok Sze Man Carmen
高級物業主任
Senior Property Officer
關曉嵐 Kwan Hiu Laam Samantha
高級物業主任
Senior Property Officer
連璧珊 Lin Pik Shan Katie
高級物業主任
Senior Property Officer
吳珊瑚 Ng Shan Wu Coral
高級物業主任
Senior Property Officer
蘇浩銘 So Ho Ming Winson
高級物業主任
Senior Property Officer
黃賢生 Wong Yin Sang Sunny
高級物業主任
Senior Property Officer
嚴毅祥 Yim Ngai Cheung Keith
高級物業主任
Senior Property Officer
鄭巧賢 Cheng Hau Yin Kelly
物業主任
Property Officer
鄭家寶 Cheng Ka Po Alfred
物業主任
Property Officer
周貝諺 Chow Pui Yin Joyce
物業主任
Property Officer
顧家銘 Koo Ka Ming Vincent
物業主任
Property Officer
林庭樂 Lam Ting Lok Rock
物業主任
Property Officer
劉銘琪 Lau Ming Ki Matthew
物業主任
Property Officer
李振盼 Li Chun Pan Sam
物業主任
Property Officer
麥嘉偉 Mak Ka Wai Maka
物業主任
Property Officer
伍子信 Ng Chi Shun Felix
高級管業服務長
Senior Building Supervisor
李志康 Lee Chi Hong Ryan
助理工程及保養主任
Assistant Maintenance Officer